This Cult Highlighter Is Only $12 Right Now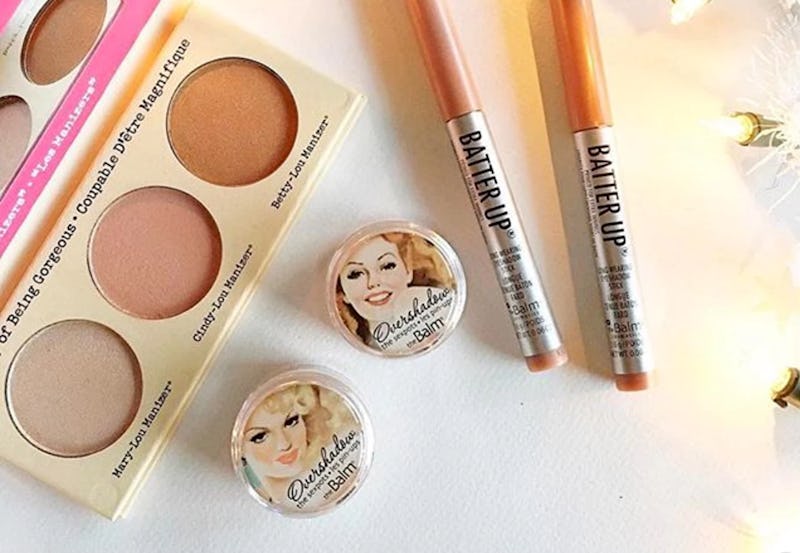 Here's a good thing: A highlighter raved about the internet over is on sale, and not just any sale. Deep sale, as part of a trio that also includes blush and bronzer, a.k.a. the original face makeup categories. They're like the Homeward Bound of makeup, they've seen things, but they're no less for it. Except when they are, fiscally, as part of a magnificent, mysterious sale on Ipsy. Normally exclusive to members, TheBalm's cult Mary Lou-Manizer highlighter is only $12 right now — although divide by three, and that's a $4 dollar superstar.
Paired with Cindy-Lou Manizer and Betty-Lou Manizer, the $12 Manizer palette is available in limited quantity for six more days at the subscription site, a 57% discount on the normally $28 dollar palette. If that seems absurd to you, don't ask any questions (JK, but like). There's free shipping, and Mary-Lou Manizer alone is usually $24. Granted, that's for .3 oz of product, and the Manizer palette is .4 oz total — so the discount is best for those testing the waters, or devotees of all three.
Why does everyone love this highlighter, of the eighty-thousand highlighters in the world? IMHO, it's just a great workhorse that gets the job done. Build it up to guru-level if you want, but it excels at replicating natural light, no easy feat.
According to the brand, Mary-Lou Manizer is a honey-hued luminizer that "diffuses light, so your skin looks softer and younger," while "Cindy-Lou Manizer is a light-reflecting peachy pink hue," and "Betty-Lou Manizer is a silky smooth, all-in-one bronzing highlighter, shimmer, and shadow." Lighter than Benefit's Dandelion and more pinky than Tarte's Exposed, Cindy-Lou is a super-subtle flush, while Betty-Lou is a cool-toned bronzer that's hard to overdo.
As a set, it's one of those on-the-go deals that covers most bases. Over on r/MakeupAddiction, though, the common thread is to grab it for the Mary-Lou deal. Just for that .13 oz at a low, low cost.
Redditor Bab2385 posted, "That's cheaper than my Mary Lou Manizer was as a single....I bought it anyways. Not sure what I'm going to do with the Betty Lou one." Another commenter stepped in to hype its worth as an eyeshadow, but really, no one is losing here. The more, the merrier, etc.