The First National Database Of Police Crimes Puts Rape Culture On Blast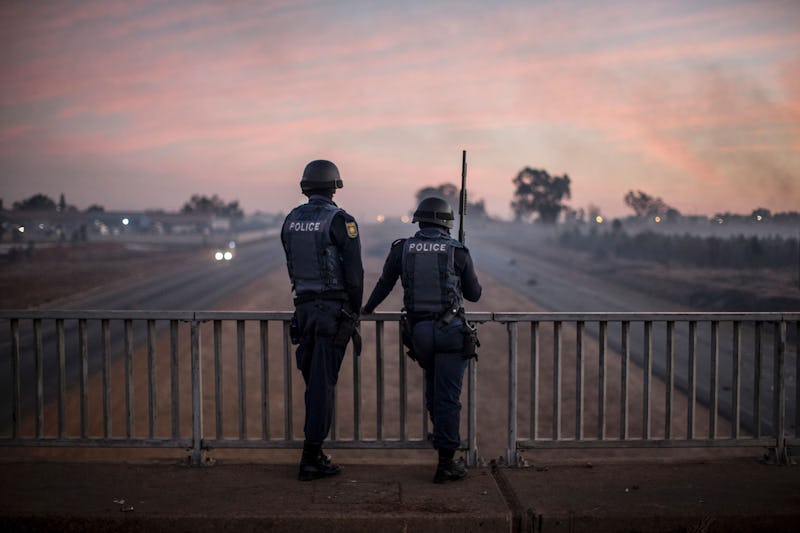 MARCO LONGARI/AFP/Getty Images
A first-of-its kind public database reveals disturbing details about sex crimes committed by police officers. The new Henry A. Wallace Police Crime Database chronicles more than 8,000 arrests of police officers and 13,600 charges filed in the United States between 2005 and 2012. Philip Stinson, the database's creator, began gathering public data over a decade ago. In total, his database contains details on the approximate 6,600 cops (of an estimated 1.1 million officers) who were charged with one or more crimes while working in law enforcement agencies in each state and the District of Columbia during those years.
The sex offenses documented in the database include: assisting or promoting prostitution, forcible fondling, forcible rape, forcible sodomy, incest, indecent exposure, online solicitation of a child, pornography/obscene material, prostitution, sexual assault with an object, and statutory rape.
During the time period covered by the database, some 1,200 officers, or about a fifth of those included in the database, were arrested for sex-related crimes, according to a Vice News analysis from journalists Isabella McKinley Corbo and Tess Owen. Forcible fondling and forcible rape are in the top 10 of all documented criminal charges.
In all, "17 percent of the officers arrested for sex crimes were charged in multiple sex-related cases, meaning they were either repeat offenders or had multiple victims," Owen and McKinley Corbo's analysis concluded. More than half of the alleged victims were 17 or younger. (I came across victims aged 1, 8, 11, 22, and 55 as I read through case summaries in the database.)
Clicking through the database is sobering and at times frightening. According to the data, officers committed sex crimes while on duty and during off-duty hours; as rookie cops, lieutenants, sergeants, and corporals; as sheriff's deputies, beat cops, and state troopers.
Being able to read details about the assailant and their victim — age, rank, gender — alongside the summary of the events and their outcomes illustrates the permanence of rape culture in our society, as does this database being the first of its kind. Below are some common phrases I came across in the database:
"Victim is other relative of offender."
"This crime was committed by officer in their individual capacity."
"Arresting agency is officer's employer."
"Officer's employment was terminated."
"Victim is a stranger."
"Crime was committed by officer in their official capacity."
"Officer was not convicted of crime."
"Victim is current spouse of offender."
"Officer was convicted of crime."
"Victim is child or stepchild of offender."
"Victim is an unrelated child."
"Officer was suspended for a period of time."
Using the map and the accompanying search menu can yield granular reports for individual states, counties, and crimes, which can be further analyzed and cross-referenced with other local and national data. This possibility is a significant departure and sizable advantage for anyone interested in learning more about police crime.
It is the sole collection of data of this nature in the U.S. Most of the 18,000 law enforcement agencies in the states have their own methods for tracking, analyzing, and disseminating this type of information; however, a majority of them require seekers to file Freedom of Information Act requests or follow maze-like time-consuming administrative procedures to access it.
The federal government, in the form of the Department of Justice, also does not mandate that any of this data be reported to them; agencies only volunteer the information. In most instances, as it was in this one, any worthwhile depository of police crime data has resulted in years of work from researchers, academics, and ardent reformers who went door to door and asked for the records — and that's probably going to continue to be the case.
This tool, however, can allow citizens and researchers alike to study the relationship between an officer's gender and the incidences of sexual crimes in a given state. It also allows anybody to look at crime trends over time and how they might be impacted by more police training, changes in recruitment efforts, the introduction of community policy, and the rates of other common complaints against police, such as use of unnecessary force, abuse of authority, racial profiling, and illegal searches.