This Mickey Mouse Denim Collection Is Every Die-Hard Disney Fan's Dream Come True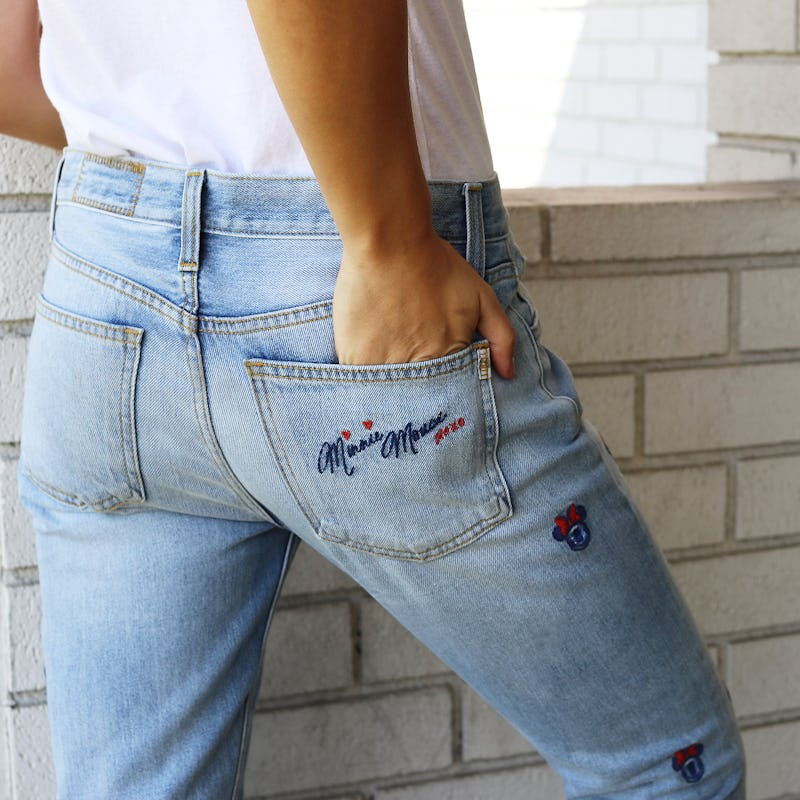 Courtesy shopDisney
If you're looking to stylishly dress in a look that would please your inner child, look no further. Disney is teaming up with denim brand SIWY for a collection that embraces a famous couple that everyone knows and loves — Mickey and Minnie. The small but mighty collection is quirky and trendy all at the same time. Because everything is instantly cuter with a pair of iconic Mickey ears.
Whether you're stocking up for your next Disney trip or just looking to update your wardrobe, this collection is for you. SIWY is known for their high-end denim, and this quality collection is no different. The four-piece collection includes two pairs of embroidered jeans, one pair of shorts, and a jean jacket. All of the pieces are all strategically splattered with the adorable Disney duo.
You can stock up on every single design right now exclusively on the shopDisney website. But with quality denim comes a hefty price tag. Prices for items in the collection range from $169.95 to $399.95, which is a tad bit higher than the SIWY's typical pair of jeans. But, come on, Mickey is worth the splurge.
The collection does an incredible job of combining feel good prints with sophisticated styles. Each of the styles, from the embroidered Minnie heads to the bright red tuxedo stripe down the side of the jeans, is on-trend and classic all at the same time.
There's even a pair of shorts that have a distressed screen-print of Mickey on them. You can have a pair of jeans to wear throughout the cold-weather months, and then slip on the shorts when it's time for that Disney vacation.
Unfortunately, there is one downfall when it comes to the collection. Each pair of jeans are only available in size 25 to 31, which isn't exactly inclusive. The jean jacket also only comes in sizes extra-small to extra-large, which means some plus-size Disney lovers may be left out of the fun.
As of Sept. 27, all sizes are currently available, and you can buy up to six pairs at a time.
Mickey Mouse Tuxedo Stripe Skinny Jeans, $240, Shop Disney | Mickey Mouse Denim Shorts, $170, Shop Disney | Minnie Mouse Embroidered Denim Jacket, $400, Shop Disney | Mini Mouse Embroidered Boyfriend Jeans, $300, Shop Disney
Of course, no great Disney outfit is complete without some quirky accessories to go with it. Although the Disney x SIWY Collection only includes the four pieces of denim, there are plenty of other themed buys on the website.
Coach has teamed up with Disney to offer everything from Minnie-eared cross-body bags and watches to bangles and sneakers. Clothing designer David Lerner also joined forces with the company to make a variety of different tanks, tees, and long-sleeve tops. It's worth noting that the most affordable piece of merch is $62, which puts even the most basic tee in the "splurge" category.
Between all the items on the website, you have everything you could possibly need and more to get the perfect Instagram shot on your Disney trip. All of the denim pieces are subtly Disney and trendy all at the same time. You get the best of both worlds.
With the holidays are right around the corner, there's no better time for the collection to come out. You'll want to stock up while you still can though. The denim collection, along with many of the other collab items, are all limited edition.
With their high price tags, these items probably won't fly off the virtual shelves. But that doesn't mean you should wait too stock up your shopping cart. The best advice? Start saving up and head to the shopDisney website while you still can.
These are classic cartoon looks that would make your former childhood self proud of the stylish person you've become.