This Disney Princess Nail Art Is Going Viral On Instagram & It's So Magical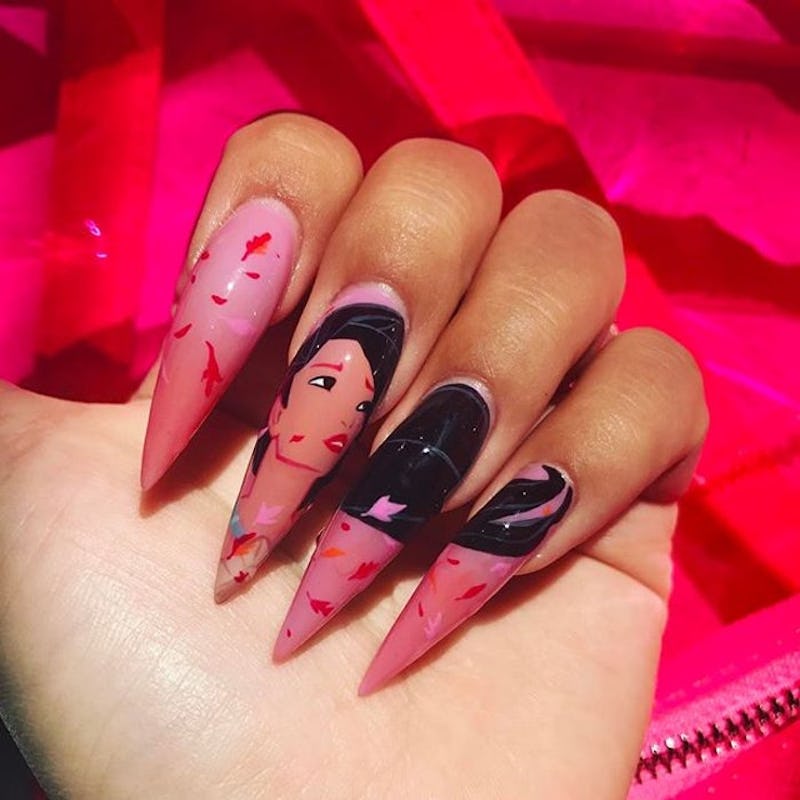 Vivian Xue Rahey
It doesn't matter that you're no longer 10 years old and sticking Disney stickers to your furniture — for some of us, the Disney princess obsession never dies. That's why when Vivian Xue Rahey's Disney nail art began to blow up on Instagram, people began to take notice. It doesn't matter that we have student debt and rent payments — we're all still little kids at heart and enjoy a good Aurora depiction.
Revelist first spotted the freehand nail artist Xue Rahey and her mind-boggling designs, highlighting her creative work. Specializing in stiletto and coffin-shaped nails, her Instagram is full of painstakingly painted manicures that depict a wide range of aesthetics — from Louis Vuitton logos, to the Mona Lisa, to a zombie version of Homer and Bart. CEO of the premier nail art salon named Pamper Nail Gallery in Fremont California, her establishment offers sculpted extensions, nail overlays, and freehand nail art as part of their services.
The salon space itself is really cool, where Xue Rahey chose a spacious, modern, and industrial setting to inspire creativity and put clients in the mood for art.
It's "like Disneyland for nails," their homepage reads, and Disney is why we're here. There are so many Disney-inspired sets across Xue Rahey's Instagram that it's hard to pin down just one favorite. From the evil witches, to glow-in-the-dark effect, to depictions of pivotal story arch scenes, it's not what you would expect. Below are just a few that stand out.