This 'Elf' As A Horror Movie Trailer Puts The Holiday Classic In A Horrifying New Light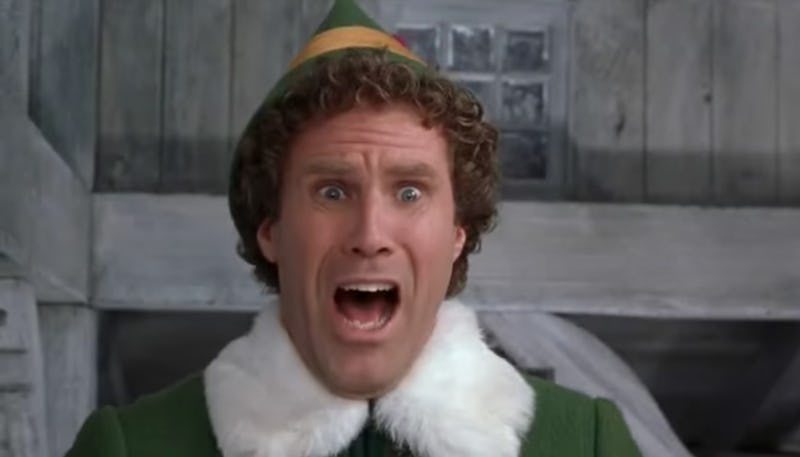 New Line Cinema
Buddy the elf's world is actually quite terrifying — and the proof is in this Elf as a horror movie trailer recut that is the perfect for the holiday season. (It was originally posted in Dec. 2016 by Mashable's YouTube channel, CineFix). It might not make much sense at first, because the Will Ferrell-led holiday film is a comedy, but after you watch the trailer (below), you might start seeing it in a whole new light. Between the dark music and the way it's pieced together, you'll probably become persuaded that Elf is actually kind of terrifying.
The two-minute trailer opens with Walter Hobbs, Buddy's biological father, answering a call on his work phone about a "Christmas gram" that was sent to him. It quickly escalates from there, but what makes the trailer convincing is the text that pops up. The words "Taken as a child, tortured, twisted, and broken" are displayed in between footage from the 2003 movie. Yeah, it seems like a bit much, but the words aren't false. He was "taken as a child", you know, after he crawled into Santa's bag of toys and ended up in the North Pole without the big guy's knowledge.
Furthermore, he was kind of "tortured" in the sense that all of the other elves, including Buddy's adopted father, Papa Elf, never told him he's actually human. Granted, Buddy should've figured this out on his own, but, well, sometimes he was just slow on the uptake. Oh, and Buddy's "elf" work was never good enough and he was basically told that when the other elves called him "special". Talk about being "tortured" and "twisted" into living an unfulfilling life, right?
The trailer also includes the words, "From director Jon Favreau comes a snow-splattered thriller." How hilarious is that? And, once again, true. There is a lot of snow, including when Buddy and his brother, Michael, have that snowball fight. See? This trailer makes a lot of sense.
As much as you probably laugh throughout the duration of the comedy, Elf is a little strange at times. Sometimes downright frightening. To show how this trailer isn't as far-fetched as some might think, here are a few times that Elf was totally scary.
When The Raccoon Attacked Buddy
Yes, this was mainly Buddy's fault, but still.
When Buddy Tested The Jack In The Box
Why are these even considered toys?
When Buddy Got Into A Snowball Fight
He had all kinds of special skills that could be used in violent ways.
Whenever The North Pole Animals Showed Up
They're kind of creepy.
Whenever Buddy Screamed
He did this — a lot.
Whenever Buddy Smiled
Come on, who smiles like that? Just look at his eyes.
And those are only a few times the movie felt more like a thriller than an a comedy. If all of this scariness is too much for you, then you probably need to rewatch Elf. If you aren't a proud owner of the Christmas classic, then you can catch it on Freeform's 25 Days of Christmas. FYI, it's set to air 15 more times, including, Thursday, Dec. 7 at 6:50 p.m. ET.
You'll probably never be able to see Elf the same way ever again thanks to the above trailer, but maybe if you watch it on a loop (kind of like how Buddy repeatedly runs through the revolving door) all of the scariness will disappear.