Warren Responded To The Senate On Twitter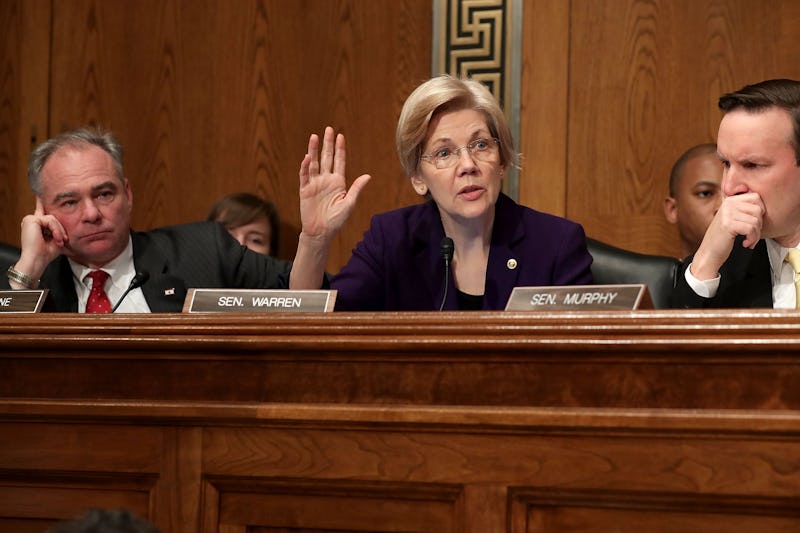 Chip Somodevilla/Getty Images News/Getty Images
As the Senate debated the confirmation of Sen. Jeff Sessions as attorney general Tuesday night, Senate Majority Leader Mitch McConnell took the extraordinary step to silence his colleague, Sen. Elizabeth Warren. The Massachusetts senator was reading a letter from Coretta Scott King, the widow of Martin Luther King, Jr. "The senator has impugned the motives and conduct of our colleague from Alabama, as warned by the chair," McConnell said. Warren was then forced to sit down under Rule XIX, but that didn't keep her from responding. Warren responded to McConnell's silencing on Twitter with a powerful message.
First, of course, she tried to intervene on the Senate floor and responded to McConnell's charge by saying, "I am surprised that the words of Coretta Scott King are not suitable for debate in the United States Senate. I ask leave of the Senate to continue my remarks." Sen. Steve Daines (R-Mont.), who was presiding over the Senate, then told her to "take her seat." There was then a party line vote, 49 to 43, to uphold the decision.
Therefore Warren's only recourse was to respond online. On Twitter she wrote, "Tonight @SenMajLeader silenced Mrs King's voice on the Sen floor — & millions who are afraid & appalled by what's happening in our country." This was one of several tweets that Warren fired off after she was officially silenced on the floor.
On Twitter, Warren wrote that she would not be silent about a nominee who "will never stand up to the @POTUS when he breaks the law."
Those are definitely words she wouldn't be able to use in the Senate. Rule XIX says that senators may not assign to another senator "any conduct or motive unworthy or unbecoming a Senator." It's possible Warren assumed that since she was reading a direct quote this would not apply.
She had quoted King in saying that Sessions allegedly used "the awesome power of his office to chill the pre-exercise of the vote by black citizens"; Sessions has denied any racism allegations. Ultimately, Sessions lost his nomination to the federal judiciary in 1986.
Warren mentioned in her tweet the "millions who are afraid & appalled by what's happening" in the country, and it seems they wanted to hear King's message. Warren ended up reading the letter on Facebook in a live video, which more than 3 million people have now seen. "The Republicans took away my right to read this letter on the floor — so I'm right outside, reading it now," she wrote at the time on the social media network.
It may not be the same as reading the letter on the floor of the Senate, but thanks to Warren's social media responses, millions of Americans are now aware of what King thought of the attorney general nominee.