The EPA Says Scott Pruitt Flies First Class Because His Life Is In Danger In Coach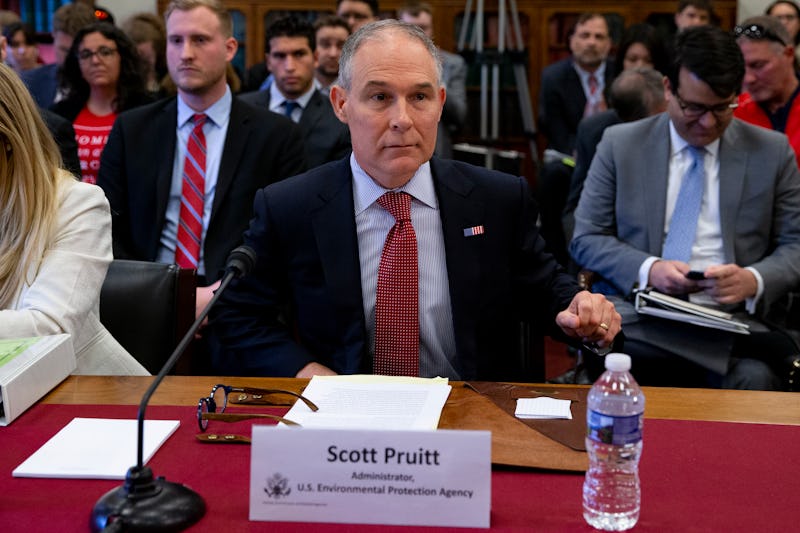 Alex Edelman/Getty Images News/Getty Images
The behavior of the EPA chief has come under scrutiny in recent weeks, as reports flowed out about the ways he has used government funds in his position. One set of questionable expenses were his dozens of first-class flights, which have apparently cost taxpayers tens of thousands of dollars. But now, a memo released by the EPA about Scott Pruitt's first-class tickets maintains that the EPA head sat in first or business class out of very grave necessity.
The memo was written by Pasquale "Nino" Perrotta, the acting head of Pruitt's security detail, which has already gained national attention for costing the public multiple times the amount of previous EPA chiefs' personal security, the Washington Post reported. Perrotta wrote in the memo to an EPA travel coordinator, which was obtained through a Freedom of Information Act request from the Post, that Pruitt's security team was requesting that he be "strategically" given business-class or first-class tickets.
"We have observed and [sic] increased awareness and at times lashing out from passengers which occurs while the Administrator is seated in coach with [his personal security detail] not easily accessible to him due to uncontrolled full flights," Perrotta wrote.
"Therefore," Perrotta continued, "we believe that the continued use of coach seats for the Administrator would endanger his life and therefore respectfully as that he be placed in either business or first class accommodations."
The memo did not offer any examples of Pruitt being dangerously threatened, but this isn't the only time that the EPA has made that claim. Part of the justification for his constant security detail, according to the Post, are the "very personal, ugly threats" that an EPA official said Pruitt had been subject to. Federal regulations about travel for government officials state that officials must take cost into account when traveling, and that first-class tickets can only be justified by certain circumstances, like flights of longer than 14 hours or medical necessity. They also make an allowance for first-class travel "exceptional security circumstances," when "use of coach class accommodations would endanger your life or government property."
Pruitt, according to the Washington Post, also generally insists on flying Delta, even though the government contracts with different airlines. The New York Times reported that he goes with Delta to keep accruing mileage for his SkyMiles account, where he has likely obtained elite status due to his frequent trips.
By claiming that Pruitt's life is actually in danger when he flies coach, then, Pruitt's security chief is literally claiming that passengers on a Delta flight could physically threaten the EPA administrator. There are certainly discomforts associated with flying coach class on any flight — lack of space, for example, or a lack of free drinks — but bodily harm or murder from fellow passengers is not a frequent occurrence, to say the least.
Still, Pruitt and his security team have used that to justify the thousands of dollars that he's spent on first-class tickets. The Washington Post reported that just in one stretch in June 2017, the EPA had to spend over $90,000 on travel for Pruitt and his top aides, which included a first-class flight from D.C. to New York for $1,641.53 and a trip on a military jet from Tulsa to New York with a price tag of $36,068.50. The military flight allowed him to catch his flight to Rome, which had cost $7,003.52 round trip, according to the Post.
The Chicago Tribune cataloged some of the threats that Pruitt had faced, which included vulgar language both in person and also on one particularly threatening postcard. Whether the frequent first-class tickets are an overreaction, though, is up to the EPA for now.