This Everything Bagel Pool Float Is Literally $13 Online Right Now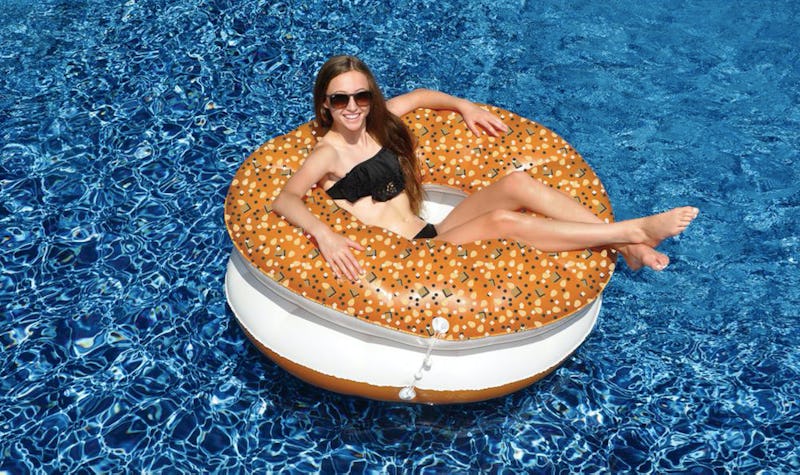 Jet
Summer is coming to an end, but you can never be too prepared for next year. I mean, fall is when all the swimsuits and tank tops on racks start to see ridiculous sales and give you the chance to stock up early. Since it's only mid-August, you can still savor those last few weeks of summer — I know I will. What better way than to get a few pool shots while sitting in one of those huge floats? We've all seen the swan one that's made it's way through endless Insta pictures, but let's see if you can chew on this: a giant everything bagel float.
This larger-than-life breakfast float is available on Jet.com, and seriously looks just like the real thing — complete with poppy seeds and cream cheese in the middle. You can perch right in the middle of it, like one of those donut tube floats you'd see in the pool when you were little. According to Jet, the float is made with heavy-duty vinyl — meaning it won't pop easily. The bagel float (which honestly looks good enough to eat) is by brand Swimline, which makes tons of other adorable pool products, including an actual ice cream float pool float. It's a mouthful, I know.
Jet features a deal where if you buy multiple products, the price actually goes down. One of the bagel floats is $12.94, but if you get one for your pal as well, the price goes down to $12.29 each. Honestly, the more floats the merrier. Who's to say you can't get three, stack them all on top of each other, and get the ultimate pool float Instagram shot? The food float options don't stop there, either.
On Jet, you can find a pizza float, pineapple float, pretzel float, and even a french fry float (if this is the only acceptable way I can have fries in the pool, so be it). If you're looking for a package deal, you can get your hands on a pizza, pretzel, and bagel float combo set. At $70 it might be a little bit of a splurge, but why not treat yourself to massive inflatable junk food every once in a while?
I don't know exactly why or how pool floats became the most important accessory of the summer, but somehow they did. According to Mic, the craze apparently started when Taylor Swift posted a (since-deleted) shot of her on a swan float with then-boyfriend Calvin Harris in 2015. They report that ever since Swift's original shot, Google search data shows that searches for inflatable swans doubled in America and continue to increase every summer. Taylor's float was actually a Swimline product, a company whose sales have risen dramatically since the craze begun.
If you're tired of seeing inflatable swans fill up your timeline, why not shake it up a little and start a new trend? It seems like giant, colorful pool floats are here in our lives and social media feeds to stay — and I'd rather see huge bagels floating around any day.