This Exclusive Drink Based Off Bustle Is The Perfect End Of Summer Treat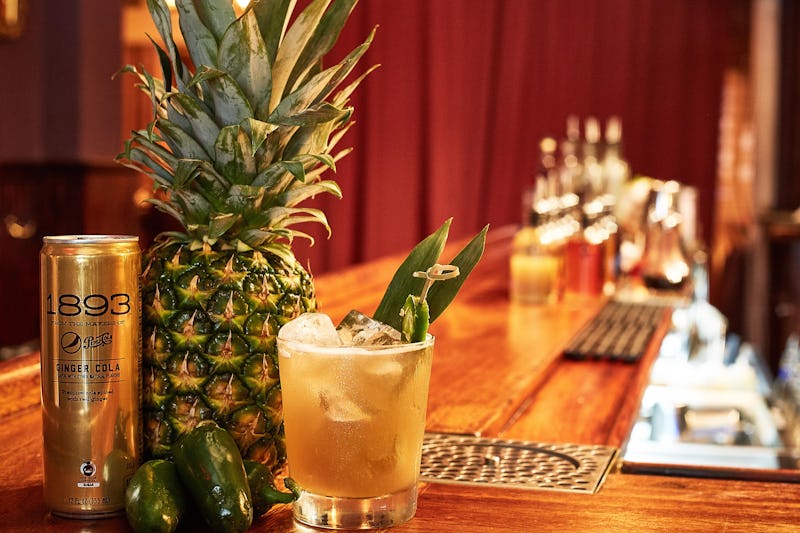 Pepsi 1893
Pepsi's new 1893 soda drinks are basically as chic as soda gets — I mean, with flavors like Ginger Cola and Citrus Cola, how could they not be — which makes them perfect mixers for cocktails, and gives us adulting points to boot. That said, coming up with a cocktail can be difficult. How do you create something that has all of the qualities you want it to, and tastes good on top of that? To find out on behalf of Bustle, lifestyle editor Tanya Ghahremani spoke to celebrity bartender Rob Floyd — who most likely will recognize from his SPIKE show Bar Rescue — during a recent Pepsi 1893 event at Caesar's Palace in Las Vegas to get some tips on how to create the perfect cocktail that possessed all of the qualities of Bustle: Feminist, edgy, sweet, flavorful, fun, and with a little bit of a kick.
One of Floyd's major skills is his ability to create meaningful and personalized cocktails that are totally creative and force you to expand your flavor palates. For an original cocktail inspired by Bustle, Floyd told Bustle that he wanted to harness the fun nature of the company, but mix in a hint of spice that adds a certain — in his words — "je ne sais quoi" sharp edginess to the drink, a quality he sees in the site. "I wanted to have it where it's a little spicy, a little sweet, and warm going down," he says.
The drink is a pineapple-spiced tequila cocktail — a little sweet and a little sassy — appropriately titled the 1893 Bustle. To come up with this cocktail, and every other cocktail that Floyd is proud to serve, he tells Bustle he follows a triple T rule: it's got to have good taste (yum, pineapple), a special technique, and a tale — which, in the case of the 1893 Bustle, is how the drink's flavor profile matches the site's identity.
Here's how to make the 1893 Bustle at home, per Floyd's recipe:
You'll need:
A glass
Ice cubes
A cocktail shaker
Several cubes of fresh pineapple
Two slices of jalapeño
3/4 oz. lemon juice
1/2 oz. simple syrup
2 oz. Silver Tequila
1893 Ginger Cola
First, muddle two to three cubes of pineapple together with one slice of jalapeño for the ultimate sweet and spicy foundation Then, add lemon juice, simple syrup and tequila.
Shake in mixer with ice and pour into glass. Top off the cocktail with as much 1893 Ginger Cola as you please for a slight effervescence and carbonated flavor.
For decoration and some added flavor, garnish your drink with a cube of pineapple, a slice of jalapeño (or two, depending on how bold you are!), and feel free to add some Maldon salt to the rim of the drink to really kick up the flavors. According to Floyd, adding salt to the rim of the drink will ensure that each sip is slightly different and that the drink never gets dull — from the first sip to the last.