You Can Wrap Your Holiday Presents In Paper Covered With Your Face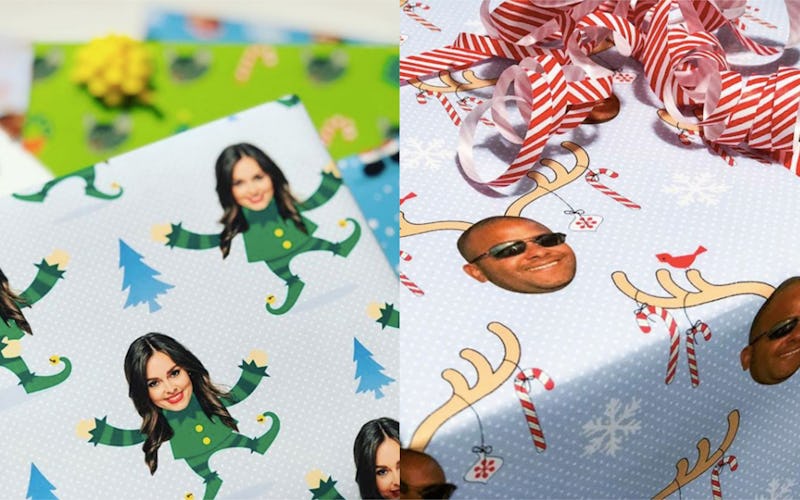 GiftWrapMyFace/Instagram
It is said it is the thought that counts most of all when giving a gift. Think about it: wouldn't you rather receive something small that your friend put lots of thought into than something expensive and generic? If you say yes, get ready for arguably the most personalized gift you can give. In this one instance it is actually what is on the outside that matters more than what is on the inside: personalized gift wrap with your face on it. That's right — for less than $20, you can ditch the basic drug store gift wrap and instead get one sure to make a lasting impression.
Here is how it works: When you log on to the website, you will first choose the gift wrap design to which you want the photo to be added. It sounds simple enough, but in reality this is probably the most difficult part of the process; there are so SO MANY designs to choose from. For Christmas alone, there are 12 designs, including four that incorporate Santa. From there, you will be prompted to upload the photo you want to appear on gift wrap. Be sure it is high enough quality to be featured on a piece of gift wrap. Then, in just a few days, you will be the proud owner of a personalized roll of gift wrap.
The idea for personalized gift wrap originated from a predicament founder Aryal found himself in a decade ago. According to the website, he had purchased a box of chocolates for girlfriend Vanessa, but wanted to make the generic gift a little more special. So, he edited his own face from a silly photo on the gift wrap. When Vanessa received the gift, she was unsurprisingly delighted by the wrapping.
In the time since that first legendary gift was given, Aryal and Vanessa have married, and GiftWrapMyFace has grown into their family business. In 2014, GiftWrapMyFace products were featured by ABC news, Elvis Duran, Bloomberg TV, and chosen by Oprah to be featured on her exclusive "O List."
There are currently more than 50 paper designs you can choose from on the GiftWrapMyFace site, many of which are holiday-themed.
As it turns out, personalized gifts with your friends' faces actually occupy a niche section of the gift market. A quick search on Etsy for personalized gifts will likely land you on the page for Guestbookery, which can create pretty anything you could ever want with a face on it.
The Texas-based retailer specializes in all things personalized and offbeat, and can make anything you could possibly dream of covered in a photo of your friend's face. Some of the weird and wonderful highlights of the shop include a personalized sports bra, a personalized swimsuit, and a new addition, a personalized Christmas stocking. Just imagine how surprised your friend will be when they look in their personalized, face-covered stocking to find a box wrapped in paper covered with their face that contains an article of clothing covered in their face. It might not even be November yet, but it is never too early to plan for the holidays.