This Farm Is Tweeting Photos Of Puppies In Halloween Costumes Every Day In October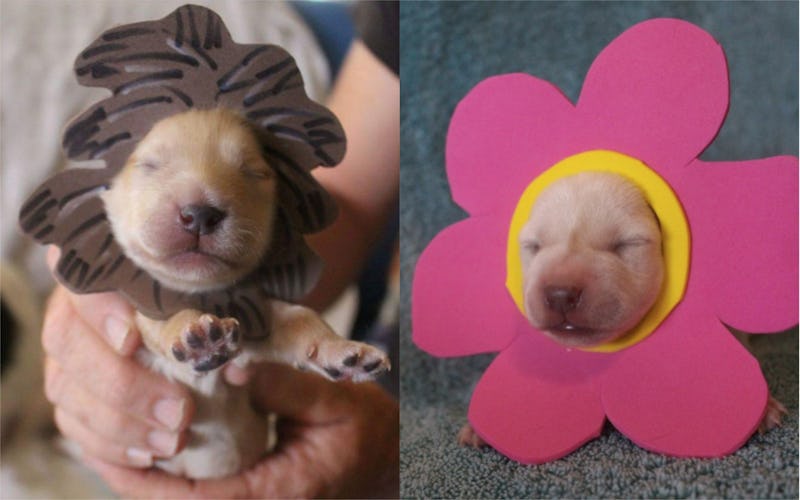 Courtesy of Blue Heron Farm/Twitter
It would seem as of late that our Twitter feeds are full of less-than-stellar tidings. Luckily, there are people like Lisa Seger of Blue Heron Farm, who want to bring a little sunshine to your life. With the help of foster dog named Hattie who recently had a litter of puppies, Seger has created the best viral Halloween content of the year: tweets of Halloween puppy portraits that are debuting every single day leading up to the holiday.
In a series that has since (unsurprisingly) gone viral on Twitter, Lisa Seger (who, side note, is running for the Texas state House of Representatives), is documenting the first few weeks of life for five new members of her family. In each, a puppy is wearing a Halloween costume Lisa designed and crafted herself — and they are, naturally, cute as all heck.
"Making the costumes and taking the photos wasn't meant to be a 31 day project, but it kind of snowballed," Seger tells Bustle over email. "Making them is therapeutic to me when I'm feeling anxiety about politics and other current events, and people who have been on the receiving end of the photos seem to feel the same. I stuck with it because figure we can all use something happy to look forward to."
Seger tells Bustle that after accepting to foster a pregnant dog named Hattie, she thought dressing up the puppies might come with an additional benefit. Not only would the internet enjoy the festive furry babies, seeing the puppies in costume might help them find forever homes faster. Though, it's hard to imagine they would have any trouble finding homes in the first place — look how precious they are!
While Seger planned the first puppy photoshoot, she did not intend to post photos every day leading up to Halloween. Then, the posts began to get popular on Facebook. Knowing what had to be done, she valiantly accepted the cuteness challenge. Taking over the internet with puppy portraits is easier said than done, though. She somehow manages to make costumes and stage puppies, all while being their primary caregiver, running a dairy farm, and spearheading her own political campaign.
Halfway through the month, the puppies — who are named Alec, Claire, Sam, Josh, and Dr. Fred after other Texas legislative candidates — have sported costumes modeled after everything from sushi to Superman, bugs to breakfast.
With only a week to go before Halloween, they're under the wire to come up with more outfits. But, real talk — if she posted photos of the puppies au natural, Twitter would be pleased.
Moreover, she hopes the project sheds light on the critical issue of animal overpopulation. "As adorable as the pups are," Seger tells Bustle, "they are a sign of a deep problem of pet overpopulation. We want people to remember to spay and neuter [their pets]."
If you'd like to pay the good vibes forward, Seger tells Bustle she encourages people to do so by making a donation to the rescue Hattie and her pups came from: 4 Paws Farm. The rescue will handle the pups' adoption once they are old enough, and already have a forever home lined up for mama Hattie. 4 Paws Farm relies solely on volunteers and is funded exclusively by donations. So, if any of these photos have brought a smile to your face, just image how many pups you can help save with a donation. Happy Puppy-ween!