This Woman Claims She Turned Into An Angel After Wearing Fenty Beauty Foundation & Honestly, Same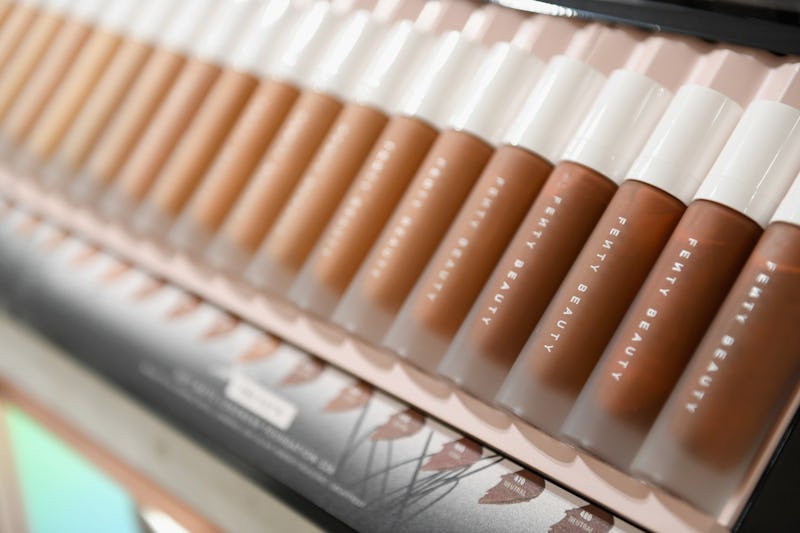 Stuart C. Wilson/Getty Images Entertainment/Getty Images
When it comes to finding the perfect foundation for your skin, the first place to look are the customer reviews. Or, you know, if you want a good laugh. As Allure found, there is a hilarious Fenty Beauty Pro Filt'r Foundation review on the Sephora website. Entitled "I'm So Flawless," the review is raw and real and will keep you entertained all at the same time. And if this review doesn't convince you to buy, then I don't know what will.
It's no surprise that people love Fenty Beauty. The line has gotten praise for their 40 shades of foundation and minimalist packaging since before it even came out. Not to mention that it landed on Time's 25 Best Inventions of 2017 list. But the Sephora review from Eden, which Twitter user Shaun Juan found, is the ultimate.
While others talk about how stay-proof and sweat-proof the foundation is, this one talks about the true beauty of the makeup item — how it makes the person feel when wearing it.
"I mean . . . I'm trying to be humble but I can't," Eden says in the review. "I'm fly. I only need one application on my face and it looks like I've been blessed. Like....I drink my water, mind my bidness, and only get petty when it's well deserved."
That is high praise, my friends.
The review is on the #440 Pro Filt'r Foundation, but it's not the color that Eden raves about. The review talks about how confident she feels when she puts the foundation on. It might be a little exaggerated or maybe not — you decide.
"I walk around looking like a life-size Academy Award," the review continues. "If you don't stop and ask me what am I using for my skin, then you're just a hater 'cause I'm stopping traffic. I'm getting invited to all the cookouts, your boyfriend, his brother AND his best friend want to holler at me but I'm faithful to my man. My man is trying to find a way to love me a little less but he can't cause I'm even more elevated. And I'm just steady blessing his life."
Needless to say, this is a five-star review.
"What can I say? #440 was good to me," the review wraps up. "I already have great skin...but now....it's like it ain't safe for me to walk down these streets anymore. I'm too fly to walk with common folk now...... Bless up. And I mean that in the most humblest way possible."
This might be the most hilarious review on Sephora, but it's not the only glowing one. Other reviews have titles like "So beautiful. Would recommend," "My new fav," and "Robyn didn't come to play!" There's even multiple reviews written in all-caps, just to make sure you get the message.
The product overall has a four and a half star on the website. Needless to say, people love this foundation.
The foundation is a permanent part of the Fenty Beauty line, so there is plenty of time to stock up, if you haven't already. There's also a shade for just about every skin tone out there, as well as a primer to go with it.
There's a reason that this foundation landed on TIME's list, and it's not just because of the 40 shades. The best part is how it works with a variety of different skin types.
Fenty Beauty by Rihanna Pro Filt'r Soft Matte Longwear Foundation, $34, Sephora
If you haven't already grabbed this foundation, this is the perfect time. Just be careful. I heard it stops traffic.