This Font Lets You Raise The Rainbow Flag With Every Letter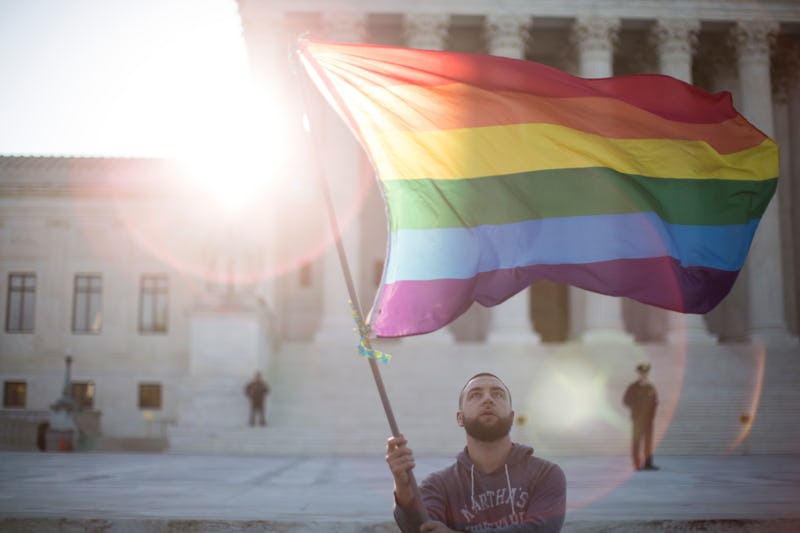 Drew Angerer/Getty Images News/Getty Images
The font you use to communicate with people digitally says a lot about you and now Gilbert, a new font inspired by the Rainbow Flag, lets you type every letter with pride in a very literal way. Named for Gilbert Baker, who created the iconic ROYGBIV flag in 1978 as a symbol of visibility, the font splashes your page with every color of the rainbow, brightly honoring both Baker and the LGBTQIA+ community.
After being discharged from the U.S. Army, Baker, who died on March 31, 2017, taught himself to sew; at the request of gay rights activist and friend Harvey Milk, he often created protest banners on demand. Milk rode under Baker's first Rainbow Flag on June 25, 1978 at the San Francisco Gay Freedom Day Parade, according to Baker's website.
To honor Baker, NewFest and NYC Pride partnered with Ogilvy & Mather's design team (with help from Fontself) to create a new font inspired by the Rainbow Flag, which has become a universally recognizable beacon of light and hope for the LGBTQIA community.
"We wanted to create something special that would not just honor Gilbert and his iconic Rainbow Flag, but also give the LGBTQ community a fantastic tool to help them create their own banners, posters and signs," the design team said in an interview with Creative Boom.
Whether you realize it or not, fonts influence the way you relate to words and messages. "Like handwriting, we associate font choices with specific personalities. People who use Helvetica usually have an eye for clean design and art — the famous font is even the mainstay for the NYC Metro — whereas those who use Comic Sans are just embarrassing themselves," an article about fonts on Complex explains.
By using Gilbert, which you can download now at Type With Pride, you can let people know, without saying a word, that you support equal rights for all LGBTQIA+ people. You can also continue Baker's work by creating your own signs with the Gilbert font for Pride events, protests, invitations, and more.
"People can now raise the Rainbow Flag with every letter they type, by literally embedding the [Rainbow Flag] banner into the font we made [it] possible for everyone around the world to type with pride," Gilbert font creators said to Creative Boom.
According to his website, Baker is quoted in the 2007 book The American Flag, Two Centuries of Conflict and Concord as saying, "Flags are torn from the soul of the people." This message is especially poignant as the LGBTQIA+ community continues to fight for equality as they risk losing hard won rights under the Trump administration.
Baker moved to New York City from San Francisco in 1994, and created a mile-long Rainbow Flag for the 25th anniversary of the 1969 Stonewall Riot. The flag measured 30 by 5,280 ft., and was carried by 5,000 people, breaking the world record for largest flag.
Additionally, his website states that Baker worked with photographers to document the Rainbow Flag, and he created subsequent posters and paintings every year to mark its birth. One of his 1992 Rainbow Flag silkscreens, which was a 22 by 35 oil on linen, was gifted to former President Bill Clinton who hung it in the West Wing Office complex.
On the anniversary of the Rainbow Flag in 2003, Baker broke his own world record for the largest flag when he created a new one that stretched sea to sea from the Gulf of Mexico to the Atlantic Ocean in Key West, Fla.
It's up to us to continue his work, and using the Gilbert font is a fitting way to honor the person who spent his life supporting and defending LGBTQIA rights by creating, and flying, his flag no matter what.