A New Gap Ad Features A Breastfeeding Mother & Twitter Is Here For It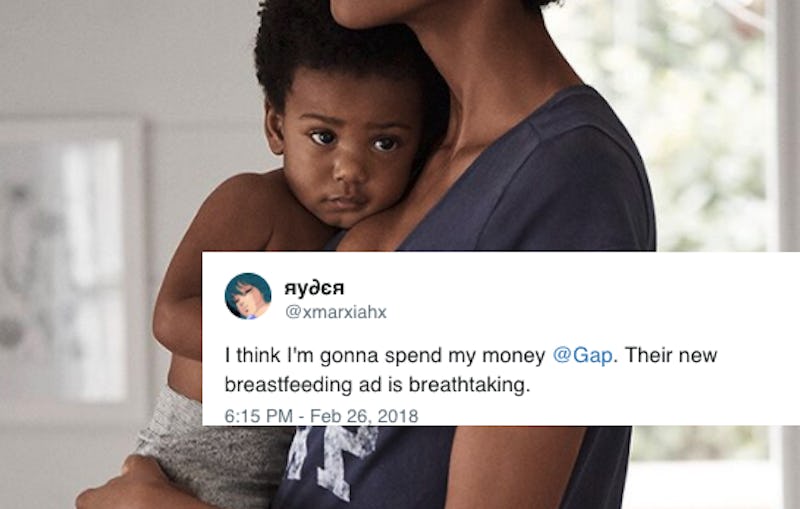 Gap Instagram
Gap has long been known for its basics. But the mall brand is making a bold and necessary statement about how much you will love and want to live in its leisure clothes. A new Gap ad features a black woman breastfeeding her son. The image suggests that Gap apparel suits any and all occasions in life. It also helps to normalize the act of breastfeeding, which is a natural, healthy, and nourishing act that bonds mother and child. More importantly, it further destigmatizes nursing among women of color.
There's quite a bit to unpack with one powerful photo.
In the image which the brand posted on Instagram to much social media acclaim, the mother is holding and breastfeeding her son while draped in a loose, super soft, Pima cotton sleep tunic. The image promotes the brand's comfy-looking Love by GapBody collection. The brand also notes that the V-neck shirt's "super secret wash" makes it a keeper that you will wear no matter what you are doing.
But it's also such an impactful way to demonstrate how breastfeeding is a normal part of life. It is not something that should be hidden or solely conducted behind closed doors.
Gap told People that the brand is purposefully marketing these pieces as ones that will "encourage and empower all women to be the woman they want to be as a friend, partner, wife, mother and voice in today's society."
Amen to that! If you view the Gap as a mall brand you left behind during middle school or if it's not a store you visit often these days, the ad and the Love by GapBody range will most definitely reel you back in.
Love, comfort, and confidence are a trio of things most people seek in life. It's truly beautiful when an image from a fashion campaign works to provide all of those concepts at once.
Insta users were quick to flood the comments of the post and to share their elation over this very IRL depiction of breastfeeding. Some users were so excited to see breastfeeding being accepted and promoted in such a public forum. Mothers were stoked to discover a shirt that allows for ease of nursing.
Gap certainly got many things right with this ad. Normal is the new normal in 2018.
Lots of users have pledged to return to patronizing the Gap, courtesy of this ad. The retailer is truly closing the "gap" on its peers, courtesy of one high impact image. Unfortunately, there were a few folks on the internet who expressed that they would rather not see such activity in public. But they were far outnumbered by supporters who have been waiting for moments like this.
The Twitterverse reacted with sheer bliss over the ad, with users thanking Gap for its "normalizing" efforts and promising to purchase its PJs.
Yes and yes! This user summarizes everything that is right with this ad.
This tweet is one word and an emoji and both elements convey all of the feels.
Gap is proving to be a place where all are welcome.
This user pointed out that the ad features an older child, as well. That's another important element of normalizing breastfeeding.
Nursing in the black community is sometimes considered a taboo, given the historic hyper-sexualization of black women's bodies. There are women and organizations who are working to change that perception and encourage the act of breastfeeding among more mothers. A mainstream American brand is using its advertising platform to send the message that breastfeeding is a beautiful and customary practice for women of all cultures and backgrounds.
What a victory! See you at the Gap.