This George H.W. Bush Speech From 1991 Is A Must-Watch To Remember His Optimism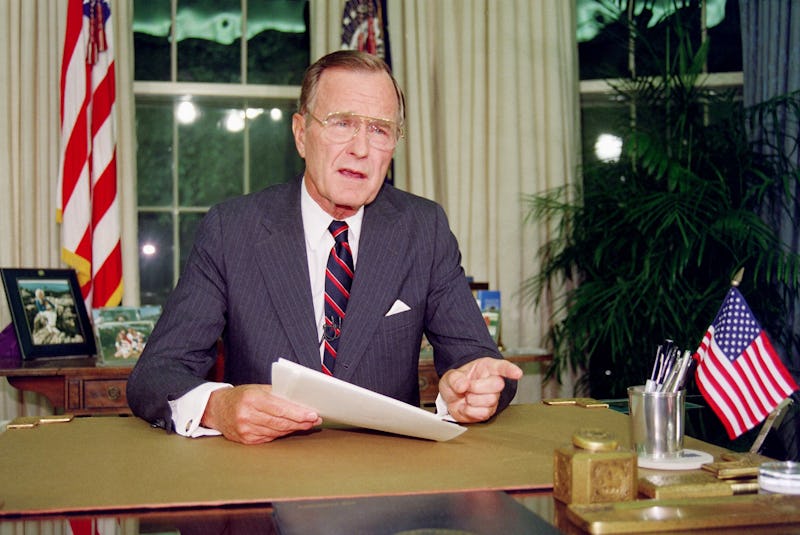 LUKE FRAZZA/AFP/Getty Images
At 94, President George Herbert Walker Bush was the oldest living former U.S. president when he died. And to remember the 41st president of the United States, it's important to take a moment to remember one of his finest speeches: George H.W. Bush's second State of the Union Address, delivered on Jan. 29, 1991.
Bush died after several hospitalizations and just months after his wife, Barbara Bush, died at 92 in April. His oldest son, former President George W. Bush, released a statement that read, "George H.W. Bush was a man of the highest character and the best dad a son or daughter could ask for. The entire Bush family is deeply grateful for 41's life and love, for the compassion of those who have cared and prayed for Dad, and for the condolences of our friends and fellow citizens."
The 41st president presided over a complicated time in American and global history — European communism was failing, the AIDS epidemic was raging, and amid all this, Bush oversaw the original invasion into Iraq.
While certainly not a perfect president, whatever that might look like, Bush's second State of the Union address stands out not only as one of his finest speeches, but, compared with the current rhetoric of the Republican party, sections of it might feel downright progressive.
Bush opened the speech with an assessment of global affairs, describing the fall of the Soviet Union and the invasion and ongoing struggle in Iraq. But then, as he pivots toward domestic issues, he strikes a tone of what can really only be described as earnest optimism. "If anyone tells you America's best days are behind her," Bush said, "they're looking the wrong way."
From there, Bush embarked on a picture of a kinder, more caring America than the one his party currently promotes. "Which of our citizens will lead us in this next American century?" Bush asked. "Everyone who steps forward today — to get one addict off drugs, to convince one troubled teenager not to give up on life, to comfort one AIDS patient, to help one hungry child."
This, perhaps, is the most famous line from the speech:
We have within our reach the promise of a renewed America. We can find meaning and reward by serving some higher purpose than ourselves, a shining purpose, the illumination of a Thousand Points of Light. And it is expressed by all who know the irresistible force of a child's hand, of a friend who stands by you and stays there, a volunteer's generous gesture, an idea that is simply right.
Bush would go on to lose the presidency to Bill Clinton 20 months later in 1992, but many argue that his steady hand during a tumultuous time was critical to our nation's prosperity.