This Voter Law Could Impact Georgia's 6th District Election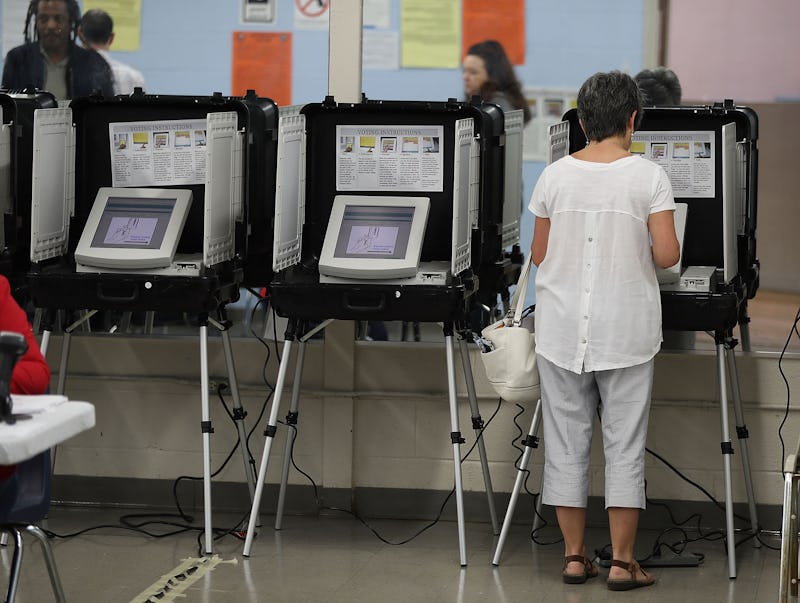 Joe Raedle/Getty Images News/Getty Images
Civil rights groups have filed a lawsuit against Georgia that may significantly impact the state's upcoming run-off election between Democrat Jon Ossoff and Republican Karen Handel. The lawsuit accuses Georgia of violating the National Voter Registration Act of 1993 by cutting off voter registration for its run-off election two months prior to the deadline outlined under federal law.
Although Georgia law allows eligible voters to cast ballots as long as they've registered at least 30 days prior to the election they're looking to participate in, the rule does not currently pertain to run-off elections. In the situation of a runoff, Georgia law stipulates a person must have been registered to vote by the general election voter registration deadline in order to cast a ballot in a run-off election. That means those looking to vote in the special runoff election between Ossoff and Handel on June 20 would, by Georgia law, have had to have registered to vote by March 20, when voter registration for the state's April 18 election closed.
The Lawyers' Committee for Civil Rights Under Law, which filed the lawsuit on behalf of five civil rights organizations including the Georgia chapter of the NAACP and Atlanta's Asian Americans Advancing Justice, alleges the state is in violation of federal voting laws. Section 8 of the National Voter Registration Act of 1993 stipulates a person must be allowed to vote if they have submitted a valid voter registration application "at least 30 days before a federal election." The lawsuit alleges Georgia's special runoff constitutes a federal election.
"This case is all about making sure people who want to vote are able to vote," the Atlanta Journal Constitution reported Voting Rights Project of the Lawyers Committee co-director Ezra Rosenberg said.
But state officials in Georgia have vowed to fight the lawsuit, which Secretary of State Brian Kemp's chief of staff David Dove called a "completely political effort to attack Secretary Kemp" in a statement to the Atlanta Journal Constitution.
The lawsuit could end up having a major impact on the election for Georgia's Sixth Congressional District seat in the House of Representatives. In a hotly contested and particularly high-profile election, Ossoff and Handel are running for the seat Tom Price vacated when he was appointed Health and Human Services secretary by President Donald Trump. The election has largely been characterized as Republicans' first test with voters since Trump took office in January.
In a special election held April 18, Ossoff fell just shy of the 50 percent threshold required to win the seat outright. Ossoff and Handel, who received the second highest number of votes, will face off against each other in Georgia's June 20 run-off election.