This Girl Gave Her Pet Turtle A Mani & It's Cute AF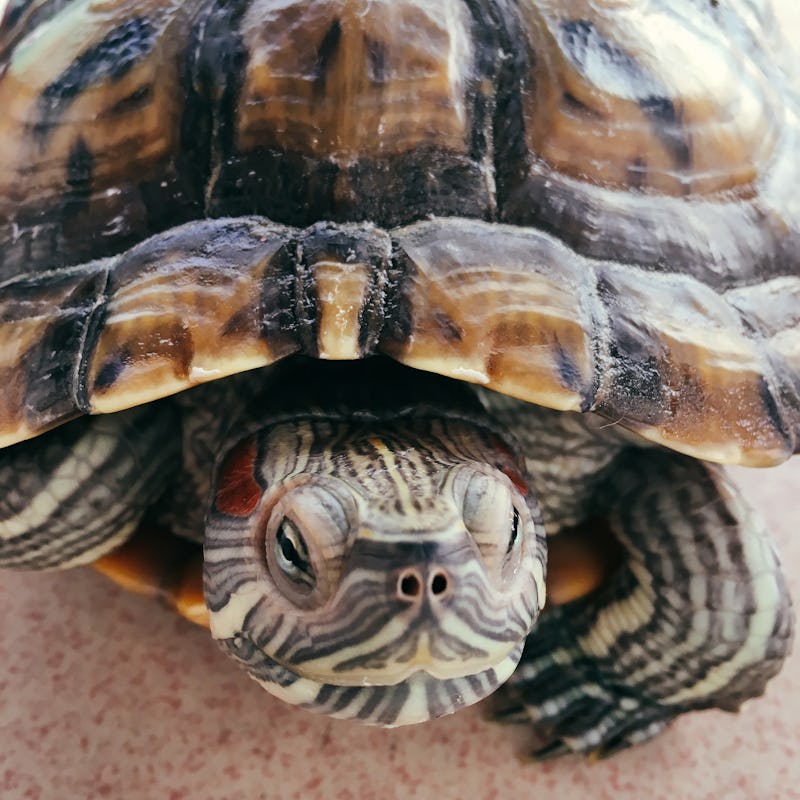 Jingjing Song / EyeEm/EyeEm/Getty Images
There's plenty that you and your pet can do to bond: Take walks, watch TV, just hang out on the couch. But this pet owner decided to do something different: She gave her turtle a manicure, and to be blunt, it's f**king adorable.
In honor of National Pet Day, Twitter user @yagirlkeyy_, or Kiana, introduced her pet turtle, Juanita, to her followers. While at first you might have noticed Kiana's bright yellow manicure, upon closer inspection it turned out that Juanita had a full set of her own.
According to Mashable, "Juanita is a new addition to her fam, but the fam takes care of each other. That includes nail care, obv." Just because she's an animal doesn't mean she has to miss out when Kiana goes to get her nails done. Just slip her into your pocket and ask the nice nail technician to give her own set of poppy talons. While she might not have had a big enough nail bed to get creative with nail art and rhinestones, an electric pink will do the trick in grabbing your attention and adding a dose of style.
PopSugar also praised Juanita's beauty style. "Everyone can appreciate the beauty of a fresh manicure, but we're not sure we pull it off as well as Juanita. She has her nailfie poses down and she's totally killing it," the site wrote.
And apparently, Kiana isn't the first one to think of this cute move. If you open up the comment thread in the post, you'll notice a few other turtle owners' pictures that show they had the same idea. One other follower posted her own pet with a cherry red finish, proving that dogs aren't the only pets that you can get cute with. While granted they might not have fur you can braid and stick bows on, there's plenty of ways you can bond with your turtle.
And if nothing else, these little guys will make you want to invest in a mani of your own — they can't be the only ones slaying. So thank you for the inspo, Juanita and friends.