You Probably Missed This 'Goonies' Reference In 'Stranger Things' Season 2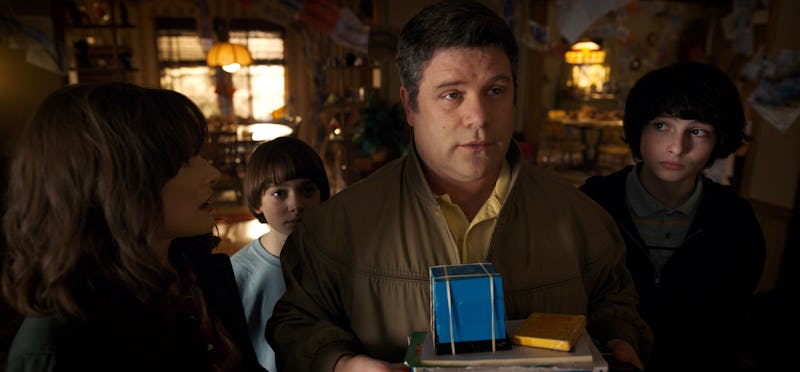 Netflix
By now, Stranger Things has built a reputation for packing in callbacks to the movies and TV shows that fuel its retro premise: Mad Max, Poltergeist, and Pretty In Pink are all among those that made the cut this time around. But there's also a Goonies reference in Stranger Things Season 2 you may have missed — and no, it's not the fact that the film's star, Sean Astin, was cast as Joyce's boyfriend, Bob. Light spoilers ahead for Stranger Things Season 2.
During a scene in "Chapter Five: Dig Dug," Joyce recruits Bob to help decipher the maze of drawings Will made of his Shadow Monster-induced visions. After realizing they're actually a map of Hawkins, they pinpoint a missing Hopper's location to an X, and Bob is tasked with figuring out where it is, which is when he lets out a subtle hat-tip to The Goonies. "What's at the X? Pirate treasure?" he asks, alluding to the map his Goonies character, Mikey, uses to track down the treasure left behind by One-Eyed Willy and save he and his friends' soon-to-be-foreclosed homes.
"We're like misbehaving children," Matt Duffer told BuzzFeed of the joke. "I was like, 'I know I'm gonna get slapped for that by the critics, but I don't care, I have to make it.' It just presented itself, it was too easy." And luckily, Astin was fully on board. Duffer continued to the outlet:
"Sean loved it, he was totally game for it. He loves to talk about [The Goonies], thankfully. We asked him about it all day, and the kids are big fans so they'd pester him about it all day. He's a talker, he loves to talk."
Of course, The Goonies influence on Stranger Things extends beyond a quick one-liner. As Duffer points out, there's a lot of similar imagery throughout the season: The cavernous feel of the newly expanded Upside Down harkens back to The Goonies' underground voyage through the tunnels beneath the Fratellis' restaurant hideout, and Steve even dons a red bandana similar to the one Brandon (Josh Brolin) wears in the original 1985 film. Plus, Astin even doled out some advice to his younger cast mates behind scenes. As he told Cinema Blend:
"For me, as an older generation now, coming into an environment where I did exactly what these kids are doing — and they all know it and they're looking at me like, 'Oh, tell us stories.' I think the only advice that I gave them was just to enjoy yourself. That's so weird. I'm blessed to have a unique point of view and unique perspective on stuff like that. So when I get to it, you know, riding a bike quickly on a set where there's an adventure going on, yeah, that's my wheelhouse, I know that."
But more than that, Stranger Things mirrors The Goonies' feel-good theme: Both projects center around a band of misfit adventurers on a quest to save their small town homes. In The Goonies, the kids of Astoria, Oregon battle it out with a family of money-grubbing criminals and the callous owners of a country club. In Stranger Things, the high schoolers of Hawkins, Indiana fight back against an evil corporation and the otherworldly monster(s) they unleash. It seems un-coincidental, then, that Astin's Mikey Walsh and Finn Wolfhard's Mike Wheeler — both leaders within their respective friend groups — have such similar names, or that Jeff Cohen's Chunk and Gaten Matarazzo's Dustin bear a similar style and share a love for food.
For Stranger Things, referencing The Goonies — whether intentionally or not — is unavoidable, because it's part of the fabric that makes the show so magical, and without it the series wouldn't be the same.