This No-Drippings Gravy Recipe For Just You Is Too Easy To Mess Up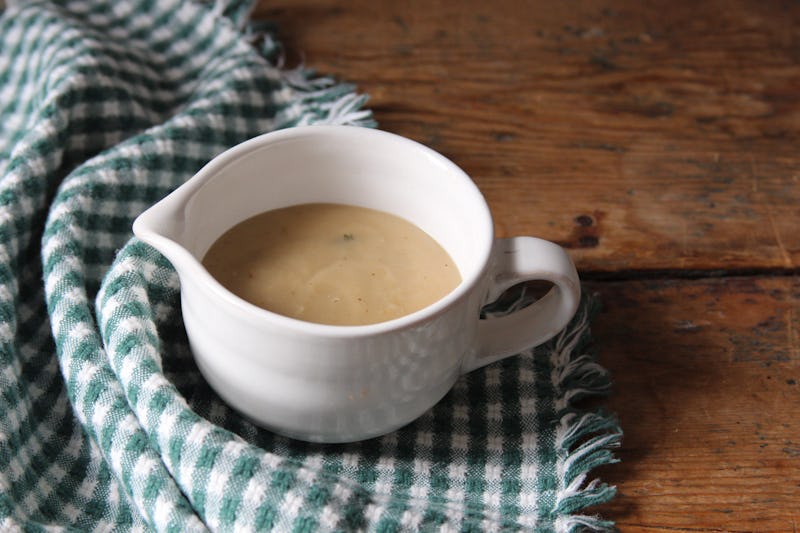 Brittany Bennett
The fourth Thursday in November shouldn't be the only time you grace your dining table with a bucket of gravy. Sometimes you're eating mashed potatoes in front of your favorite prime time show and need a little something more than butter and salt to accessorize it with. Great news for gravy lovers — even when there isn't somebody to pass the sauceboat, you can make a no-drippings gravy recipe for one. It's not impossible and it means never having to wait for a once-a-year holiday to roll around. This recipe is rationed for one so you won't have to let cups of leftover gravy age in the fridge or freezer, setting yourself up for a future fridge clean-out you definitely won't look forward to.
Most gravy recipes require collecting drippings from your Thanksgiving roast. Don't worry, you won't have to engage in grocery store bumper carts to get that last bird for just a half cup of gravy. All you need is some chicken or turkey broth. If you don't have any homemade on hand during soup season, I suggest strolling into your local butcher shop to see if you can get your hands on their homemade batch. Because of the turkey's absence here, its lack of fat drippings typically required for a decent gravy can compromise flavor. That's why I believe homemade broth would lend that rich flavor over the box. But if time doesn't allow, no judgements! Just channel your inner Ina Garten and go with store-bought.
The process of making the single gravy is almost as quick as snapping your fingers and just as straightforward as pressing start on your microwave. And the results are a creamy, thick, well-seasoned gravy that starts a party in your mouth. It takes roughly four minutes to prep and about five minutes to cook. Slather french fries and soak mashed potatoes with this gravy as you enjoy a serving fit for an independent queen taking it easy for the night.
1 tablespoon unsalted butter*
1 small shallot, chopped
1/4 teaspoon fresh thyme from the sprig
1/8 teaspoon salt, plus more to taste
1/8 teaspoon cracked pepper, plus more to taste
1 tablespoon all-purpose flour*
1/2 cup chicken broth
Yields 1/3 cup of gravy
*This recipe makes a thicker, rich gravy. If you'd like a thinner version, reduce the amount of the butter and flour to 2 & 1/2 teaspoons each.
1. In a small sauce pan over low heat, melt the butter. Once the butter is a golden puddle of deliciousness, add the chopped shallot and thyme followed by the salt and pepper to season. Use your whisk or wooden spoon to stir the ingredients together and cook until the shallot is tender, about two minutes.
2. Add the flour and stir into the butter until you have what looks like a paste. This is called a roux, and it thickens the sauce, giving it that silky glaze of goodness that you want to have blanket all of the contents of your plate.
3. Slowly pour in the chicken broth, stirring it into the contents of the saucepan. Bring to a boil and then stir vigorously until the sauce thickens into gravy, about two minutes. You can tell it's thick by keeping an eye on it but the ultimate technique to test for thickness is when the gravy coats the back of a wooden spoon. When you run your finger through it (blow on that baby first — it will be hot!) and it leaves a trail, that's how you know dinner is ready.
4. Transfer into a gravy boat and promptly pour over your dinner plate while it's still warm.
It's really that simple! If it's cooled before using, pop it into the microwave for 30 seconds and stir.
Now you can enjoy your rich, creamy gravy — a Thanksgiving favorite — all year round.
Check out more Single Serving recipe ideas here for when your speed is less "entertaining my crew" and more "watching Netflix alone on my couch."