'Bachelor In Paradise' Teases Grocery Store Joe's Arrival In A Clip That Will Make You Swoon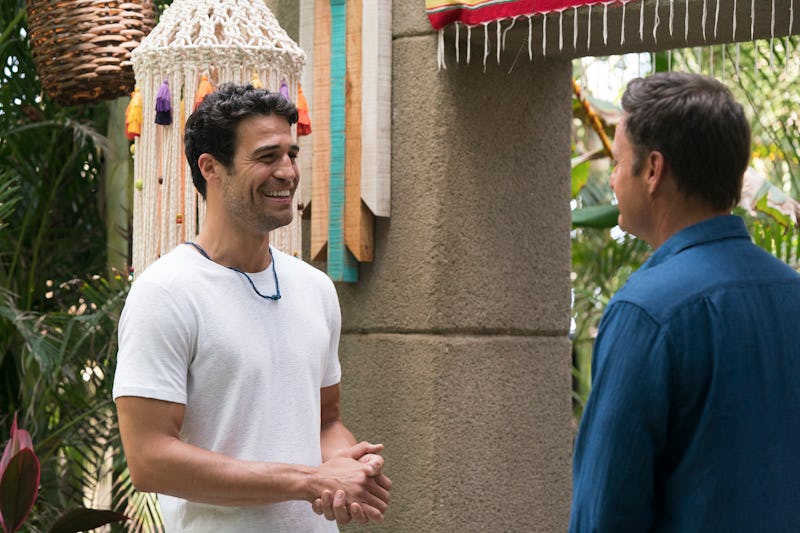 Paul Hebert/ABC
There are a lot of former Bachelor and Bachelorette contestants who manage to find their way onto Bachelor in Paradise, but none of them have as unique of a story as Grocery Store Joe, real name: Joe Amabile. Never has someone garnered so much popularity with so little screen time, and yet when Becca sent Joe packing on the first night of her Bachelorette season, fans immediately rallied behind him at the injustice of it all. But if you thought you loved him then, this new Bachelor in Paradise clip of Grocery Store Joe will give you an even greater appreciation for the Chicago native.
As a way to help promote the Season 5 premiere, which kicks off Tuesday night at 8 p.m. ET, the official Bachelor in Paradise Twitter account posted a video of Joe's arrival into Paradise. As per usual, he was greeted by the show's host, Chris Harrison, who attempted to get some insight into where Joe's head is at now that he's back on TV looking for love. Joe proved during Becca's "Men Tell All" special to be a man of very few words, but in the clip, he did offer up a few details on his day on The Bachelorette and what he hopes to get out of the experience in Paradise.
"I'm ready," Joe says upon officially meeting Harrison, who wasted no time in vocalizing exactly what we're all collectively thinking: "Well, hopefully this stint in Paradise will last longer than your stint on The Bachelorette." And while Joe admits that he was nervous during his first go in the Bachelor Nation realm, he's ready and willing to give on-screen love another shot, even though he thought for sure that his early departure from The Bachelorette would signify the end of his love life for good. "Honestly, after the first episode I thought I'd never have a girlfriend again," he admits to Harrison in the clip. "Because I'm like, 'This is pretty bad, no one is ever talking to me again.'"
Obviously, that did not turn out to be the case at all, but will he succeed in finding love in front of the cameras this time around? Fans will just have to tune into for the season to find out one way or another. For his part, though, Joe says he's just hoping to last at least more than a day. Also revealed in the clip: he's very much aware of the fact that his Bachelor nickname is Grocery Store Joe and he seems totally fine with it. (Not that he has much say in the matter, but still, it's good to know he's a good sport.)
Meanwhile, Joe's fellow Bachelor stars are just as curious about him as he is about them. "I'm curious to talk to him to figure out, like, what happened," Bibiana chimes in. Perhaps the two of them will end up hitting it off. You never know what to expect on a show like Paradise, but Joe definitely seems to be one of the good guys. Let's just hope that this time he gets the appreciation he so deserves and ends up sticking it out for the long run.