The Photos From This Baby's Guy Fieri-Themed Birthday Party Will Make Your Day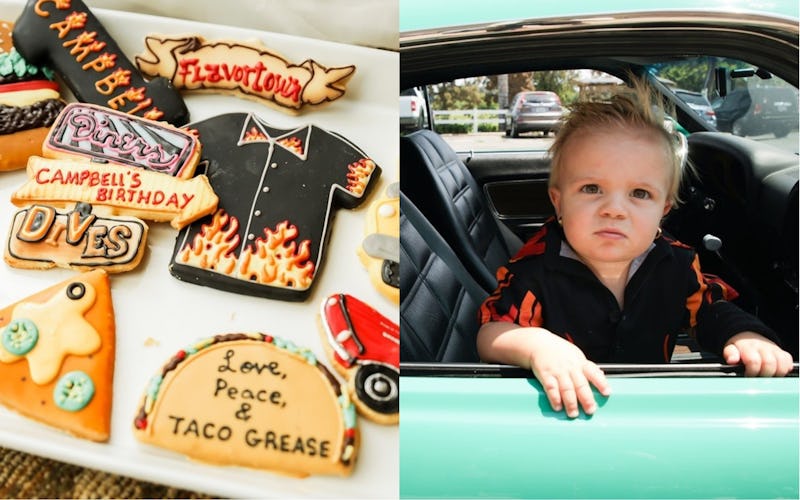 Courtesy of Nataly Stein
Throwing a full-on birthday party for a one-year-old may seem a little ridiculous — the baby won't even remember it. But, since throwing parties are fun anyway, you might as well use your baby's b-day as an excuse to go all out with the theme of your choosing — or at least one that will make you and your friends (and the internet at large) laugh. In the case of Nataly Stein, that meant a Guy Fieri-themed birthday party for her son's first birthday, including dressing him up as the man himself.
Stein says that the idea was born from a photo of her baby son, Campbell, in which his blonde hair was standing straight up and he had on sunglasses. In other words, he looked very Fieri. As reported by Delish, Stein owns three bakeries, so she already had some experience with making extravagant and specific cakes. For Campbell's birthday, she and her team made multiple cakes, all shaped like Guy-approved foods.
And this mom didn't just go all out with the cakes. From the invitations to her family's outfits to the decor, she took everything to Flavortown. Stein told Delish, "People were so impressed and cracking up. I tried to not let the theme go at any point."
She also understands the silliness of a first birthday party, and was sure to keep things fun for older guests, including by providing some not-so-kid-friendly drinks. "You have to make it appealing for adults. Why else would people go to a first birthday?"
Of course, it's hard to do this event justice without looking at the photos (credit to @sarasantana.photography and @aliciamarie.photo), which are cute, impressive, and have an odd buffalo sauce aftertaste.
The Invites
"Why: Still Don't Know" is an honest answer for throwing a baby a party and for throwing a Guy Fieri-themed event.
Suggested Attire
Courtesy of Nataly Stein
Courtesy of Nataly Stein
One can only hope adult Campbell prints out both of these poster size and hangs them on the wall of his home.
The Welcome Sign
Yeah, she went all out.
The Birthday Boy
"Who is Guy Fieri? Why am I wearing flames? Does it smell like a Korean fusion taco in here?"
The Cakes
Just to reiterate: Stein owns three bakeries. That makes this totally reasonable. In addition to all of these, Campbell also has his own "smash cake" that was shaped like a wedge of Swiss cheese:
He doesn't even know that he's surrounded by more cakes!
The Food
Courtesy of Nataly Stein
Courtesy of Nataly Stein
In addition to the various cakes, there was also a fancy milkshake bar, to-order macaroni and cheese (with hot Cheetos option), a nacho bar, a ranch fountain for chicken tender dipping, and cookies that were also made by Stein's bakery.
"Campbell's Soup Station"
According to Delish, Stein asked guests to bring canned goods to donate to a children's shelter instead of presents. Thoughtful and a play on Campbell's name.
Flames For The Whole Family
Stein really pulled this whole thing off, and now she gets to wait and see what Campbell thinks when he looks back at these photos as a teen. This party is a gift that keeps on giving.