A Guy Made His GF The 'Beauty & The Beast' Dress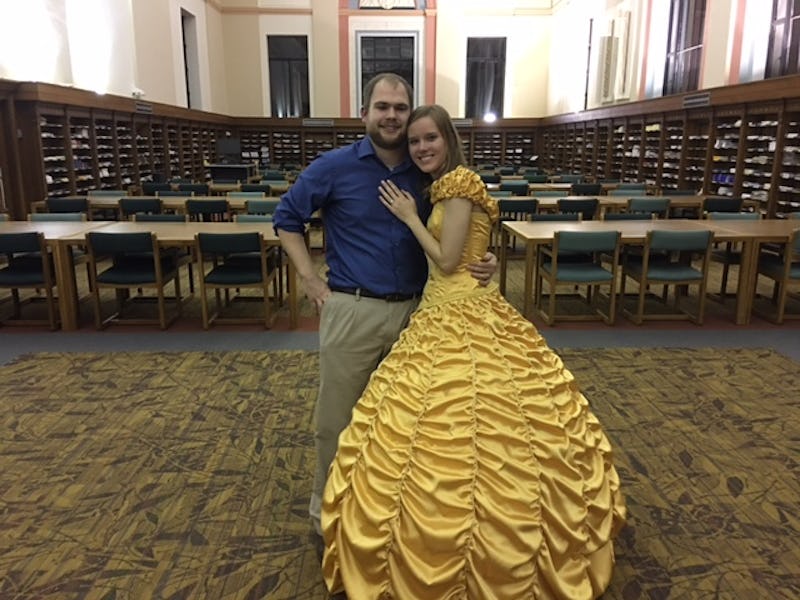 In a tale that's sure to become as old as time, Joel Lynch might just have made the best Beauty and the Beast-themed proposal ever. The 23 year-old Lynch got everything about his proposal perfect, from the library setting, to the music ("Tale as Old as Time," of course) to the intricate yellow meringue ball gown he actually sewed by hand for his fiancée-to-be.
Currently a graduate student at the University of Iowa, Lynch chronicled his adorable proposal story over Imgur, where it quickly went viral (to date, it has over 600,000 views). His inspiration behind the grand gesture was quite simple: He knew his girlfriend Cara Szymanski was a huge fan of Beauty and the Beast, so he decided to "recreate the famous scene," and to "make her the dress to coincide with [his] proposal."
It was bit of a tough road from there, as Lynch doesn't exactly describe himself as an expert seamstress. Still, according to ABC News, he found the cosplay pattern online back in October, and proceeded to buy over thirty yards of yellow satin. Then, he got to work, kicking things off "in a basement with a cheap sewing machine and a dream. And coffee. Lots of coffee."
It wasn't all smooth sailing — he joked via Imgur, "Sewing? easy. Sewing well? not so much." He also quipped that no one should look too closely at the complexities of the skirt (though, honestly? Looks pretty flawless to me).
He finished the skirt with thirty days left until the proposal, and rushed frantically to complete the corset and sash, which he put the finishing touches on a scant thirty minutes to go.
It didn't stop with the dress, though: Lynch also secured the perfect setting (the Iowa State University Parks Library Records Room), and the perfect ring (sparkly and expensive).
When time came for the big proposal, everything was picture-perfect: The dress fit like a glove, he got down on one knee, they danced through the library. It was all about as adorably romantic as it gets.
She even used her newly-minted voluminous ball gown to execute a few Disney princess-worthy twirls.
What with the Emma Watson-helmed live-action version of the film hitting theater in a couple months, Beauty and the Beast has been generating a substantial amount of buzz. Still, this lovely young couple is definitely giving all that Hollywood hubbub a run for its money.
How's that for fairy tale love? One can only hope that their actual wedding ceremony will be every bit as romantic as their engagement!