This Guy Reads Fake Trump Era Books On The Subway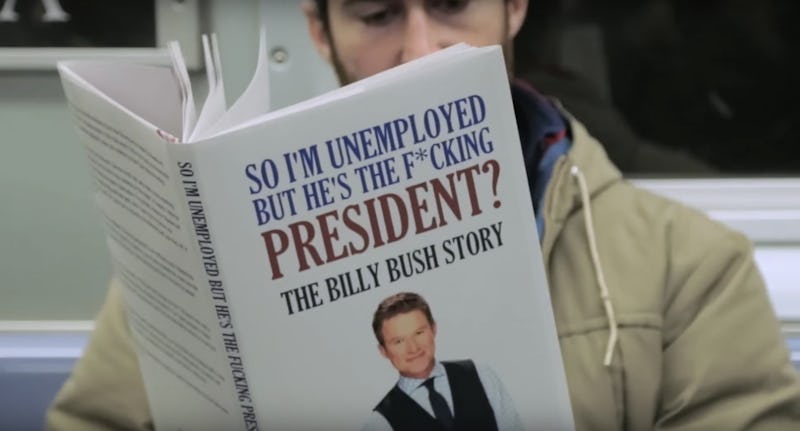 YouTube
Considering we're living a political nightmare straight out of the Twilight Zone, comedy is quickly becoming a survival tactic. If you need a li'l laugh to make it through to Friday, watch this guy read fake Trump era books on the subway. Just don't let anyone from Threshold Books see this video - we don't need them getting any more ideas.
The dude behind these hilariously clever book covers, Scott Rogowsky, is hardly a newbie at creating faux titles. Host of the comedy talk show Running Late, Rogowsky rose to fame last year when clips of Running Late's "Subway Reading" series went viral. The set up is simple: Scott posts up on the subway, pretends to read horribly titles books, and then films peoples' responses.
New Yorkers are notoriously hard to phase on public transportation, but even they couldn't quite keep it together when faced with titles like, "101 Penis Lengthening Tips You Can Do At Home, The Office, Or On the Go" and "Slut Shaming Your Baby: Seven Natural Laws For Nursing Mothers." I'm not sure whose job it is to come up with these, but I want to definitely be friends with them.
Unsurprisingly, "Subway Reading Series: Trump That Book! (Unpresidented)" was equally successful, if not more so.
And don't worry - Rogowsky doesn't just target Trump - he goes after all those GOP bullies. Pence, Bush, Gingrich. You know, all our faves.
"Unpresidented" isn't just spreading smiles, though. All proceeds generated from video will be donated to the ACLU and Planned Parenthood. Since being posted on Tuesday, Jan. 10, it's garnered over 100,000 views and 74 comments. I have a feeling this is going to be a sizeable donation, once again evidence that as much as people love to dismiss comedy (and literature!) as frivolous, it has the potential to make serious waves.
Need more? Watch the full video below: