You Can Buy A Cat-Proof Christmas Tree That's Actually Chic As Heck
by Callie Tansill-Suddath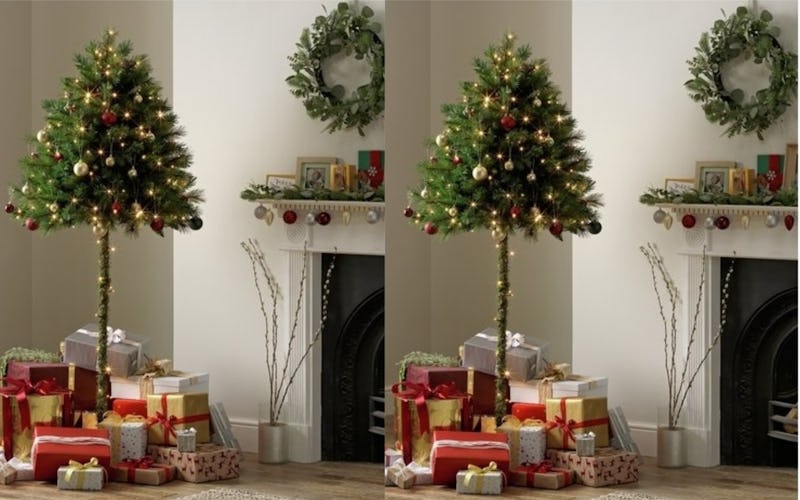 Argos
Christmas trees are, without a single doubt, the among the most iconic of holiday decorations. Think about it: for what other occasion do people sacrifice the cleanliness of their living rooms to make room for a large, unwieldy tree to become the center of attention? But, nothing makes the Christmas tree experience more difficult than sharing its location with your cat. Cats love trees almost as much as they love boxes (read: too much). Luckily there's a wonky new invention ideal for cat owners at Christmas: the Half Parasol Christmas Tree.
Christmas trees aren't just left alone to show off their own unique brand of woodsy splendor, the trees are dressed in a mix of refined and gaudy decor. The one thing in your house that really wants to adorn that tree has four legs and a taste for mischief. If you search "Cat Christmas Tree" on YouTube, you will be greeted with literally thousands of results. While it is fun to watch the mayhem ensure in the homes of people on YouTube, anyone who has dealt with a kitty on the naughty list knows it's actually extremely stressful. Your cat combined with your tree could do damage to any number of things including the tree; the ornaments; the home; or worst of all, itself.
The Argos Home 6ft Half Parasol Christmas Tree is arguably the most inventive solution for the Christmas tree-cat conundrum. Rather than some temporary bandage solution, the Parasol Christmas Tree eliminates the problem altogether by getting rid of the part of a Christmas tree your cat would climb up. Per the product description on the Argos website, the tree allows you to "Keep your perfectly placed baubles, bows and bells out of reach of curious, crawling kids or your cats' playful paws with this 6ft parasol tree."
Further, "If Santa's been extra generous, there's plenty of room to stack pressies underneath rather than scattering them around it. It's also a great alternative to the traditional tree if you're a tad tight for space." Basically, it is the best of both worlds for a pet owner. You can decorate for Christmas while ensuring nobody gets hurt as a result.
Other features of the tree include a stand, and that it's fire-retardant and made of PVC. Though, at publishing, there is only one review of the product, it has received five out of five stars. Is should also be noted that there is a version of the 6-foot Half Parasol Christmas Tree styled to look like it is covered in snow.
If you're someone who prefers your holiday decor to be unique rather than conventional, consider topping your half-tree with something magical. Perhaps unsurprisingly, unicorn tree toppers are the talk of the internet right now. You can find them (or tutorials to make them) all over the place. Though, this one from Pennsylvania-based Etsy seller Bella Bowtique Designs, is the perfect mix of tasteful and whimsical.
The best Christmas tree is one you feel proud to decorate and show off. For however long you want to display your tree, consider investing in one that perfectly embodies the creativity and chaos in your life.