This "Holiday" Pizza Topped With Candy Canes Is Turning Everyone On Twitter Against Each Other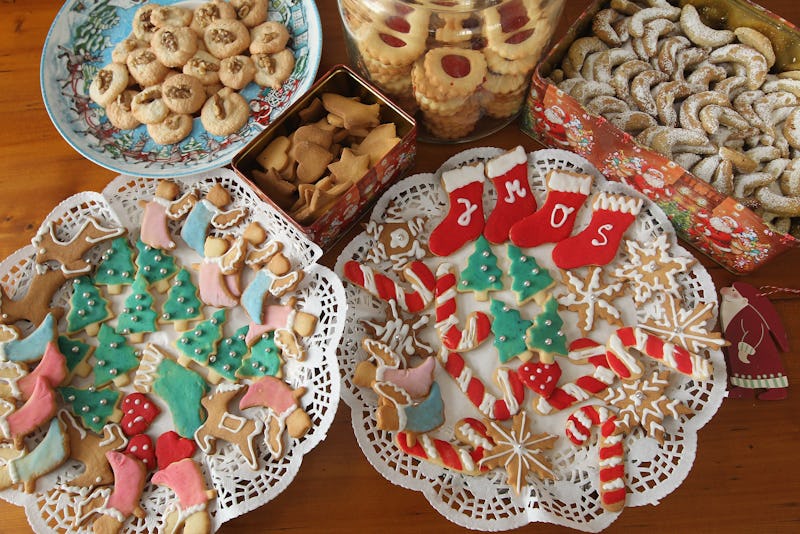 Sean Gallup/Getty Images News/Getty Images
All of the department stores are blasting Mariah Carey's "All I Want For Christmas Is You," and streets are dotted with twinkling lights fashioned after snowflakes — I think it's safe to say the holiday spirit is alive and well. The question is, though, can that spirit stretch too far? Well, after seeing pictures of a holiday pizza that's taking over Twitter, I actually don't know the answer to that question anymore. Based off the reaction of other Twitter users who have encountered the picture, this may have crossed the line into too much spirit territory — the people have tweeted, and it seems as though while you can't play "All I Want For Christmas Is You" enough, you can basically ruin Christmas when you combine mint and marinara.
There is a place for holiday-themed food, but it's typically of the sweet variety. Bring me platters of sugar cookies shaped into dreidels, snowflakes, snow people, sleds and stars. Sprinkle them red and green, blue and yellow, silver and gold. Serve them at all hours of the day. I will and can eat cookies for breakfast alongside mint tea. I will not blink an eye at a cinnamon roll wreath accessorized with rosemary and sugared cranberries. There are certain food fusions that work. But candy canes and mozzarella? I think this is a menu item prepared only for the unique tastebuds belonging Buddy the Elf.
On top of the kind of typical pizza we all enjoy instead of deliveries on lazy nights in is your not so typical toppings. As in, you would never find this questionable pairing on as an option on a official pizza place menu. Why? Well, first of all, in place of pepperoni you will find peppermint sticks, also known as candy canes. Instead of peppers or mushrooms, or literally any other standard topping in the entire world that you'd freckle the pizza pie with are what appear to be gummy Santa Claus bits. And you complained about pineapple on pizza.
Popped in the oven and baked on a canvas of perfectly innocent DiGiorno Pizza, the candy canes melt into swirly goo. The original Christmas version of this Frankenstein pizza was posted by Twitter user @gotham146, at which time it promptly went viral. Reactions began to flood in, making its way to a feature in "Twitter Moments." Needless to say, the general consensus on Twitter is that the creator of this pizza deserve a spot on the naughty list.
The post has warranted at least 767 comments, ranging from GIFs expressing exasperation and tweeted alerts to local police departments to jokingly report this crime against pizza and Christmas. A select few, probably distant relatives of Buddy the Elf, found this minty, cheesy pizza to be a jolly wonder. The perfect way to celebrate the holidays. Hey, we all have our own ~unique~ and distinct tastes, right? To each their own. Even if that means pizza dough and melted gummy Santa Claus bits, I suppose.
While some take offense and others draw inspiration, the holiday pizza is causing quite the stir on Twitter and therefore, the universe. Will we one day find this quirky pairing of toppings on pizza parlor menus and acquire a taste for minty tomatoes and sugared stringy cheese? Perhaps this seems impossible, and a sure way to cut the spirit of the holidays short, but you never know what can happen. For those who enjoy the oddity of this food fusion, it seems pretty easy to bake up. And for those who don't, turn up your Christmas tunes and make more holiday sugar cookies this year. A melted candy cane might find a better pairing with a chocolate cookie or cake. However you feel about this pizza, one thing is for sure. You can never actually smother the holiday spirit.