This Is How O.J. Simpson Reacted To Being Granted Parole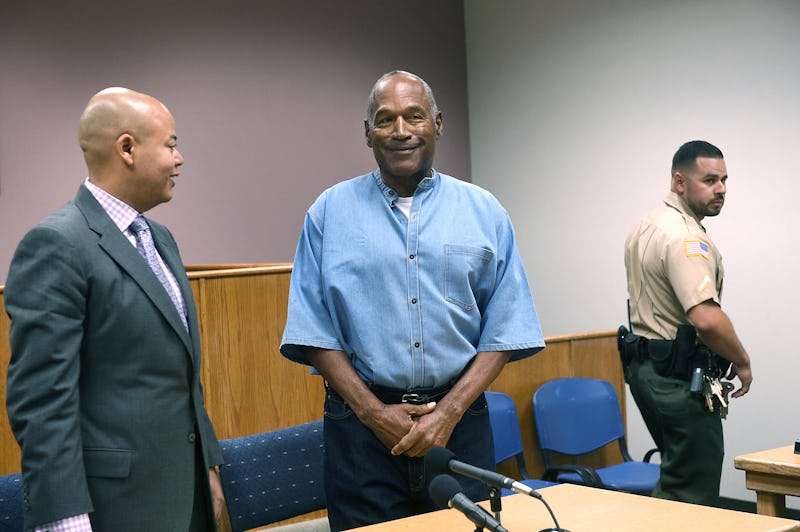 Pool/Getty Images News/Getty Images
"Oh God! Oh God!" O.J. Simpson shouted just after he left the parole board hearing room. On Thursday Simpson was granted parole after having been convicted of armed robbery in 2008.
During the parole hearing, Simpson, a one-time football star, said he was humbled by his experience in prison: "I've come here and spent nine years making no excuses about anything," Simpson said about his time in jail. "I am sorry things turned out the way they did. … I tell inmates all the time 'Don't complain about your grind. Do your time.' … I believe in the jury system. I will honor the decision. … I have done my time and I'd like to get back to my friends. And believe it or not I do have some friends. I don't think anyone could have honored this institution better. … I'm sorry it happened."
Simpson, who is now 70, seemed grateful for the chance to walk free. After the final member of the parole board cast her vote, Simpson bowed his head. He thanked many of the people in the parole board hearing room. And after standing up from his seat, Simpson took a few deep breaths and straightened his back, and looking toward the ceiling, placed his hand on his stomach. He exhaled sharply.
Simpson, who has spent nine years in prison, could be released as early as this fall. The former pro football player's conviction stemmed from a 2007 incident in which Simpson and several men attempted to reclaim what the former NFL star believed were personal items taken from him.
At the hearing, Simpson was asked about his time in prison. He responded by talking about the anti-violence courses he has taken and the computer classes he completed — the latter of which he said he had done so he could better connect with his more digital-savvy family members.
Beyond his football career, Simpson's Thursday parole hearing was just the latest instance in the athlete's entanglement with the criminal justice system. In 1995, he was tried but found not guilty of the murder of his ex-wife, Nicole, and her friend Ron Goldman. The star spent much of the subsequent years out of the public eye until 2007.
"I'm at a point in my life where all I want to do is spend as much time as I can with my children and my friends," Simpson said during the parole hearing. "I've done my time and I've done it was well and respectfully as I can. … I've honored their verdict and not complained for nine years."