This Is The Email Trump Jr. Received About Dirt On Hillary Clinton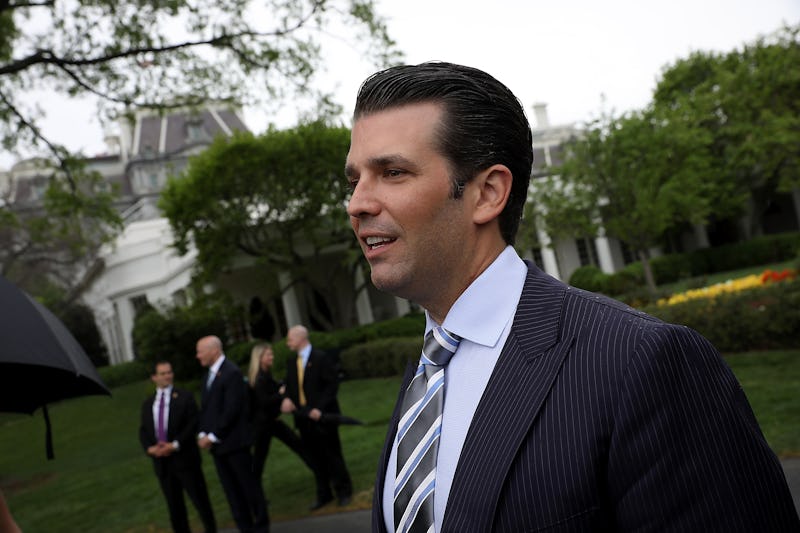 Win McNamee/Getty Images News/Getty Images
Shortly after Russian lawyer Natalia Veselnitskaya's interview with NBC News aired on Tuesday, Donald Trump Jr. released a statement along with screenshots of emails between himself and Rob Goldstone setting up his meeting with Veselnitskaya. The emails confirm that Trump Jr. was indeed offered information on his father's 2016 election opponent, Hillary Clinton. In one message, Trump Jr. expressed excitement about "incriminating" information on Clinton, writing to Goldstone, "if that's what you say, I love it."
Trump Jr.'s statement characterizes the meeting as "political opposition research," and emphasizes that no information on Clinton was ultimately shared during the conversation:
The woman, as she has said publicly, was not a government official. And, as we have said, she had no information to provide and wanted to talk about adoption policy and the Magnitsky Act. To put this in context, this occurred before the current Russian fever was in vogue. As Rob Goldstone said just today in the press, the entire meeting was "the most inane nonsense I ever heard. And I was actually agitated by it.
The first son's assertions are in line with the statements Veselnitskaya made during her NBC interview, in which she said her primary interest was to discuss "the real circumstances behind the Magnitsky Act." The lawyer claimed to have never had any damaging information on Clinton, and that she had no idea why Trump and his associates may have been under that impression.
Though Trump Jr. may be correct about Veselnitskaya not being a government official, the initial email he shared, in which Goldstone proposes the meeting, seems to outright confirm the Russian government's support of his father's campaign. "This is obviously very high level and sensitive information but is part of Russia and its government's support for Mr. Trump," Goldstone wrote.
According to CNN's Jake Tapper, a source from the New York Times revealed that the president's son did not publish his emails out of a willingness to be transparent, but rather because he knew the newspaper would soon be publishing a story with the information.
"Confirmed from an NYT source," tweeted Brian Stelter, host of CNN's Reliable Sources. "'We were preparing to publish' story -- Don Jr. camp 'asked for more time' to comment 'and then pre-empted us.'"
At the time of this writing, the president has yet to comment on the new developments surrounding his son's meeting with the Russian lawyer or the emails he released.