These Are The Highest-Rated Sunscreens Of 2017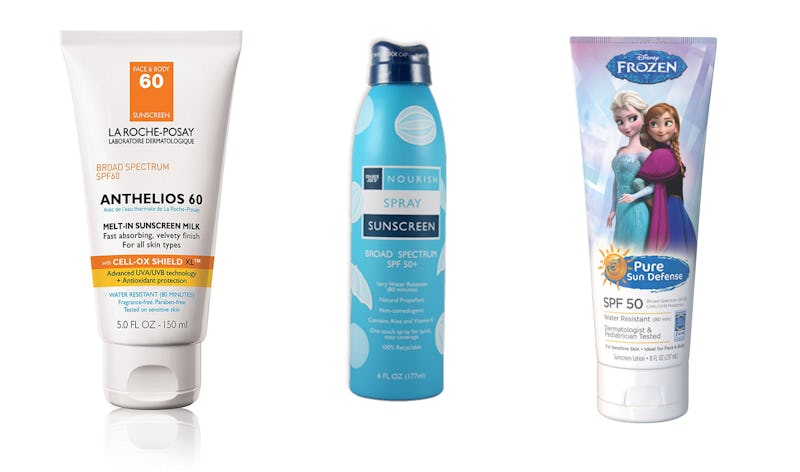 When you're debating between two or three different sunscreens that are all, let's say, SPF 30, you may think the biggest differences lie in how quickly they absorb, how well they spread, what the scents are like, or how greasy the textures are. But in truth, not all sunscreens are created equal from an effectiveness point of view, either. Consumer Reports has picked out the best sunscreen of 2017, and the winner is (drumroll please) La Roche-Posay's Anthelios 60 Melt-in Sunscreen Milk. They also revealed the next four best choices, and there were some surprisingly budget-friendly picks that took top marks, too.
Choosing a sunscreen that actually works can mean avoiding a seriously painful red burn as well as more serious sun damage down the line, so taking their findings into consideration next time you buy can help assure you that what you're getting works as well as it says it does. Consumer Reports uses their own testing methods to determine sunscreens' SPF, which is a measure of how well a product guards against UVB rays. To test, they put patches of sunscreen on testers' backs, soak them in water, and then expose the patches to six different intensities of UVB light. The next day, technicians examine the patches for redness.
While the FDA requires manufacturers to test their sunscreens to determine SPF (and the method they use is different), the agency itself doesn't test them according to Consumer Reports, so there's a sort of honor code that not everyone follows. Of the 60+ sunscreens Consumer Reports tested, 23 of them actually had less than half the protection they said they did. And because the American Academy of Dermatology suggests that everyone use SPF 30 or higher, if a bottle with that label is actually much lower, you're missing out on some hugely important sun protection.
There also can be big differences within the same brands, too, so just because one type of spray or lotion works well doesn't mean all of them do, according to Consumer Reports. But for your biggest chance of protection, as a rule of thumb, sunscreen should be reapplied at least every two hours (I know, but it's true).
Without further ado, here are Consumer Reports' top five recommended sunscreens for 2017. And if none of these are available, they suggest buying a sunscreen that's at least SPF 40 and contains chemical active ingredients (like avobenzone) for the biggest chance of actually getting at least SPF 30, based on their past five years of testing.
La Roche-Posay Anthelios 60 Melt-in Sunscreen Milk, $36, Amazon
This sunscreen received a perfect score of 100 for the third year in a row from Consumer Reports.
Trader Joe's Nourish Spray Sunscreen SPF 50, $10, Amazon
As if you needed one more thing to obsess over at Trader Joe's.
Equate Sport Sunscreen Lotion SPF 50, $5, Jet
Who says good sunscreen has to be expensive? Another super budget-friendly option, this one is under 5 bucks.
4. Pure Sun Defense Disney Frozen Sunscreen Lotion SPF 50
Pure Sun Defense Disney Frozen Sunscreen Lotion SPF 50, $6, Target
Possibly the most surprising product on the list, it's ironic that a Frozen sunscreen is so great for decidedly un-frozen days.
Banana Boat Sun Comfort SPF 50+, $8, Walmart
This sunscreen also touts how easy it is to brush sand off of it, which would come in so clutch when you're applying sunscreen on the beach (and you're not actually looking for heavy grade exfoliation).