Mandy Moore Teases That Jack & Rebecca's First Date On 'This Is Us' Might Not Be So Perfect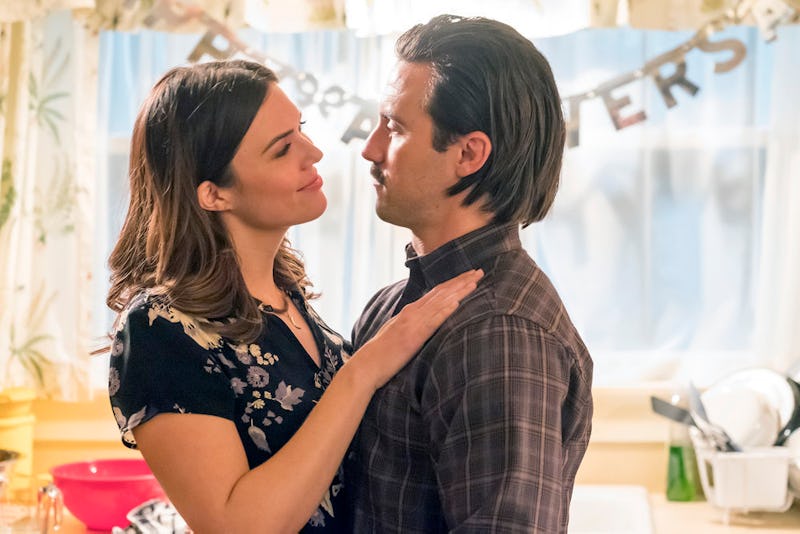 Ron Batzdorff/NBC
Season 2 of This Is Us spent a good chunk of its time finally revealing the answer to the question fans have been both terrified and desperate to have resolved: how did Jack Pearson die? Luckily, it's looking as though Season 3 will prove to be a little less heartbreaking (at least for an episode or two). Instead of showing how they ended, This Is Us Season 3 will show Jack and Rebecca's first date and shed some light on the beginning of the Pearson matriarch and patriarch's love story. However, star Mandy Moore warned fans that it may not be as sweet and romantic as fans expect from the two iconic lovebirds.
"People expect it to be a straight line to finding one another and living happily ever after — and that may not be the case," Moore told Entertainment Weekly during a recent interview. It's hard to imagine these two not sharing instant chemistry right off the bat, or not feeling as though they're simply meant to be. Jack and Rebecca have become a symbol of what an ideal marriage should look like, but that doesn't mean their relationship always ran smoothly. Even they aren't immune to experiencing awkward moments on a first date. Yet another reason to love the Pearsons: they're just like us!
EW was also able to get a first look at the date itself, having obtained exclusive photos of the upcoming third season. The image of Jack and Rebecca finds them at what appears to be a type of carnival or fair, which they attend on the very same night of their first meeting, as seen in previous seasons.
As fans will recall, the duo first laid eyes on each other when Jack was in the process of trying to steal money from a bartender. However, when he heard Rebecca singing in the other room, he got distracted and ended up ditching the robbery altogether. She noticed him starring at her in awe and smiled back at him, but that's all we know in regards to what happened next.
By the looks of things, Jack will probably wait around until after her set is done, which will eventually lead to this carnival scene. Perhaps Jack even offers to buy Rebecca a treat, given the delicious candy apple found in her hand in the image. Maybe they'll go on a ride together and share a romantic kiss. Or, maybe their first date is just as awkward as any other.
Regardless, seeing this piece of their history is sure to make an impression on viewers, especially now that they know everything about Jack's eventual death. "It's extremely good television to watch these two have their origin story," series creator Dan Fogelman told Entertainment Weekly. "It's always interesting after you lose somebody — which we kind of feel like we did with Jack this past season — to almost go in and put in those old video tapes and watch them at much earlier stage of life. And I think that's what this feels like."
It may be bittersweet for some to see Jack and Rebecca fall in love on This Is Us after seeing him die so tragically, but, if there's anything This Is Us fans are known for, it's for feeling all the feels, and that includes the sad ones too.