'This Is Us' Season 3 Will Seriously Have You Rooting For Miguel, According To The Creator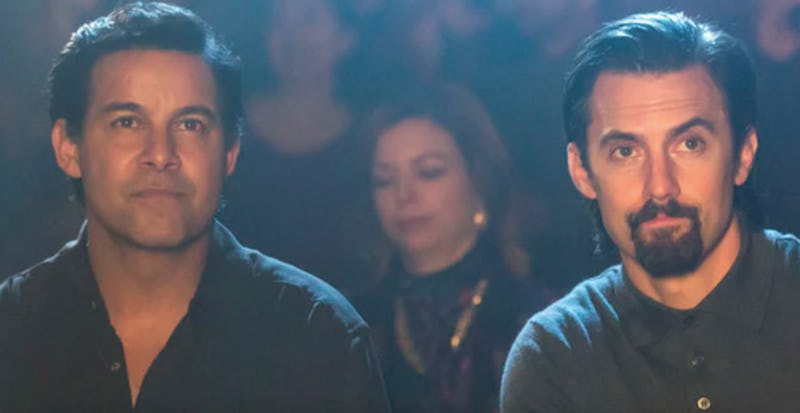 Ron Batzdorff/NBC
There is only one beloved Jack Pearson, which is why fans don't like Miguel in This Is Us. Audiences have watched Miguel (Jon Huertas) fill Jack's (Milo Ventimiglia) role in Rebecca's (Mandy Moore) life since his tragic death, but there are still lingering questions around why and how their partnership started. According to show creator Dan Fogelman in an interview with Deadline, This is Us Season 3 will have fans rooting for Miguel — and they may start loving Miguel.
Although Miguel isn't a bad guy by any means (as far as we know), his presence in Rebecca's life after Jack's tragic death is a hard pill to swallow. So what could Miguel possibly do for fans to eventually love him so much? In an interview with Deadline, Fogelman teased what's to come in Season 3:
"We're going to dive deeper into [Miguel's storyline] this season and begin this long play of making people actually start rooting for Miguel in a serious way, which I think will be really exciting when we pull it off... I think last season, people actually started to love him, and then started to hate themselves for loving him. But then, they gradually figured out that this guy really has done nothing untoward and is a guy trying to do the right thing."
Those are some strong choice words and Fogelman seems confident about what's going to unfold for Miguel and how audiences will respond. Apparently, fans will get a glimpse into Miguel's intentions and his relationship with Rebecca shortly after events surrounding Jack's death, which fans witnessed in Season 2. Fogelman explained to Deadline:
"When we're picking up that particular storyline, [with] the teenage kids, we're picking it up pretty immediately a couple of months after their father's death. You're seeing the beginning of a storyline where Miguel starts trying to help this family along, this character who has always been polarizing."
Jack's death emotionally destroyed audiences throughout Season 2, so whatever Miguel does end up doing will have to be pretty impactful to gain this sort of acceptance that Fogelman's teased. Earlier this year, Huertas had already been hinting that fans would start loving Miguel, even though he acknowledged they also hated him. "I'm really excited. I think that hopefully the way that they've set up the trajectory of Miguel's character, very slowly peeling back the layers of this onion," he told People. "From a conversation with Dan [Fogelman], the writers have a goal... it's basically: get people to love Miguel."
Turns out, this has been Fogelman's plan all along. But how he and the writers planned to make audiences fall for Miguel was even kept a secret from Huertas. "At first, I'm like, 'Come on guys we have to do something amazing. Miguel has to do something amazing to have them like him right away,'" he told People. "But [the writers] said, 'You have to trust us.'"
Meanwhile, Mandy Moore has been rooting for Miguel since Season 2 started (even if the fans do hate him in defense of Rebecca and Jack). Last November, she spoke about Miguel's storyline to Entertainment Weekly, specifically, the moment when he reached Rebecca on Facebook after she finally joined the social media network. "Can the world like him now?" Moore said. "I feel like this is a clear indication that the world can slowly start to embrace Miguel."
Many specifics regarding the couple's timeline remain unknown, but Moore still hoped fans would recognize the significance of Miguel's presence in Rebecca's life. "In my mind, the family leaned on him and I think he really stepped up as a best friend would to help make sure that the family was okay and staying on the right track," she continued.
Along with so many other cliffhangers from Season 2, now fans will have one more pressing question on their minds until Season 3 premieres: What in the world will Miguel do to make fans love him?