This Is What Happened When We Styled People In The One Thing They "Never Wear"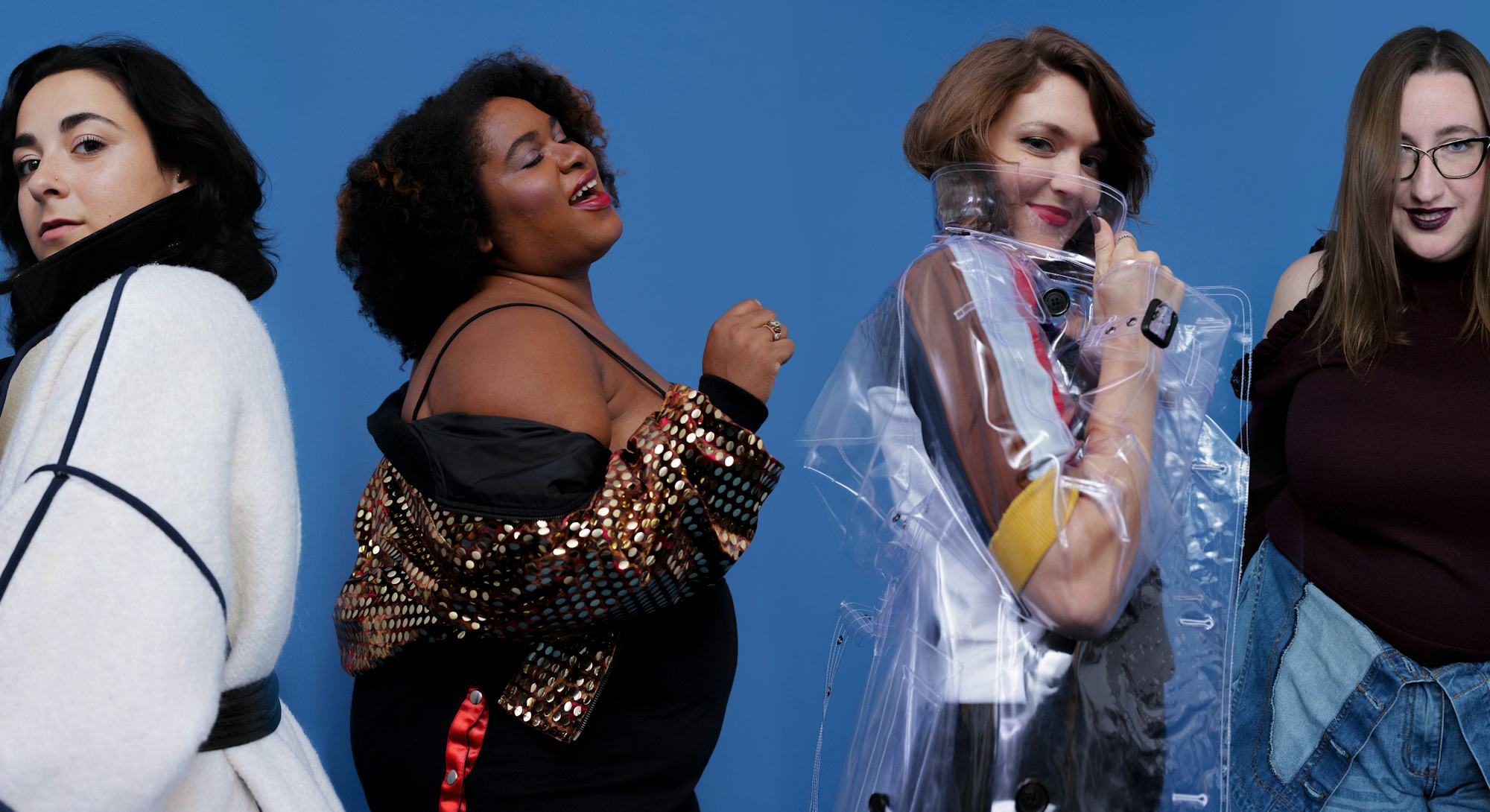 Ashley Batz/Bustle
Bustle and Coveteur are working together to bring you the best mix of the season's fashion and beauty releases, shopping tips, and service stories in ways that are both inspirational, and attainable. Check The Fall Style Edit channel weekly to see what we're up to.
I'm notorious for holding onto clothing I never wear for long periods of time. I'll keep a dress because it seems perfect for a future event that is not yet even planned, or a shirt because I spent so much money on it that I can't just give it away. Being attached to clothing that you don't know how to wear can sometimes be overwhelming, though. The item hangs in your closet, reminding you every now and then that you still haven't worn it. At best it can be a little annoying, and at worse it can even you feel somewhat guilty.
No matter how it affects you in particular, almost everyone has been there at one time or another. So we asked four regular people to bring in the one item of clothing in their closet they never wear, and then styled each item three ways. Bustle's Senior Fashion Market Editor Gabrielle Prescod created 12 unique outfits by pairing the statement pieces these women brought in with everyday items that most of us probably have laying around. Even if your one item is something different, these 12 looks pretty much prove that everything in your closet can be made into an outfit — or three.
Isabel's Winter Coat
"I originally bought this item because I had just finished [watching] Scandal for the first time and I wanted a white power coat like Olivia Pope," Isabel Calkins, a writer, tells me. "I saw it at a sample sale and for a gorgeous coat, it was surprisingly cheap. I thought it would make me look super important."
Other than wearing it on her first day at a big internship, Calkins says she hasn't worn the coat (which she's had for two years) at all before our shoot.
"The problem with this coat is that it is super heavy yet there are no buttons or anything to close it and the sleeves are really short, so it is not the best coat for winter because it doesn't actually keep you warm, [but it's] too hot to wear any other time of the year," Calkins said, even though she initially anticipated it would be fairly easy to work into her wardrobe.
For the first look, Prescod proved that outerwear on top of outerwear is definitely possible. Cinching the layered coats with a belt and pairing them with '70s-inspired pieces, this outfit got seriously chic pretty quickly.
Calkins says she was surprised by the styling, but loved how everything turned out and inspired by the creative layering that Prescod pulled off.
Rethinking your outerwear yet? Yup, me too.
For the second look, Prescod shortened the sleeves of Calkins' coat even more, allowing a cool turtleneck to poke through.
Paired with statement denim and possibly the most badass boots ever, this look is casual-chic in the best way possible.
Skirt over pants? Great. But how about a dress over jeans? This outfit, layering a turtleneck under a slip dress and that slip dress on top of her denim, was Calkins' favorite look of the three, she tells me.
"There is something super fun about a pair of relaxed jeans and a fancy coat, Calkins says. "It was a look I didn't think would look good on me yet it totally did."
Calkins tells me she plans to style this coat at home, now, and that the shoot helped her realize that playing with items she already owns could be a total game-changer.
"I honestly thought it was just going to sit in my closet forever, but this changed my mind."
Sarah's Overalls
Sarah Chiwaya, a plus size blogger behind Curvily.com, brought in a pair of overalls to be styled. Chiwaya tells me she bought them after thinking similar pieces looked amazing on fellow bloggers — but never ended up wearing them in the end.
"I [have had] these overalls for over a year and a half... and [I'd] never actually worn them before. I've put them on plenty of times, but never made it out the door," Chiwaya tells me. "I usually relish the challenge of finding a way to style something a bit tricky — [that's] pretty much a part of my job as a fashion blogger. These overalls beat me every time, though: I'd try a ton of different combinations, and get this close to something I liked, but no matter what, I always ended up thinking 'Nope, I look like a farmer.' I think that might be because I'm originally from Michigan and overalls just reminded me of my uncle on a tractor — not quite my desired aesthetic."
Prescod styled the overalls in three very different (but versatile) ways, proving that everything you've ever thought about overalls is absolutely, definitely incorrect.
The first look Prescod created paired the overalls with combat boots, a plaid cardigan, and a DIY sleeveless turtleneck.
"Gabby's styling creativity was next level, and from the moment she hacked off the sleeves of a basic chunky sweater and turned it into a cold shoulder statement piece, I was excited to see what was next," Chiwaya tells me, adding that this look was probably her favorite of the three.
Forget what you heard about overalls having to be perfectly buckled (that seems like a fashion rule that exists somewhere). For this look Prescod proved that something as simple as adding arm warmers (they're a thing, guys), or turning overalls into an asymmetrical statement piece can elevate a look.
"I loved the idea of using those same sleeves [from the sweater above] to elevate a classic button down as psuedo-arm-warmers," Chiwaya tells me.
The final look transformed the overalls into something else entirely. Because what is 2017 if not for over the top/creative denim? The asymmetrical cold sholder sweater Prescod chose complemented the brightness of Chiwaya's mules (which she already had in her closet).
"I often tell my readers not to feel restricted by what an item is called (i.e. wear a dress as a shirt or a duster if you are feeling it), but why stop there?" Chiwaya tells me as she discusses how the shoot altered how having a fresh set of eyes on a piece changed how she viewed it. "I'm going to make a concerted effort to look beyond type and instead envision the ultimate look."
And as for the overalls? Chiwaya tells me she's definitely keeping them now.
Elly's Pin Stripe Pants
Elly Ayres, a Branded Fashion Editor at Bustle, scored these vintage pin stripe pants from her aunt, who wore them in the '90s as an international businesswoman.
"She told me she once ran into KISS (in full face paint and platform boots, no less) in an elevator while on a business trip, and I like to imagine it was whilst wearing these bad boys. Every rockstar appreciates a good pinstripe, especially the ones who rock and roll all night and party every day," Ayres tells me.
Styling the pants, however, proved to be more difficult than Ayres had anticipated. "I love the fit of these pants, but I've struggled to style them because they're dressier than my usual look. Their lengthiness (my aunt's a lot taller than me!) requires me wearing a heel, which is a once-every-two-weeks kind of thing for me, and then figuring out the perfect high-low mix of clothes to transform these elegant pants into an everyday look is a tricky balance," Ayres says.
Prescod took these business pants and transformed them into three looks that could be as formal or casual as you want, turning the idea of "businesswear" on its head.
For the first look, an oversized button-down and form-fitting vest worked together to create layers and texture in the ensemble. The outfit is playful and serious, while still being creative and fun. Plus, it's giving off excellent Diane Keaton vibes.
"Layering tanks over shirts is something I've gotten more comfortable doing this year, but throwing the tight sleeveless top over the oversized button down definitely made me push past my comfort zone," Ayres said.
If you haven't felt brave enough to rock a skirt over pants yet, now's your chance to feel inspired. This head-to-toe outfit is perfect for a cozy fall or winter day and the sweater adds a vibe of playfulness to the look that works perfectly.
"The...looks are definitely encouraging me to get a little weird with my usually laidback style pairings. Whether that's an unexpected outfit layer or seriously amazing outerwear pick, shaking it up and out is a great way to refresh personal style — and maybe even discover a brand new fave along the way," Ayres tells me.
Ayres' favorite look of all, though? This super fun clear raincoat. And, really, can you blame her?
"I was surprised by how cool these pants looked when paired with a retro-looking short sleeved sweater top and see-through raincoat. That was my dream look, right there," Ayres says. "[The transparent coat] made me want to walk off into my own personal music video."
Patricia's Vintage Bomber
Patricia Birch, an attorney and plus size model, bought this vintage gold bomber jacket from one of her favorite, go-to vintage boutiques — especially when she's in a "retail therapy mood" (I can relate to that one).
While Birch loved the "glitz-glam" appeal of it, she tells me she had had the coat for about a year before this shoot and had still not worn it, even though she had thought of multiple outfits for the item when she purchased it.
"It felt like I did not have many occasions where 'casual glam' made sense," Birch tells me about her struggles with styling the bomber.
Prescod weaved the sparkly statement piece into three very different looks, all of which left Birch questioning everything she knew about what "glam" and "casual" really mean after all.
The inspiration for this look was 100 percent Kim Kardashian, according to Prescod. Some casual knee-length gym shorts, a white tank, simple sky-high heels and a statement coat? Yup, that's Kim K alright.
"When Gabby put me in the long Adidas shorts I was confused but it totally worked with the heels," Birch says. "The outfit made so much sense with the bomber: the tank and shorts are sporty like your average bomber, but the heels and the gold pieces over the bomber are both glam. And I feel like that outfit could work in a lot of settings. "
Proof that you should pull your athleticwear out of your closet sooner rather than later, if you ask me.
The second look was another take on the sporty-meets-glam trend — and this one featured another pair of stilettos, this time in an ankle boot. While Birch wasn't sure about the heels at first, the final look changed her perspective on wearing them in the future.
"I don't wear heels very often in my day-to-day, but wearing the sky-high heels on the set made me want to practice walking in them. I feel like integrating heels in my day-to-day would give me more 'look' options, which is fun," Birch says. "Wearing the heels felt like an push outside of my comfort zone. The whole shoot was a bit outside of my comfort zone...but the heels were like an extra nudge out there."
The final look is more proof that outerwear on top of outwear is always a good idea. Birch tells me this was her favorite look of the three, and that it helped her realize that the way she's been viewing her closet has been "a bit strict."
"I realize [now] I've been a bit strict about how I view the pieces in my closet; categorizing pieces for certain settings (like, this skirt's a 'work skirt' and that dress is a 'party dress,' etc.)," Birch says. "I don't have to label my clothing that way. Yes, I can be glamorous in some sporty Adidas shorts. Yes, that coat can be a layer under something else. I decide what goes on my body and what can work in a setting is what I make work."
And as for how Birch feels about the bomber now? "I feel like I can wear it just about everywhere."
No matter your personal style or what outfit hang-ups you have in your closet currently, there is something kind of magical about creating a new outfit out of nothing. And suddenly feeling amazing and confident about something that used to make you feel guilty or frustrated? Well, that can be pretty powerful.