This Is What It's Like At Major Airports Right Now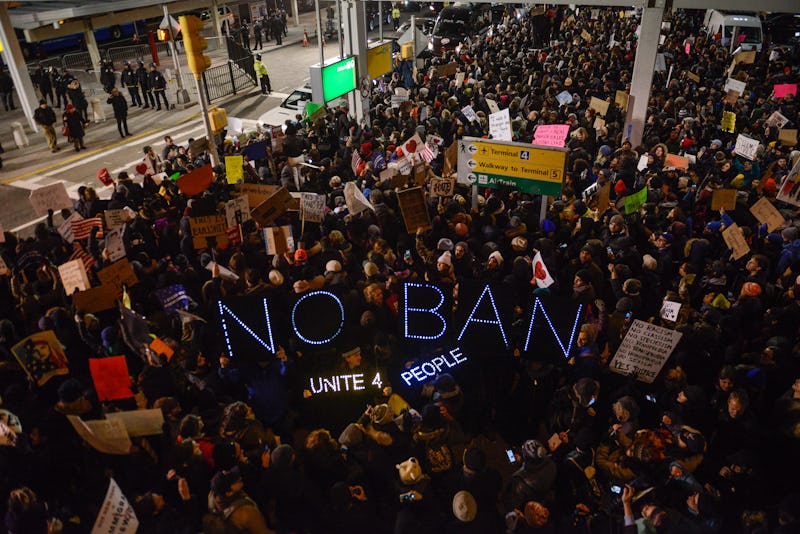 Stephanie Keith/Getty Images News/Getty Images
Throughout Saturday, the nation grappled with Donald Trump's decision to temporarily ban immigrants, including many refugees, from seven Muslim-majority countries. Trump signed the executive order Friday evening, leaving Americans and the global immigrant community reeling. By Saturday night crowds were gathered at several major U.S. airports to protest Trump's immigration order, which has forced airport security across the country — at JFK, LAX, Atlanta, O'Hare, and others — to detain a number of people seeking to enter the United States. Update: The ACLU has successfully achieved a temporarily stay of Donald Trump.
The airports inadvertently hosting protests on Saturday night included: JFK, Dulles, LAX, Atlanta, O'Hare, Detroit, Newark, Seattle, and O'Hare. Foreign airports are also stopping some green card holders from flying to the U.S. in the aftermath of the executive order, according to The New York Times. Meanwhile, civil rights groups, including the ACLU, were in court Saturday fighting against the executive order and for those detained because of it.
The order stops all Syrian refugees from being able to enter the U.S., bans all other refugees from entering the U.S. for the next four months, and also bans citizens from seven Muslim-majority countries from entering the country for three months. Dual citizens of those seven countries, as well as holders of legal green cards, are included in the ban.
Here are what the airport protests are like.
At John F. Kennedy Airport
At Dulles
At Atlanta
At LAX
At Denver
At O'Hare
Although a petition filed by the ACLU has temporarily stopped the executive order from taking effect, the White House is expected to try to reinstate it shortly.