Steve From 'Blues Clues' Is Making Music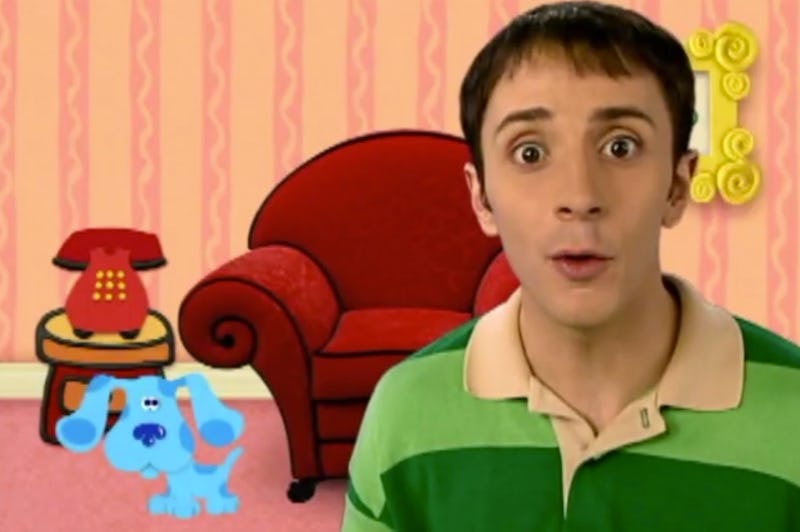 Nickelodeon
If you were in pre-school in the mid-'90s, or just had some deliriously fun fever-filled sick days from elementary school, you probably caught an episode or 27 of Blues Clues. If you're a Blues Clues classicist, you probably were willing to follow Blue's owner Steve and his iconic striped sweater wherever Blue's paw prints would lead you, divorcing the series once Steve's "brother" Joe took the reigns. So I know I can't be the only OG fan left with one important question: where is Steve from Blues Clues now?
To begin with, he's very much alive and living in Brooklyn, so you don't have to feel weird about that after all those death hoaxes. "I Googled the conditions of life, and I meet every single one of them, I can assure you, I am certainly alive. I know that for sure," real-life actor Steve Burns said in a 2016 interview with Huffington Post. Ha.
But, beyond that, he's rocking a music career of sorts: Burns released the albums Songs For Dustmites and Deep Sea Recovery Efforts in 2003 and 2009 respectively. Last year, though, saw him making an homage to his roots in kids' entertainment, releasing the a record of psychedelic children's music FOREVERYWHERE with Steven Drozd of Flaming Lips fame. Their lead single? "The Unicorn and Princess Rainbow."
Um, how epic is that?
Music isn't necessarily the reason that Burns set sail from the children's show, however, although it did fall together like that. Instead, he cites losing his hair and simply feeling it was the right moment to separate himself from his Nick Jr. persona. "I was getting older; I was losing my hair; a lot of the original gangsters on the show, like the people who created it, were all moving on to other careers," he said. "It just felt like time. I just had a gut feeling like it was time to go."
And, even though Blues Clues saw darker days once he left, you honestly can't blame the guy. I'm really glad that, after all these years, Burns has managed to make peace with his past as a nursery school hero and have a good sense of humor about the fact that he looks more like "Moby if he had a real problem with pad Thai" than the ever-clueless Steve.
You can follow him on Instagram and Twitter under the monikers of @SteveBurnsAlive. And yes, I think we're very, very happy to hear that he's still alive.