Here's What Target's New Inclusive Denim Line Looks Like On 15 Different Bodies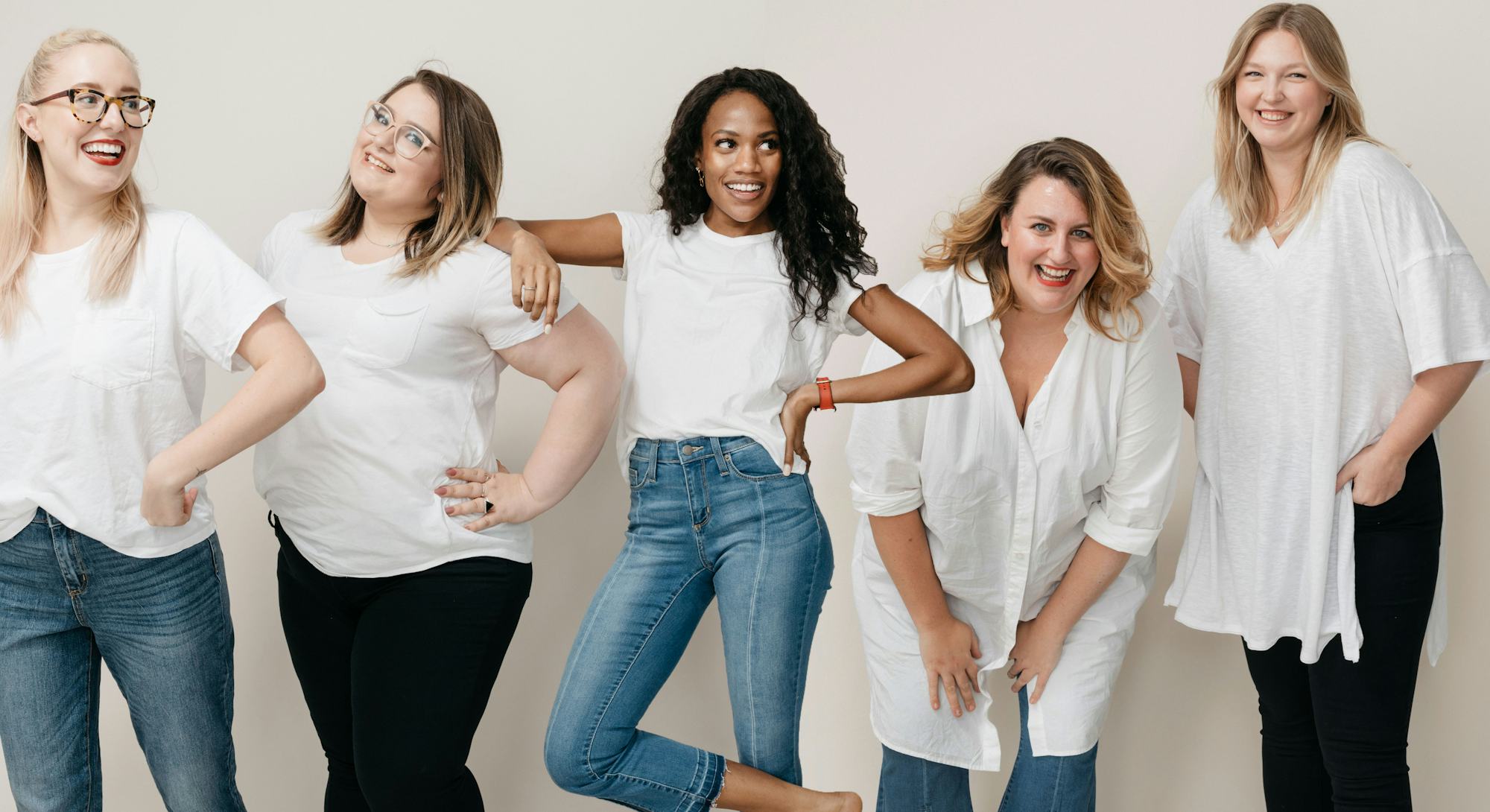 Ashley Batz/Bustle
My father once described me as a "girl with an eye to buy." It's true: At my core, I am a dedicated, passionate shopper, particularly when it comes to clothing. Despite my almost manic, mouth-frothing enthusiasm for a good old-fashioned shop sesh, there's one particular search that I find profoundly frustrating and demoralizing: The hunt for a cute pair of jeans.
Now, I don't exactly have the easiest body to fit for jeans. I'm tall, I wear plus sizes and I am very particular about wash and cut. Nothing too skinny, nothing too wide, nothing too blue, and nothing with any kind of embellishment. I also like to keep my denim on the affordable side, as I primarily wear them to do messy projects and don't want to worry about them getting dirty or ripped. I usually spot plenty of options that fit my criteria in straight sizes — but in a size 22, not so much.
That's why I was so intrigued by the release of Target's Universal Thread denim, a collection of jeans and casual wear, available in sizes 00-26. Every piece in the collection is available in every size, and the price points all come in around $30. These aren't high-end, investment jeans, but they are the kind of thing that offer a solution when you're fed up with searching and don't want bedazzles and refuse to spend $200 on denim and just want to find a pair of jeans, damnit.
Of course, size range and price point mean nothing if the jeans don't fit well, look cute, or cross that highly defined line between affordable quality and just looking cheap. So, I decided to put three different styles from Universal Thread to the test on 15 different sizes and body types (including my own) to see how they stacked up.
Here are the pairs we tried:
Product Imagery Courtesy of Target
Clockwise from the top: Women's High-Rise Split Hem Kick Bootcut Crop Jeans - Medium Wash, $25; Women's High-Rise Skinny Jeans - Black, $25 Women's High-Rise Straight Jeans -Medium Wash, $28
These three pairs were chosen based on their varying styles, and also the ease with which that particular kind of jean is to find. The split-hem jeans are super trendy, but it's hard to know how the trend will translate on the shopper's actual human body. The black jeans are classic, the likes of which are harder to find in a wide range of sizes than you might think. Finally, the high-rise straight leg jeans have little to no stretch — and that can mean discomfort, poorer fit, and forcing you to break away from your usual size.
Here's how these three pairs of Universal Thread jeans stack up to 15 different people's discerning judgment.
Olivia & Amanda
Ashley Batz/Bustle
Ashley Batz/Bustle
Ashley Batz/Bustle
"I liked the cropped pair with the split hem," says Bustle Fashion & Beauty Editor Olivia Muenter (pictured bottom left). "I thought the fit was comfy — they were just stretchy enough without being jeggings, and the style was fun. The blue high-waisted jeans (top photo) were cute, but didn't have as much stretch as I'm used to wearing. I would guess that they'd take a long time to break in, but would be more comfortable then."
Bustle Managing Editor Amanda Chan, right, concurred.
"I liked the first pair I wore, the blue pair with the split hems, slightly cropped length, best! They were comfortable and already had that 'worn in' feeling. They were a teeny bit stretchy — enough to make them feel like they really fit me well — but not overly so," she says. "The only other pair I tried was the black pair, and I didn't dislike them per se — I just liked them less than the blue pair because they were a little bit more stiff and not as comfortable."
Another thing Amanda liked was how easy it was to fit her size. She typically wears a size eight, and these jeans fit perfectly.
"I was surprised by the way they fit without needing to try on a few different sizes. I didn't feel uncomfortable at all in them, and some of the typical fit challenges I have — jeans tend to be too tight in the thigh, calf, and waistband, yet simultaneously baggy in the front area — were nowhere to be found with these pairs."
Clare & Rachel
Ashley Batz/Bustle
Ashley Batz/Bustle
Ashley Batz/Bustle
Bustle Photo Editor Clare Thigpen and Bustle Entertainment Editor Rachel Simon both tried on — and loved — the black skinny jeans — in sizes 6 and 4, respectively.
"[I liked] the black stretchy, because I love a good stretch," Clare says. "It gives me more freedom, and doesn't make me feel like I'm restricted to what I can do. My other jeans definitely aren't that stretchy because I feel like I don't get stretchy jeans often. But these were a perfect combo of comfy and snug. Would definitely buy a pair (or two) of the black denim."
Rachel also preferred the high-waisted black jeans to the other pairs she tried on.
"They fit great, weren't too long (a rare thing for my 5'2" self) and made me feel super confident in them. The blue jeans weren't bad at all, but the color wasn't my fave and I tend to like skinny legs more than wide or straight ones."
Gabby, Amanda, & Hannah
Ashley Batz/Bustle
Ashley Batz/Bustle
Ashley Batz/Bustle
Ashley Batz/Bustle
Myself (bottom left), Bustle Senior Fashion Market Editor Gabby Prescod (bottom center) and Bustle Associate Social Media Editor Hannah Caldwell, all have vastly different body types — and, perhaps unsurprisingly, vastly different opinions on the Universal Thread jeans.
"I for sure preferred the black jeans," Hannah said. "I'm not a big jeans person, so I lean towards pairs that are stretchy, lightweight, and pretty high-waisted — and those fit the bill exactly."
Hannah normally wears a size 16 or 18, but found there was some size inconsistency in both the black pair she loved, and the straight leg pair she liked (top photo).
"The mom jeans were two sizes larger than my normal and the black were one size larger," Hannah says, "Which is annoying, but sizes are the most inconsistent thing ever so whatever. I did find that different sizes in the same jeans felt like the sat in very different places on my waist which was odd. I was able to find sizes in both jeans that I thought fit me well though so that's what matters."
For Gabby, who normally wears a size 0 or 2, the mom jeans were the better of the three pairs — though she wasn't overly impressed with either.
"I'm actually super particular about my jeans, so to be really honest, I wasn't a fan of any of these," she says of both the black pair and the split hem pair (not pictured). "I typically like my denim to be a little bit more rigid and these were super stretchy. It felt like I was wearing jeggings and I had to constantly keep pulling them up. If I had to choose, I guess the mom jeans [are my favorite]. I gravitate more towards a high waisted, slim fit jean in general. No fuss. I don't like a lot of embellishment or split hems. Just a standard '90s style blue jean does it for me."
I agreed with Gabby's assessment of the split hem pair — it felt like a jean that was doing too much, and they were so stretchy that they kept falling down, even in my usual size of 22. The black jeans (also in a size 22) were ultra comfortable, but the standout for me was the straight leg jean, which made me feel like a '90s mom on her way to pottery class. However, I had to go up two whole sizes for these jeans to fit, putting me at a size 26 and at the top of the Universal Thread sizing scale. Needless to say, it's a bummer that shoppers who are normally a size 24 or 26 would be sized out of this pair entirely.
Kara & Victoria
Ashley Batz/Bustle
Ashley Batz/Bustle
Ashley Batz/Bustle
Deputy Fashion & Beauty Editor Kara McGrath (left), who usually wears a size two, found a strong favorite in the straight leg, non-stretchy pair.
"I love a proper straight leg jean, and liked that these had a little less stretch in them than the cropped flares," Kara says. "They made me feel like very cool '90s mom. The first pair [of split hem denim] was super comfortable, but I'm just not a fan of super stretchy denim. I prefer something with a little more weight."
Plus size comedian and model Victoria Edel, who usually wears a size 20, felt differently. For her, the split hem flares were the strong winner.
"My favorite pair was definitely the flared, cropped ones," Victoria says. "Last summer, one of my friends, who's tall and thin, had a really similar pair that I loved. I could not find a version in plus. Heartbreaking. But these made me feel so effortlessly trendy and cute. I could definitely see myself wearing these all through the spring and summer."
Constance, Celia, & Katie
Ashley Batz/Bustle
Ashley Batz/Bustle
Ashley Batz/Bustle
Ashley Batz/Bustle
Plus size model Constance Smith (bottom left) normally shops for jeans in a size 22 — but like me, she also had to size up to a 26 for the straight leg denim (not pictured). However, that wasn't her favorite pair. Instead, she preferred the comfort and fit of the black pair.
"I loved the stretch and feel [of the black pair] against my body," Constance says. "I wish both pairs were somewhere in between mid-rise and high-rise for a more comfortable feel. In comparison to other jeans the fit was not as supportive."
Bustle News Editor Celia Darrough also preferred the black pair over the blue straight leg jeans.
"They were stretchier and more comfortable while still being cute and form-fitting. The reason I didn't like the blue jeans was honestly that they felt very much like 'true' jeans. They were stiff, and the sizing didn't really work for me. The smaller size [her usual size 10] looked good standing up, but it was impossible to sit down and be comfortable. The bigger size [one size up, in size 12] just didn't fit me in the right places. It fit my waist, but not my hips or legs, giving me that 'baggy crotch' kind of look — you know the one I mean."
"I preferred the black jeans but would have liked them in a blue wash," Bustle's Lead Animator Katie Cropper Klein says. Katie typically wears jeans in a size 12, and had to size up to a 14 for the stiffer, straight leg jeans.
"The blue jeans were just too 1991 Guess ad gut suckers," she says. ["They also] had a crotch that really ran up main street, I'm not sure I could sit comfortably in them for long at work."
Jenny & Katie
Ashley Batz/Bustle
Ashley Batz/Bustle
Ashley Batz/Bustle
"As Winnie The Pooh once said, 'I am short and fat, proud of that,'" says Bustle's Associate Fashion & Beauty Editor Katie Dupere, pictured right. "And even though I'm proud to be thick, my body type makes finding jeans very difficult. I actually usually buy cropped — not short, cropped — Target jeans, and they fit me like regular pants. The flared cropped pants with a slit up the front seam looked cute on my taller coworkers, but wasn't made for me. They just looked awkward."
By contrast, Katie found the black jeans to be ultimately perfect — and they fit beautifully in her usual size, 16.
"They were super comfy, true to size, and had just the right amount of stretch to not make a curvy girl feel like a sausage," she says. "I would definitely buy them, wear the hell out of them, and then buy them again."
Bustle's Senior News Editor Jenny Hollander also didn't love the split hem jeans.
"I did not like how they put my calves on display, because I don't like my calves. Also, they made my legs look weird, but that's true of cropped jeans in general — I try to buy them as long as possible," she says.
Despite the awkwardness of the fit, Jenny says the split hem jeans have one particular redeeming quality.
"They were actually very comfortable," she says. "So comfortable, I did a little dance."
Ashley Batz/Bustle
Ashley Batz/Bustle
So, which pair of Universal Thread jeans was the favorite? Overall, it was clear that the black jeans were the most highly praised, both for fit, stretch, and richness of the black color. They fit true to size for everyone, which definitely makes them easier to shop for online.
The straight leg blue jeans came in second overall, but definitely have their limitations. Though the style is super on-trend ('90s moms are like, so hot right now), the lack of stretch and the fact that everyone had to go up one or two sizes make this pair a hard sell if you can't try them on. And, as I mentioned above, anyone over a usual size 22 probably won't be able to fit into them — which is disappointing for a collection with such a range of sizes.
Finally, the split hem flares. Perhaps the most controversial of the three pairs, most people enjoyed the comfort of these (and some even liked the More Is More approach to the style). They fit true to size, are made of super-stretch denim, and almost everyone had at least one good thing to say about them. However, due to the varying opinions on these bad boys, I'd say that these are the kind of jeans that you've got to see for yourself, in-store, before you buy.
Despite the differences in opinion, style, and body type, one thing about all three pairs of these jeans makes them special: The fact that I could get identical pairs across all different numbers on the tags. True size inclusivity still feels like a far off dream in fashion — it's rare that I can shop for clothing in the same place as Gabby, or Kara, or anyone else under a size 14. Target's attempt to rectify that with Universal Thread has it's flaws, sure — but it also represents another step forward for retailers who actually want to serve all of their customers equally. That's the kind of shopping experience I can get behind — and the cute jeans are just the icing on the cake(s).