This Is What Traditional Thanksgiving Food Is Really Doing To Your Skin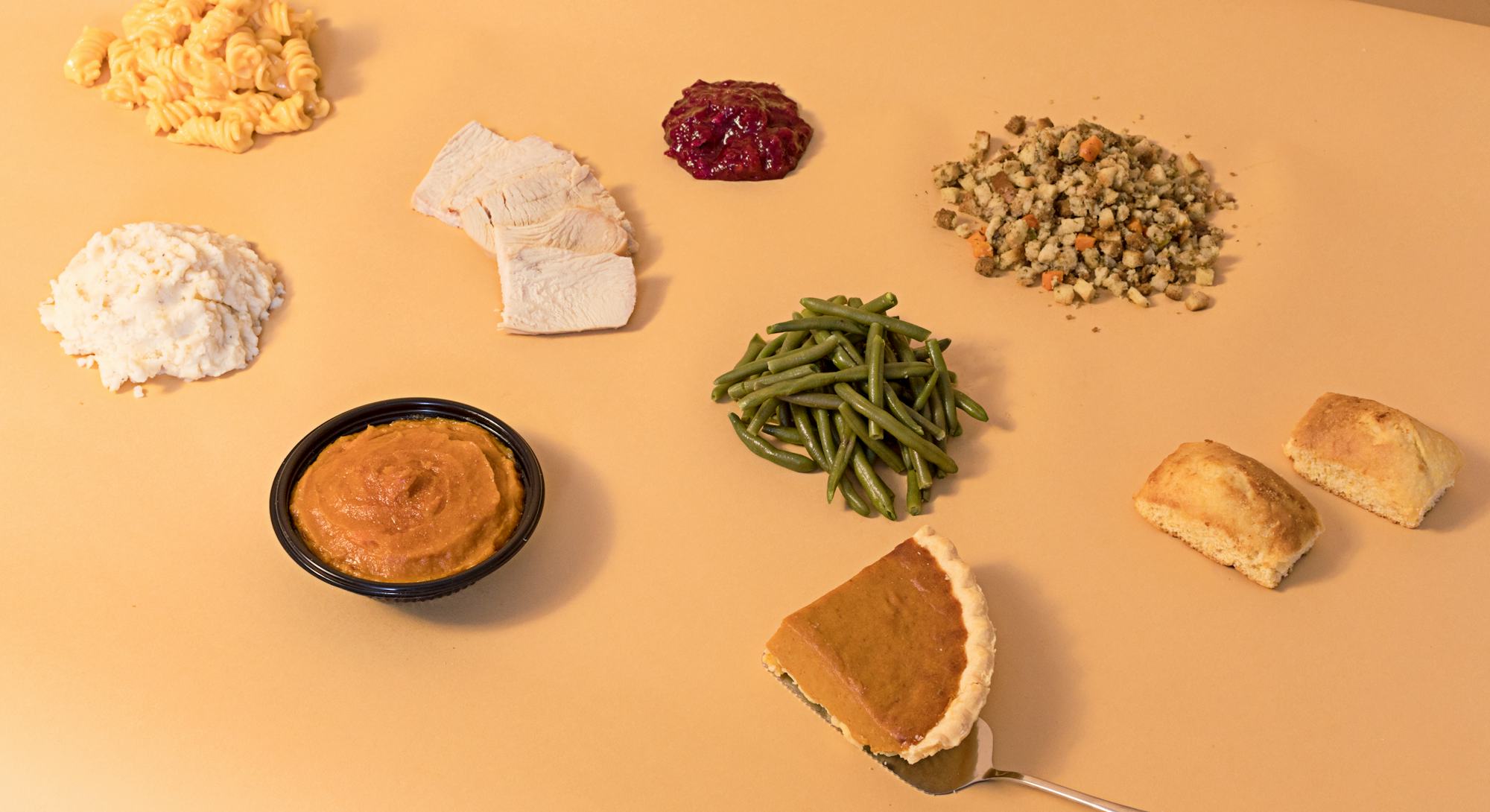 Ashley Batz/Bustle
Bustle and Coveteur are working together to bring you the best mix of the season's hottest releases, shopping tips, and gifting ideas in ways that are both inspirational, and attainable. Check The Holiday Edit channel weekly to see what we're up to.
There are a lot of factors working against optimal skin health around the holidays in the northeast: The sudden drop in temperature, the preference for hot coffee and red wine over water, the happy hours and indulgent dinners with visiting friends and family. For me, it's as if the High Skin Authority that exists only in my head take a leave of absence from Nov. 1 to Jan. 1, and I wake up in the new year with a puffy visage that I barely recognize.
This year, I decided to take an explorative, skin-focused journey into the world of holiday ingestibles. Naturally, I started with the most glorious of holiday meals: Thanksgiving. I wanted to know how things like turkey, sweet potatoes, green beans, stuffing, and more actually affect my skin — despite the fact that I have absolutely no plans to abstain from them regardless. Knowledge is power, after all. I expected my findings to be negative, but as it turns out, it's not so much about what Thanksgiving foods do to your skin, but what they do for them.
Below, three experts weigh in on all the good stuff that goes from your Thanksgiving plate, down your gullet, and ultimately back to your skin: Tina Anderson, CEO of Just Thrive Probiotic and authority on skin health and the science of gut health; Alli Marks, founder of Allison Marks Skin Care and an expert on holistic skin care treatments; and Anna Mitsios, certified nutritionist, naturopath and founder of Edible Beauty Australia. You'll be as shocked as I was to learn what sweet potato casserole is really doing for your dermis.
Turkey
Everyone knows that turkey is packed with L-tryptophan, the essential amino acid that your favorite uncle loves to blame for their post-meal sleepiness (sorry for the myth-bust Uncle Mike: turkey has less tryptophan than chicken, and you're probably just tired). However, turkey is also rich in zinc, which is one of the best things you can ingest in the name of skin health.
"Turkey has a high concentration of zinc which is great for maintaining collagen and elastin fibers, both of which help to maintain the skin's elasticity and firmness," Anderson says.
It's not just the zinc, either.
"Turkey is rich in protein, which provides structure to skin, hair, nails, and teeth, and forms collagen, providing firmness and suppleness to your skin," Mitsios explains.
Stuffing
On its own, the skin health prognosis for stuffing isn't great.
"Traditional stuffing is packed with savory ingredients like bread, bacon, salt, etc., which can lead to inflammation," Mitsios says.
However, because stuffing is one of the most enjoyable parts of a Thanksgiving meal — and because Thanksgiving is one of the only times that we really get to eat it — finding it's redeeming qualities was crucial. According to Huffington Post, loading your stuffing with walnuts is a great way to ensure it's actually doing something for your skin.
"Walnuts are a great source of omega-3 fatty acids," Dr. David E. Bank, director and founder of The Center for Dermatology, Cosmetic & Laser Surgery, told the Huffington Post. "Which are not only good for the heart but also for the cell membrane. This membrane is important for keeping the skin moist and wrinkle-free."
‌Sweet Potatoes
When it comes to skin health and your Thanksgiving plate, you can't do much better than sweet potatoes. While loading your sweet potatoes with marshmallows and brown sugar won't necessarily contribute to a clear complexion (though you should definitely do that anyways), sweet potatoes are, at their core, a mainstay of skin nutrition.
"Sweet potatoes are filled with vitamin A, beta-carotene, potassium, vitamin B6, and vitamin C, along with a handful of other great-for-you minerals that can really make your skin glow," Mitsios explains. "In particular, vitamin C boosts your body's collagen production, and prevents fewer wrinkles and dry skin."
Marks concurs. "Sweet potatoes contain high amounts of beta-carotene which is a powerful antioxidant for skin that helps convert vitamin A in the body to produce new skin cells," she says. "Yellow and orange foods are full of carotenoids which give skin a healthy glow."
Green Beans
Green beans go hand-in-hand with sweet potatoes when it comes to foods that contribute to optimal skin health.
"Green beans are rich in antioxidants and an excellent source of vitamin C, Vitamin A, Vitamin K, and manganese," Mitsios says. "Manganese is largely overlooked for its beauty benefits. The essential trace mineral, which can be obtained only through our diets, helps build collagen and protect the skin from free radicals."
As a both an esthetician and discerning eater herself, Marks agrees.
"Green beans are one of my top beauty vegetables," she says. "I prefer purchasing fresh organic green beans from a local farmer's market. If making it to a local farmer's market isn't feasible, try purchasing frozen organic green beans, as they maintain their nutritional value."
While all green beans have these benefits, Marks says that organic is a great option when possible.
"Vegetables grown in organic soil contain higher vitamin, mineral, phytochemical and antioxidant content — all things that promote healthy skin from within. Another tip is to avoid over cooking them to preserve these potent nutrients."
Mac & Cheese
Unfortunately, there's not much to be said for mac and cheese and skin health — countless studies have shown that dairy consumption can lead to breakouts, and dermatologists often recommend cutting dairy to improve skin. However, that doesn't mean you conclusively shouldn't eat it.
"Dairy dishes, like mac and cheese, can cause increased levels of inflammation, skin breakdown, aging and acne in many people," Mitsios says. It's not all bad news, though. "Milk has it's benefits," she continues. "Such as helping you reach the daily recommended dose of calcium."
You heard the expert: In the name of holiday indulgence and proper calcium intake, feel free to eat the hell of of that mac and cheese.
Cornbread
Another side dish, another mixed bag. Like mac and cheese, cornbread has the tragic burden of being absolutely delicious, but not being that great for your skin.
"Cornbread is high on the glycemic index, which can cause acne, blemishes, and breakouts," Mitsios says. "Starches like white bread and sugar break down in your body, causing blood sugar to spike, which triggers your body to release a flood of insulin. In the long term, this process can increase oil production and damage wrinkle-preventing collagen, and, in the short term, it causes inflammation which takes the form of patches of redness on your face."
It sounds ugly, but it's not all bad. Anderson explains that she's come across new information that could make cornbread a bit more promising.
"There's new science showing that cornbread contains all 10 of the essential amino acids which supply nutrients to nourish the skin from within," Anderson suggest. "These amino acids act like a tool kit inside the body that takes care of the skin, keeping the skin smooth and elastic."
Cranberry Sauce
There's nothing quite like countering the rich, salty flavors of Thanksgiving food with a substantial scoop of tart, lightly sweetened cranberry sauce. The benefits that cranberry sauce has for your skin make that scoop all the more appealing.
"Homemade cranberry sauce is rich in antioxidants, fiber, and vitamin C. The vitamin C helps build collagen, which holds together the cells that make up your skin, hair, and teeth." Mitsios explains.
Additionally, Mitsios says that cranberries are natural bacteria blockers, and contain reservatrol, which helps fight acne from within. If you're looking for a fresher, less sugary option than a traditional cranberry sauce, there are other ways to incorporate cranberries into your meal.
"Try sprinkling raw or organic dried cranberries into your favorite Thanksgiving salad or side dish or make your own sauce," Marks says. "Their fiber will promote detoxification within the body, therefore helping to prevent inflammation in the skin."
Pumpkin Pie
Ah, pumpkin pie. The perfect conclusion to any Thanksgiving meal — and as it turns out, the cherry on top of a nutrient-rich food extravaganza for the skin. Yes, there is sugar in this traditional desert, which can lead to inflammation. However, there's also plenty of good stuff, too.
"The orange color of pumpkins comes from plant pigments called, carotenoids which help neutralize free radical attack on in the skin," Marks explains.
"The pumpkin component of pumpkin pie is rich in vitamin A, an antioxidant that supports the production and growth of new skin cells," Mitsios adds.
As much as I'd like to be able to blame my puffy holiday skin on one lavish meal, the facts are the facts: Most foods on your Thanksgiving plate are actually beneficial for your skin, some even in the smallest, most unexpected ways. Keep that in mind when you hit up your mom for that second round of food — both your skin and your belly will thank you for it.