Why We Love True Crime, According To 'Up And Vanished' Creator Payne Lindsey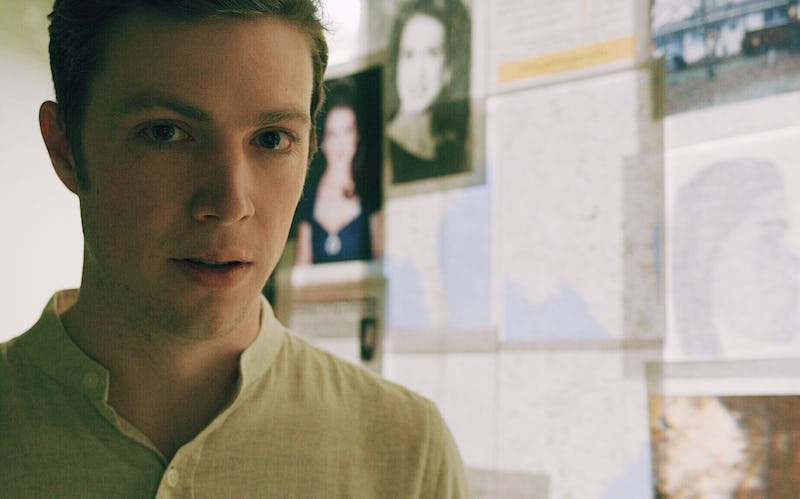 Payne Lindsey, documentary filmmaker-turned-host of hit podcast Up And Vanished, is true crime-obsessed, just like the rest of us. After being swept up by the genre and juggernauts like HBO's The Jinx (also like the rest of us), Lindsey decided to start his own investigative journey — one that ultimately became Up And Vanished. "I've always been drawn to the mystery of an unsolved case, so I decided to try to solve one on my own," Lindsey says. A podcast seemed like the perfect medium for him to do that.
"Podcasts are easy to digest. And when it comes to podcast storytelling, there's this old-school vibe to it," Lindsey says. "Because there is no visual, you have to imagine the characters and the setting yourself. You become a player in the investigation, too."
In 2014, true crime podcasts started to make waves with the debut of NPR's Serial. That story, rooted in reality, with real people and real consequences at stake, captivated audiences. A similar phenomena occurred when Netflix released its docu-series Making A Murderer. The notion that these crimes had actually taken place and foiled authorities had fans hooked.
Up And Vanished's first season focused on an 11-year-old missing person's case from Lindsey's home state of Georgia — the Tara Grinstead case, one of the top 10 unsolved disappearances on the Georgia Bureau of Investigation's website. "I couldn't fathom how this case was still unsolved," Lindsey says. So he decided to take a crack at it.
"I'm a regular guy with no experience as an investigator or as a podcaster," he notes. "After months of working on this, I came seriously close to quitting out of fear of failure and my lack of experience." But Lindsey still needed answers and his interest in the case pushed him forward.
"It's always fascinated me that people can commit evil and heinous crimes and get away with it," he says, "There's this desire to understand how and why these things happen, and why the police sometimes can't solve it."
Up And Vanished demonstrates the truly compelling nature of true crime. "No matter whose side you're on, at the end of the day, we're all on the same team — in search of the truth," explains the creator and host. "It's human nature to want answers. We all want an explanation for the bizarre and gruesome things that happen in the world."
What Lindsey originally intended to be a six-episode series turned into 20 as his investigation began unearthing more information than the authorities did a decade prior, ultimately culminating in an arrest and trial. "[The arrest] was a legitimate sign that we could actually solve this thing," he says, "It provided hope to everyone that these cases can even be solved."
Lindsey doesn't take all of the credit, however, for the role Up And Vanished played in solving this case. "The podcast audience has become an entire sector of this investigation," he says. The residents of Ocilla, GA — where Tara Grinstead lived — were vital to his investigation.
"It's all about awareness and accountability. Before the podcast, people in Ocilla only talked about this case behind closed doors," Lindsey says, "Now, it's an open topic of discussion."
Lindsey is not done with podcasting, or with true crime. He's currently producing Sworn, just out on June 14, which Lindsey describes as a "fascinating inside look at the justice system in America," in addition to the second season of Up And Vanished, which will focus on a different cold case.
"These [stories involve] real people, with real lives, and you can't ever forget that," Lindsey says, "But don't be afraid to yell from the rooftops when you find the truth".
Whether the next installation of Up And Vanished will amount to the same judicial repercussions is uncertain, but at the end of the day this is about the investigative journey.
Check out the True Crime stream in the Bustle App to see Payne Lindsey's Up And Vanished takeover, and get up-to-the-minute updates on absolutely everything you care about.