This Photo Of Ivanka & Her Son Has Twitter Calling Her Out For Separating Migrant Families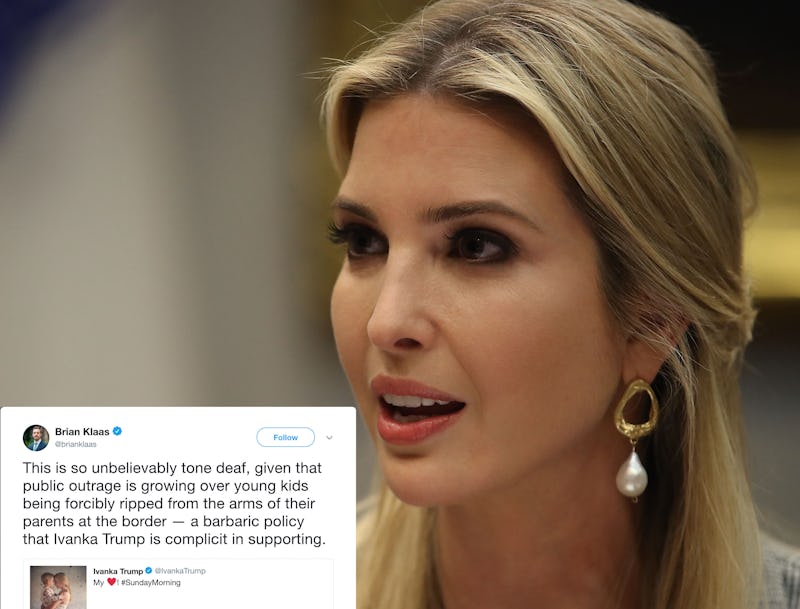 Mark Wilson/Getty Images News/Getty Images; Brian Klass/Twitter
Critics of the Trump administration have zeroed in on the first daughter for what they see as a Twitter picture posted in poor choice. On Sunday, Ivanka Trump posted a picture holding her son and Twitter just about lost it. The 21,000 and some responses point out the hypocrisy of her celebrating that mother-child moment when the administration's policy is to separate migrant women from their children at the border.
Other critics focused on the 1,500 migrant children placed with sponsors by the Department of Health and Human Services who have been lost. Some of the details in the critical tweets weren't quite right, but the outrage was boiling over.
Trump's Twitter post featured a picture of her holding her son and looking straight into his eyes. She wrote, "My [heart]!," using the emoji for heart, accompanied by the hashtag #SundayMorning.
One of the prominent reactions on Twitter came from Paola Mendoza, one of the Women's March organizers and a Colombian-born filmmaker. "@IvankaTrump, you are lucky to hold your son while 1500 mothers cannot, because your father ripped their children away under a vicious policy that he created," Mendoza wrote. "Ivanka, #WhereAreTheChildren?"
That hashtag trended on Sunday, drawing attention to the 1,500 children the government has lost. Those children mostly arrived to the border alone, and some were placed under the watch of the Obama administration. Exactly how many children have been torn away from mothers due to Trump's separation policy is unclear. A report by The New York Times in April placed the number at at least 700.
Another prominent criticism came from Brian Klass, a Washington Post columnist. "This is so unbelievably tone deaf, given that public outrage is growing over young kids being forcibly ripped from the arms of their parents at the border — a barbaric policy that Ivanka Trump is complicit in supporting," Klass wrote, quote tweeting Trump.
The rest of the calling out mostly came in the form of responses to her original tweet. "What an odd tweet in the middle of the horror going on with missing children ripped from their parents arms. How lucky you are to live in a bubble," wrote user @lafourchette in response, garnering more than 400 likes.
Another made very clear connections between her and the policy of separating migrant families. "The administration you work for and support is separating thousands of children from their parents," wrote user @justjo1002. "Some of the children lost in the system and probably settling in with traffickers. How tone deaf can you be?" The Twitter user also added the hashtag #WhereAreTheChildren.
Yet one more user focused solely on the children lost by the system. "Must be nice to be with your [heart] because there are parents of 1500 children who aren't able to spend the rest of their Sunday mornings with their children in happiness instead they'll be spending it mourning their lost and wondering if they'll ever be able to see them again," wrote @iamme_caro99 using the heart emoji.
And user GiGi Robin expanded the criticism more generally, again using the heart emoji. "And where is your [heart] for other families?" Robin wrote. "Children being ripped away from their parents? Children here who are homeless? Families who cannot afford healthcare? Elderly afraid of what happens when DT and his cohorts cut Medicare? So great for you to lead your privileged life."
The policy of separating migrant moms from their children stretches back months but was announced by Attorney General Jeff Sessions at the beginning of May. President Trump has not explained his administration's position, but has instead tried to blame Democrats.
The critical response to Trump's photo shows some of the outrage at the policy and the president's position.