This Movie Script Is About A Young J.K. Rowling & You Can Read The First Page Now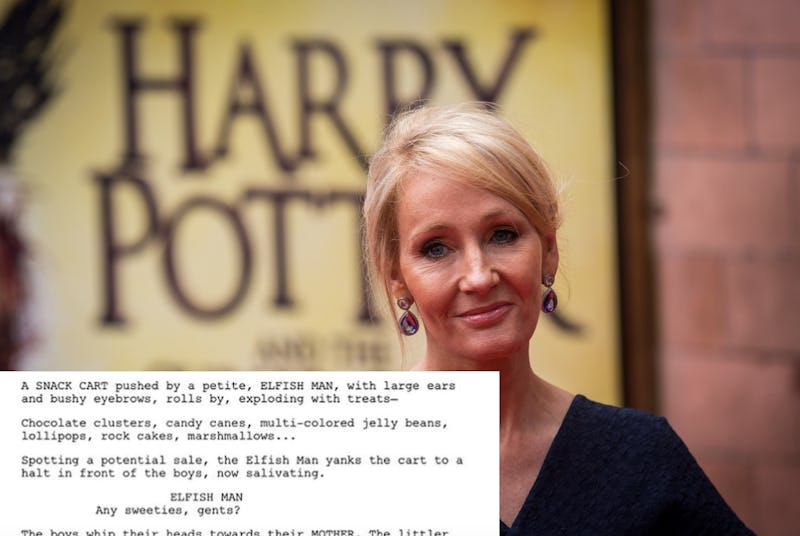 Rob Stothard/Getty Images Entertainment/Getty Images; Anna Klassen/Instagram
As fans well know, the Harry Potter franchise is the gift that keeps on giving: not only has it presented the world with seven original fantasy books, but the series has also given Potterheads nearly 10 films (and counting), a stage play and published script, dozens and dozens of additional stories about the world and its characters, countless hours of interactive games and activities online, and so much more. As if all of those hours of entertainment aren't already enough, a promising J.K. Rowling biopic has a script, and you can read its first page right now.
Written by screenwriter and entertainment journalist Anna Klassen, a former Entertainment Editor at Bustle whose work has appeared on BuzzFeed, Newsweek, and The Daily Beast, the script, titled When Lightning Strikes earned a coveted spot on the Black List, Hollywood's annual roundup of the most liked but still unproduced screenplays, and the Hit List, the best spec scripts of the year.
The biopic chronicles the young life of Harry Potter creator and living literary legend J.K. Rowling. According to the script's synopsis, the film is "The true story of 25-year-old Joanne Rowling as she weathers first loves, unexpected pregnancies, lost jobs, and depression on her journey to create Harry Potter." It promises to give an in-depth look at the inspiring rags-to-riches stories of a woman who overcame the unthinkable to become the highest paid author in the world – and, according to Klassen, it also promises to include some of the greatest Harry Potter lore, including the fact the Hogwarts houses were conceived on an airplane vomit bag. I don't know about you, but I am already getting all the feels just thinking about seeing this film on the big screen.
When Lightning Strikes will easily find an audience in Harry Potter fans who will never get enough about the series or its creator, but the story of Rowling's success is one that will likely resonate with viewers who have never interacted with her series, too. "This script is a story of one woman overcoming unthinkable odds – poverty, domestic abuse, depression – to create something born, miraculously, out of love," Klassen told ComicBook.com of her screenplay. "It's a story of redemption and inspiration. It's a story we desperately need in 2017."
When the Black List and Hit List were announced earlier this month, Klassen took to Twitter to not only share her excitement, but to thank the woman that inspired it all: J.K. Rowling. The person I must thank most of all, of course, is J.K. Rowling," Klassen tweeted. "The subject of my Black List script & a woman I admire beyond words. Her story is her own – & I have tried to tell it with love, care, & respect."
While When Lightning Strikes is certainly helping Klassen get industry attention now, it isn't the first time the screenwriter has penned a noteworthy script. Earlier this year, she was selected as a 2017 ScreenCraft Screenwriting Fellow for her screenplay for 14 words, the story of a young woman trying to infiltrate a white supremacy group and uncover their darkest secrets. The award helped the young writer get representation with WME, one of Hollywood's leading talent agencies, who are now working to get Klassen's biopic off the ground.
At the rate the movie business moves, it will likely be years before Potterheads can see this promising J.K. Rowling biopic in theaters, but in the meantime, fans can keep their eyes peeled on Klassen's social media accounts. She has already shared the first page of the When Lightning Strikes screenplay on Instagram, which sets up the scene for Rowling's fateful delayed train ride that served as the original inspiration for the Harry Potter series. With any luck, there will be more where that came form, and it won't be long until we can see our favorite author's life played out on the big screen.