Watch Julian Edelman's Incredible SB LI Catch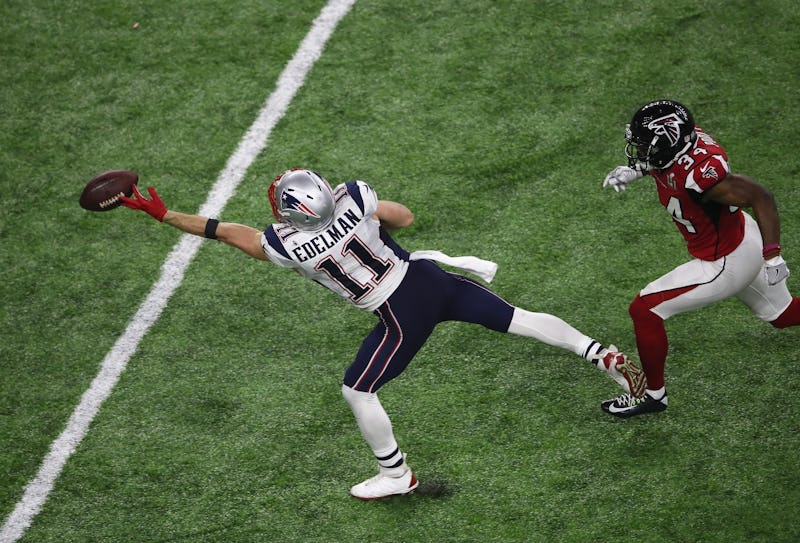 Ezra Shaw/Getty Images Sport/Getty Images
As part of their unlikely way to a comeback from 20 points behind, Patriots wide receiver Julian Edelman's amazing catch in the fourth quarter was the play of Super Bowl LI. Off the tips of Atlanta safety Ricardo Allen's fingers and through the hands of three Falcons' defenders, Edelman caught the ball just inches before it hit the ground and just barely saved the 30-yard pass from quarterback Tom Brady.
The catch was part of a key drive for the Patriots, ending in New England's game-tying touchdown. The Pats' scored the touchdown and subsequent two point conversion brought the score to 28-28, which allowed them to go to the Super Bowl history's first-ever overtime period. Atlanta couldn't compete with the momentum New England brought to the overtime period, and their defense quickly fell to Tom Brady's signature line drive down the field to end the game with 34 points to Atlanta's 28.
This is the fifth Super Bowl win for Tom Brady and Patriots' head coach Bill Belichick, who have commanded a unique place in the history of the NFL over the last 15 years. Although the win may not be particularly consequential for the league because it's not a change in the NFL's status quo, it's still an impressive feat to see a team as skillfully dominant as the Patriots.
The Tom Brady/Bill Belichick era Patriots will forever be remembered as one of the most exciting teams in football history. Presumably this period of greatness will end once Belichick and Brady retire from the sport, which is likely to happen soon. Even as players inevitably get more talented and break the records the Pats hold now, New England's command over the sport will go down in the history books. Edelman's catch is going to be in a role model for great football for years to come.