'Wonder Woman' Is Changing The World, One Kindergarten Class At A Time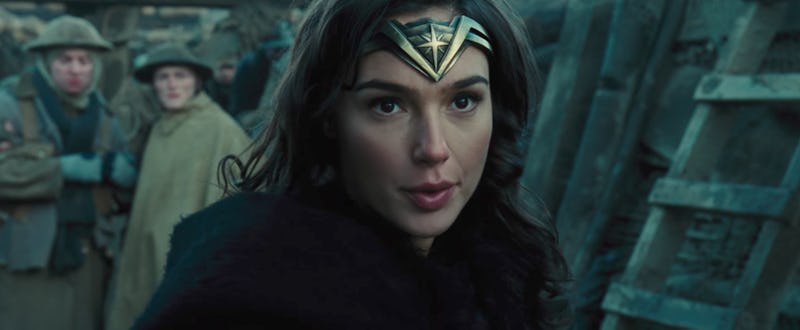 Warner Bros. Pictures
If you haven't already seen the movie everyone's talking about, you must have read the reviews; a 93 percent Rotten Tomato rating is nothing to sniff at, after all. But if you've remained unconvinced, this viral story tweeted by director Patty Jenkins about Wonder Woman's effect on a kindergarten provides an equally compelling reason to go see the movie. The tweet appears to be an email forwarded on to the director by her producer, and you're going to want to make sure you aren't reading this on public transport.
If you're prone to outbursts of sentimentality, then I can't promise you that you're not going to tear up a little at the various reports that suggest that the movie is having an incredible effect on the next generation, encouraging them to learn languages, be mindful of their environment and not pollute, and to take female superheroes every bit as seriously as their male equivalent. "Another girl very seriously asked the teacher if she could ditch her uniform for the Wonder Woman armor [because] she 'wanted to be ready if she needed to save the world'," reads one anecdote, and the fact that the little girl was allowed to and no one batted an eyelash at her doing so is just too cute.
"Imagine what the next generation will achieve if we give them more movies like Wonder Woman," the message ends, and I can see the point. Whatever your feelings about franchises, if this is what the Wonder Woman movie can do in a week, you've got to be crossing your fingers that we've got many more stand-alone Gal Gadot movies to come.
Thankfully, due to reports like this and the incredible opening weekend figures (with an $103.3 million domestic opening), the forecast looks sunny for more Wonder Woman movies. According to The Hollywood Reporter, negotiations with Jenkins will begin soon, and, if you're a fan of female power, luxuriate in the fact that "the filmmaker and her reps at CAA, Anonymous Content and Jackoway Tyerman will enjoy enormous leverage."
Yes, the Wonder Woman sequel will not only influence more kindergarten-ers to lead their best, most feminist-friendly lives (and to shout at boys whose behavior is proof that Themyscira is a very good idea), but will even give the rest of us a lesson in how to best negotiate a salary after you do a job a man normally does instead and kick ass beyond all expectations.
So if you haven't seen the movie yet, what are you waiting for? It's entertaining, it's feel-good, and it's changing the world for the better.