This Knit Boob Scarf Will Let You Free The Nipple Even In The Winter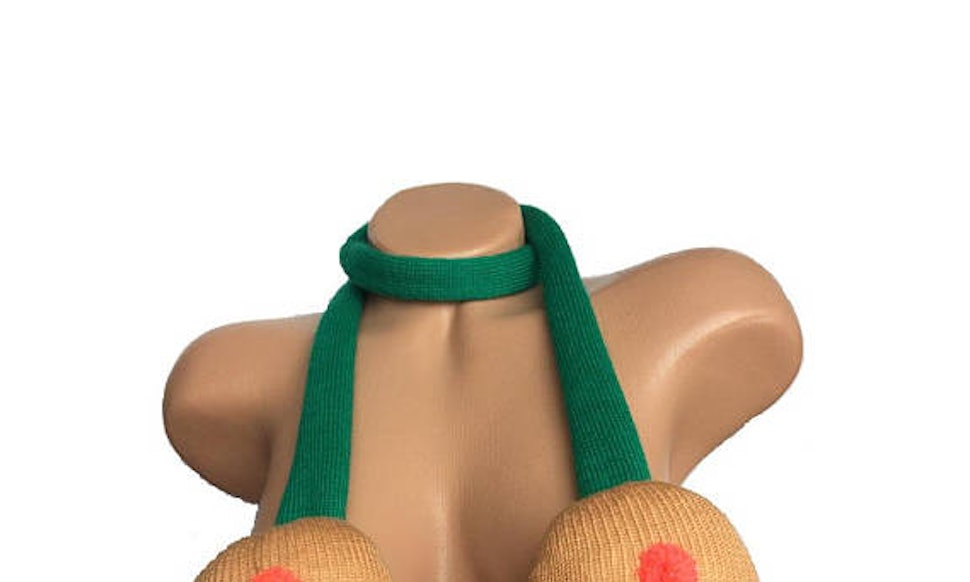 Etsy
If you're someone that likes to free the nipple, winter can be a bit of a bummer. Rather than wearing easy breezy tops and chest-skimming dresses, you turn into the human version of the Michelin man, wrapping yourself in floor-length parkas and tablecloth-sized blanket scarves. But fear not. Even if there is a polar vortex ripping through your town, Etsy's crochet boob scarf can help you free your insulated nips.
The genius crafter that created this tongue-in-cheek wrap is Alenka from Happy Underwear Gifts. In her "About Me" section, she admits she likes raunchy comedies like We're The Millers and comedy shows like Friends. A swinging boob scarf, then, is right up her alley in terms of sense of humor. And for those that don't get shocked easily, it can be for you, too.
The scarf itself is a skinny scarf, and it comes in six different colors: green, white, grey, black, pink, and red. At the ends of the scarf are two round boobs with pink nipples, draping gracefully over your real chest, giving off the effect that your knockers are out.
Boobie Scarf, $24, Etsy/ Happy Underwear Gifts
While bold and hilarious, this isn't an easy scarf to crochet. Alenka writes that it takes anywhere between three to six days, and it's made in a smoke-free and pet-free house, in case anyone is allergic or sensitive to smells. It's also made with non-toxic materials and without dyes.
If you don't think you're brazen enough to wear this on the daily, she also suggests that this could be the perfect gag gift. If you're throwing a bachelorette party in the dead of winter, this is a perfect way to add that traditionally raunchy factor while everyone is layered up underneath puffy coats and earmuffs.
Unfortunately, the only boobie color that she has listed is tan, but you can make a special request and ask for a different skin color. If you're wondering if there are other naked-inspired products that you can peruse, you're in luck. This Etsy shop doesn't just stop at nipples.
1

Titties Hat
Crochet Boobie Hat, $33, Etsy/ Happy Underwear Gifts
Show your love for your breasts with this in-your-face boob beanie. It's cozy and will keep you warm during the winter, while simultaneous cracking up and offending the people on your train. If boobs aren't your thing, you can also choose a vagina or penis topper. All erogenous zones are represented.
2

Vagina Scarf
Vagina Scarf, $24, Etsy/ Happy Underwear Gifts
A play on the boobie scarf, this scarf features a vulva instead. It's perfect for all those women's rights protests that many of us have been attending this past year.
3

Penis Lipstick Holder
Penis Lipstick Cozy, $10, Etsy/ Happy Underwear Gifts
This has to be a hands-down favorite. It's a cheerful crocheted penis, but if you open his, um, head, he transforms into a lipstick cozy. If you're always losing your lippies or chapstick in your purse, put it inside a key-chain and have it ready at your finger tips from then on.
4

Knitted Vulva Slippers
5

Penis Pin Cushion
Penis Pin Cushion, $7, Etsy/ Happy Underwear Gifts
Are you feeling a little sadistic? Do you enjoy sewing and don't know where to put your needles? How about sticking them inside a crocheted penis? If you have someone with male genitalia in the house and this will make them squeamish. But, never fear, you can also use it as a ring holder.
From boobie scarves to vagina slippers, this Etsy store has everything you never knew you needed.