Larry Nassar Was Just Sentenced Again & Now He Faces Up To 360 Years In Prison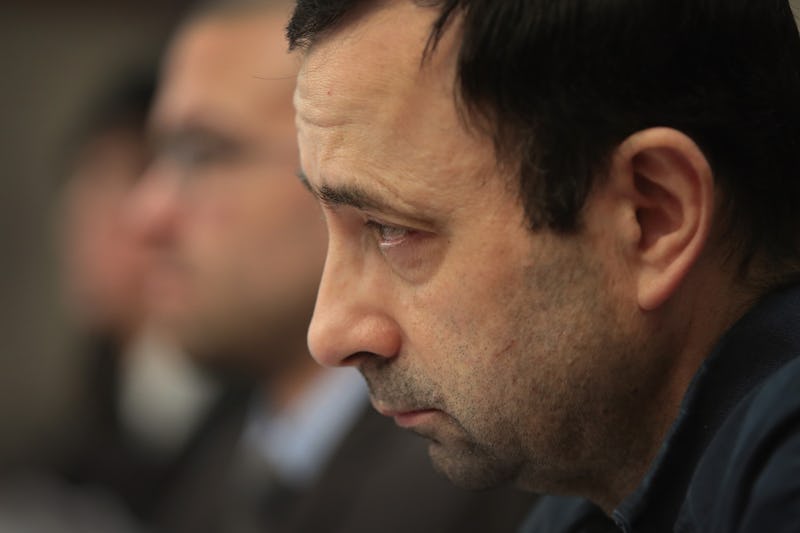 Scott Olson/Getty Images News/Getty Images
Not long after he was basically sentenced to life in prison for sexually assaulting 265 girls and women over the years, former Olympic doctor Larry Nassar was sentenced Monday to an additional 40 to 125 years behind bars for molesting three victims under the guise of medical treatment. Eaton County, Michigan Court Judge Janice Cunningham said she didn't believe Nassar was truly remorseful for the crimes to which he pleaded guilty.
"I am not convinced that you truly understand that what you did was wrong and the devastating impact you've had on the victims, family and friends," Cunningham said. "Clearly you are in denial. You don't get it."
Nassar also demonstrated a lack of remorse when he sent a letter to Judge Rosemarie Aquilina, who oversaw his previous sentencing trial, in which he complained about how he was being mistreated by the courts. He also attempted to shift the blame from himself onto the victims.
Appeals notwithstanding, this latest ruling marks the end of the criminal cases against Nassar, which have been long and emotional, particularly for the victims. More than 200 young women delivered impact statements during the nine-day sentencing trial in January.
On Monday, Nassar said the statements "impacted me to my innermost core."
I understand and acknowledge that it pales in comparison to the pain, trauma and emotions that you all are feeling. It's impossible to convey the depth and breadth of how sorry I am to each and everyone involved. The visions of your testimonies will forever be present in my thoughts.
Despite his sentencing being over, Nassar will likely still make headlines in the coming months — there's been a lot of fallout in the wake of his crimes. Michigan State University, where Nassar was a longtime employee, is currently under investigation for how they handled the sexual abuse reports against Nassar, in addition to the U.S. Olympics Committee, USA Gymnastics, and the FBI.
Criminal and/or civil complaints against Nassar alleging sexual abuse date back to 1994, and yet no one took action. Following Nassar's sentencing in January, MSU president Lou Anna Simon resigned. Nassar reportedly treated patients at the school up until his arrest; the university is currently under fire for being too lenient on Nassar and not addressing the accusations against him sooner.
In her resignation letter, Simon said:
Throughout my career, I have consistently and persistently spoken and worked on behalf of Team MSU. I have tried to make it not about me. I urge those who have supported my work to understand that I cannot make it about me now. Therefore, I am tendering my resignation as president according to the terms of my employment agreement.
At Monday's sentencing, before the sentence was handed down, Assistant Attorney General Angie Povilaitis emphasized the importance of listening to victims and addressing these problems sooner. She also stressed that nobody was to blame but Nassar.
"We must start by believing victims. We must stop blaming victims, stop blaming parents," Povilaitis said. "The shame and the blame belong on one person: the defendant."
With the latest ruling, Nassar will almost certainly live out the remainder of his life in prison. He was previously sentenced to 40 to 175 years in Ingham County for sexually abusing seven girls, in addition to 60 years in federal prison for possession of child pornography, NBC reported. He's currently 54 years old.
The additional charges Nassar received Monday stem from sexual abuse cases at Twistars gym in Michigan. He operated under the guise of a "body whisperer," claiming he could heal any injured athlete and get them ready for competition.
"This nice-guy doctor thrived at a place like Twistars, where cruel, harsh and abusive coaches were the norm," Povilaitis said. "This grown adult man took sexual pleasure in the exploitation and humiliation of those young girls and teenagers. Not only did he commit those depraved acts of penetration but he liked it."
After delivering her sentence, Judge Cunningham said she felt the additional 40 to 125 years in prison was "proportionate to the seriousness of the circumstances surrounding the offenses and of the offender."