Larry Nassar Couldn't Handle Hearing From Survivors. He's About To Hear 57 More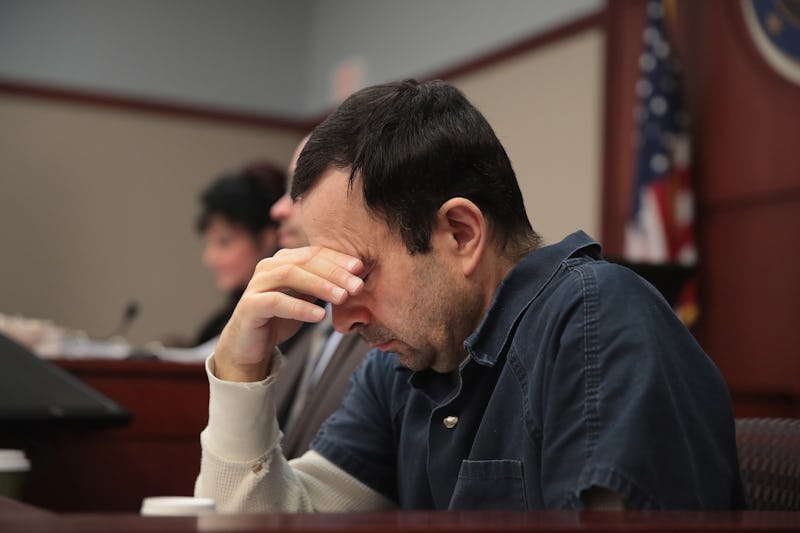 Scott Olson/Getty Images News/Getty Images
The former Team USA Gymnastics doctor who pleaded guilty to using his position to molest young girls was forced to listen earlier this month as women called him unforgivable, a monster, and "the most dangerous type of abuser" to his face. An army of 156 women filled a Michigan courtroom to confront the man they say abused them under the guise of medical treatment. It's not over, either: this Larry Nassar sentencing update means we'll hear from even more survivors this week.
Nassar's sentencing hearing that concluded on Jan. 24 was related to seven counts of criminal sexual conduct in Ingham County, Michigan that Nassar pleaded guilty to in November. On Wednesday, his sentencing hearing for three more charges of criminal sexual conduct that he also pleaded guilty to begins in Eaton County, Michigan. At least 57 women are expected to give victim impact statements, prompting the Eaton County judge to set aside Friday, Monday, and Tuesday for them all to do so, ThinkProgress reports.
To be clear, Nassar is already going to spend the rest of his life in prison, no matter what sentence he's given in Eaton County. He has been sentenced to 40 to 175 years on the Ingham County sexual assault charges, as well as 60 years on federal child pornography charges. His third sentencing is a formality at this point, but it offers more survivors the opportunity to speak their minds.
Nassar made it clear that he didn't want to hear women tell the court how he destroyed their lives, going so far as to send a letter to Judge Rosemarie Aquilina saying: "I'm very concerned about my ability to be able to face witnesses this next four days mentally."
Aquilina called his letter "mumbo jumbo" after reading excerpts from it in court. "You may find it harsh that you are here listening, but nothing is as harsh as what your victims endured for thousands of hours at your hands," she told Nassar. "Spending four or five days listening to them is significantly minor considering the hours of pleasure you've had at their expense and ruining their lives." She set aside several days for 156 women to give statements.
Among them was Aly Raisman, a two-time Olympic gymnast who said she was abused by Nassar beginning when she was 15. "I am here to face you, Larry, so you can see I've regained my strength, that I'm no longer a victim. I'm a survivor," Raisman said. She added: "You lied to me and manipulated me to think that when you treated me you were closing your eyes because you had been working hard when you were really touching me, an innocent child, to pleasure yourself. You never healed me. You took advantage of our passions and our dreams."
Rachael Denhollander's statement was equally powerful. Her interview with IndyStar launched the investigation that ultimately put Nassar behind bars, and her involvement came full circle when was the last survivor to testify last Wednesday. "How much is a little girl worth? How much is a young woman worth?" she asked the court.
Aquilina praised the courage of all the women who spoke, and thanked Denhollander for opening the flood gates. "You made all of this happen," she told Denhollander. "You made all of these voices matter. Your sister survivors and I thank you. You are the greatest person I've ever had in my courtroom."
With more women heading to court this week and next to confront Nassar, the nation is likely to hear more heartbreaking accounts of abuse. As Kyle Stephens, another survivor who spoke last week, told Nassar: "Little girls don't stay little forever. They grow into strong women that return to destroy your world."