The Las Vegas Shooting Is The Deadliest In U.S. History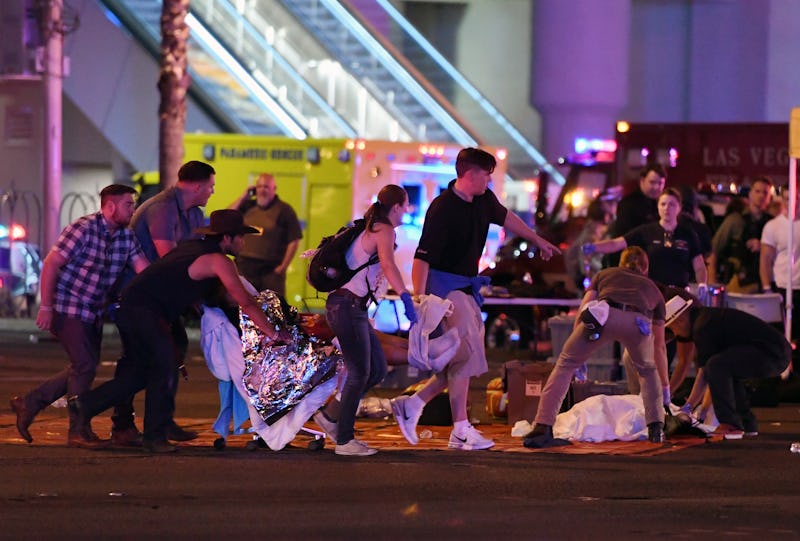 Ethan Miller/Getty Images News/Getty Images
At least 50 people have been confirmed dead following a mass shooting at the Route 91 Harvest Festival in Las Vegas, Nevada. The number of deceased makes the Vegas shooting the deadliest in modern U.S. history, tragically ahead of the Pulse nightclub shooting in Orlando last June, in which 49 people died.
On Sunday evening, shortly after 10 p.m. local time, a barrage of gunshots were reportedly fired from the Mandalay Bay hotel into crowds attending the nearby Route 91 Harvest Festival on the Vegas strip. The festival is a three-day country music performance event which approximately 40,000 people attended. Sunday marked the final day of the festival; closing performer Jason Aldean was singing onstage as gunfire broke out (Aldean later confirmed that he was safe and uninjured).
The New York Times reported that multiple rounds of gunfire were fired at the crowd. The Las Vegas Police immediately activated a SWAT response after reports of gunfire, and by midnight local time had confirmed that they shot and killed the gunman in the Mandalay Bay Hotel. Police identified the gunman as a white male in his mid-60s who was a Las Vegas metro area resident.
On Monday morning, the Las Vegas Police Department revealed that at least 50 people were killed by the gunman — and at least 200 were injured. These numbers tragically render the Route 91 Harvest Festival shooting the deadliest mass shooting in modern U.S. history. Tragically, this shooting now tops the list of many recent mass shooting with high death tolls, and is followed by 2016's Pulse Nightclub shooting, 2007's Virginia Tech shooting, and 2012's Sandy Hook Elementary School shooting, in which 49, 32, and 27 people died, respectively.
Those attending the Route 91 Harvest Festival described utter chaos and panic as the gunman fired on the crowd. One concert-goer, Mike Cronk, reported his experience to ABC News:
We were just at the concert there, and Jason Aldean was playing ... Kinda sounded like some fireworks going off. I think there was the first kinda volley, and then all of the sudden second volley. My buddy's like "I just got hit, ya know." He got hit three times. Then people started diving for the ground. And it just continued.
It was pretty much chaotic ... Lots of people got hit. ... It took a while to get him out. We had to get him over the fence and hiding under the stage for a while, ya know, to be safe. And finally we had to move him because he had three chest wounds.
[B]asically the one guy ended up dying in my arms because he was bleeding ... [a]nd my buddy got in there. We got three more people in the ambulance. ... But I just got a message from my buddy — and he's going to be okay.
Both the Governor of Nevada and President Donald Trump have responded to news of the shooting. Nevada's governor, Brian Sandoval, expressed his condolences online:
A tragic & heinous act of violence has shaken the #Nevada family. Our prayers are w/ the victims & all affected by this act of cowardice.
Trump also took to social media to offer his sympathies to those affected by the shooting:
My warmest condolences and sympathies to the victims and families of the terrible Las Vegas shooting. God bless you.
Members of the public also used Twitter to express their horror and dismay at the tragedy as well as to offer help. People shared blood donation center locations and contact information as well as publicized hotline information which people can use to help locate their missing loved ones in Las Vegas.
Overall, the Vegas shooting is clearly a horrific tragedy that has now become the deadliest shooting in U.S. history — and, very sadly, final injury and death toll numbers are still unknown. Many Americans and many people around the world are likely keeping those affected by the shooting in their thoughts and very much hope that the number of casualties does not increase as the day moves forward.