This Adorable 'Mamma Mia 2' Clip Will Have You Dancing In Your Seat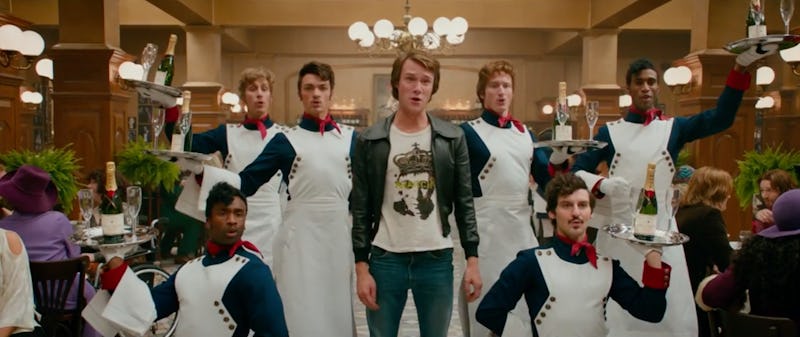 Universal Pictures
Mamma Mia! Here We Go Again is almost here, and this time, we get to see flashbacks of young Donna (Lily James) while getting to know the story behind Sophie's (Amanda Seyfried) three possible fathers and how their romances came about. And of course, there's plenty of music. In this exclusive clip from Mamma Mia 2, a young Harry (Hugh Skinner) charms a skeptical Donna with his rendition of "Waterloo" — and it's just as sweet a rendition as you'd think.
Skinner, who appeared in Les Miserables with Mamma Mia! Here We Go Again co-star Seyfried, is no stranger to musical numbers. But it's pretty hard to beat the first flick's take on the classic song, which was complete with an ensemble performance as the end credits rolled. Given Skinner's talents, though, this one is just as great, with Harry dancing around a restaurant declaring his love for Donna — despite only having met her that day. History buffs will also appreciate that, given the song's metaphoric use of Napoleon surrendering during the Battle of Waterloo, this all takes place in a Napoleon-themed restaurant featuring a costumed host singing with Harry.
This is the only musical number involving young Harry that has so far been confirmed to be in the sequel, but there are plenty of other great songs to look out for. Even though we don't get to see Lily James sing in this clip, she does get plenty of songs in the movie, out July 20. There are solo renditions of "SOS" and "Andante, Andante", among others, and the movie's use of flashbacks means that we'll get to see young Donna and the Dynamos performing "When I Kissed The Teacher," and of course, "Mamma Mia!"
This isn't James first time singing in a film. The actor showed off her vocal talents in Cinderella, singing "A Dream Is a Wish Your Heart Makes," featured in the closing credits. But her Mamma Mia! role lets her tackle songs in a vastly different way, with elaborate musical numbers, as seen in the lyric video for "When I Kissed The Teacher." Watching that one will make you wonder why James hadn't tackled musicals before this movie, given how natural she is at belting out songs in the midst of an outfit change.
Yet while James' singing ability is definitely a highlight, what many fans are most looking forward to is seeing Mamma Mia! newcomer Cher belt out ABBA songs. The icon is blessing us with two tracks: "Fernando," in a duet with Andy García as Fernando, and "Super Trouper" as part of an ensemble performance. Deadline reported that Cher debuted her take on the first ABBA hit at CinemaCon back in April, with a surprise performance sans García. Thankfully, fans who were fortunate enough to witness her performance shared videos on social media, giving a glimpse of what to expect from Cher's role in the film before much was known about her character.
Since then, a featurette (above) has been released, which gives a behind-the-scenes look at Cher's "Fernando" performance. She expresses her love for ABBA in the interview, saying it was easy to sing a classic that she felt so strongly about. Her castmates also gush about how much joy they felt seeing Cher perform, while ABBA's own Björn Ulvaeus declares her as "perfect for that song."
As far as "Super Trouper," there's sadly no video of the cast members performing it yet, but fans will be excited to know this performance features a dream collaboration with both Cher and Meryl Streep. There is so much to look forward to in this sequel — in fact, Seyfried even mentioned in an interview with Entertainment Weekly that this movie will be "better than the original." It's almost time to take a break from the heat and belt out some of ABBA's most iconic songs. Who's ready?