This Man Won't Stop His 39-Year Valentine's Day Tradition, Even Though His Wife Has Dementia Now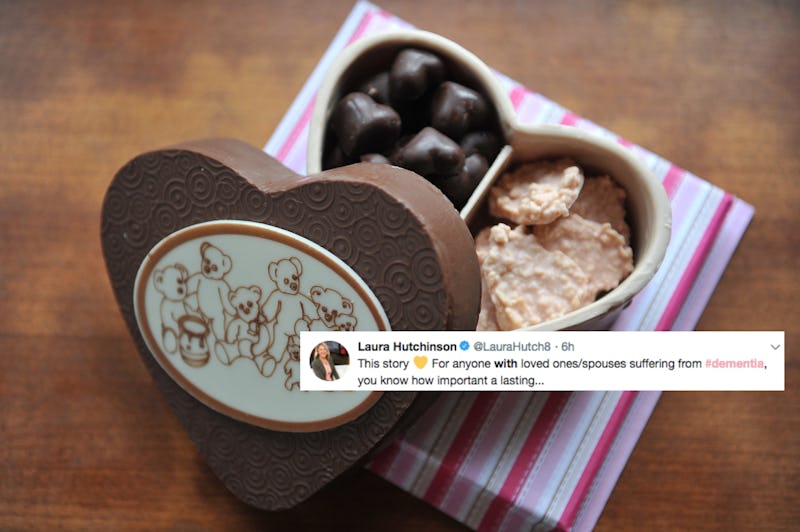 Robertus Pudyanto/Getty Images News/Getty Images
Valentine's Day is tomorrow, and if you're like me, you're a sucker for a sappy love story on the romantic holiday. Watching a beloved rom com or Valentine's Day tearjerker like The Notebook are sure to make any hopeless romantic emotional, but real life love stories are even more moving. Well, get out your tissues: This man has been giving the same Valentine's Day present to his wife for 39 years, according to ABC News, and you won't be able to stop the tears.
77-year-old Ron Kramer has bought his 74-year-old wife, Donna Kramer, chocolates annually since they first met over 39 years ago. Ron told ABC Albuquerque affiliate KOAT that he met Donna in Jan. 1979, during his time as a Prudential insurance salesman, when he knocked at her front door. Donna, who was newly divorced, told KOAT, "He saw me first in my quilted bathrobe, I was really sexy!"
Between her robe and "Big Bird" slippers (extremely same), Donna must have caught the eye of the salesman. A few days following their chance meet, Ron invited Donna and her daughter to the Ice Capades. And from there, the rest is history: The two quickly started dating and became an inseparable pair. With Valentine's Day around the corner, Ron asked Donna what kind of chocolate she wanted for the holiday. The Albuquerque resident requested Buffett's Candies, a local family-owned chocolate shop that has been a staple of the New Mexican city since the 1950s. Just five months later, Ron and Donna wed on May 8, 1979.
Since their first Valentine's Day, Ron made a tradition of buying Donna her favorite dark chocolate cremes from Buffett's Candies — refilling the same, heart-shaped candy box every year, with the phrase "To My Valentine" written on the front. Ron told ABC that Donna would only eat one piece of candy a day — making the decadent chocolate treats last until their anniversary month of May.
Sadly, Donna was diagnosed with dementia in 2014, and moved to an assisted living facility the following year. Ron told KOAT that Donna's move to the facility was "the saddest day" of his life. However, Ron didn't let Donna's disease keep him from celebrating their time-old Valentine's Day tradition: Ron has continued to annually bring his wife of 39 years her favorite dark chocolate candies, just as he did since the 1970s. ABC News also reported that Ron not only bring his wife their traditional present on Valentine's Day, but he visits the facility every day with a small bottle of Coca Cola, gum, and a piece of fruit in tow. Ron has visited Donna daily since August 2015, only missing three days to see his 96-year-old aunt. "I made a commitment, and the commitment's gonna be for the rest of our lives," Ron told KOAT. "I've been with her. I'll never leave her." *Breaks out the box of Kleenex.*
As of now, Donna remembers their Valentine's Day tradition, and told KOAT Ron "is a keeper." Ron said Donna's long term memory is still clear, but her short term memory has suffered from the dementia. He added that he knows the disease will get "progressively worse," but he's savoring the time he has left with Donna. "She's going to forget who I am," Ron told KOAT. "So enjoy every minute you can have with them while they still remember you."
Seriously, I'm not crying, you're crying.
For Ron and Donna Kramer, Valentine's Day is much more than a holiday: The couple's story is a testament to true love, tradition, and lifelong commitment. Their journey is heart wrenching, and sure to move the most cynical skeptic to tears.