This Man Made His Resume Into Merch & You Need To Step Your Game Up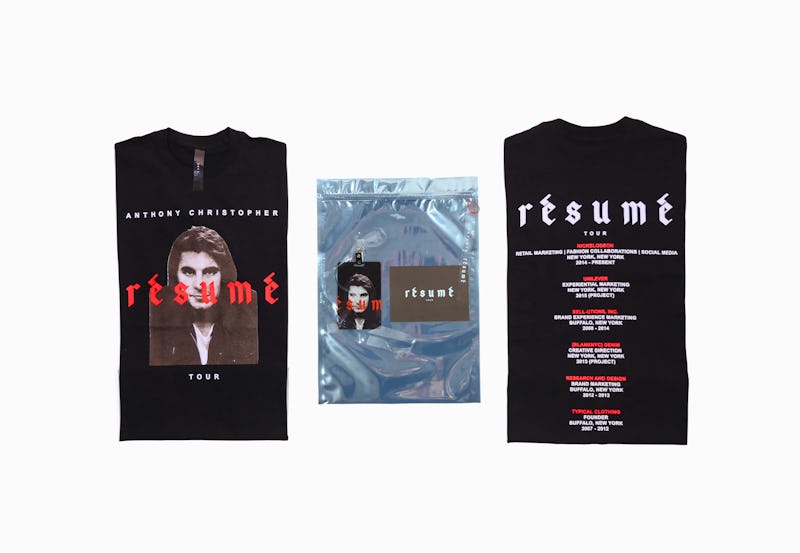 Courtesy Anthony Nitkowski
Typically when a person thinks about heading to a new position, they update their resume or LinkedIn profile. Well, not this guy. Anthony Nitkowski created a Résumé Tour merch line complete with a t-shirt, sleek packaging, and even a backstage pass. If this doesn't get him the job, I don't know what will.
In the day and age of merch, this idea is pretty darn genius. Everyone from Kylie Jenner to Justin Bieber have created their own clothing lines based on their brands. Heck, Selena Gomez even dropped new merch to match every single she's had this year. But unknown Nitkowski is taking merch to a whole new level by promoting himself — and his skills.
The former Nickelodeon Retail Marketer and fashion collaborator — yes, I read that off his merch shirt — decided to look for a new gig in the most unconventional way possible. He designed what he calls his "Résumé Tour." Similar to actual tour merch, his face is on the front of the shirt. Instead of tour dates, his previous work experience is on the back of the shirt. Nitkowski then seals the tee up in a sleek bag and attaches a personalized backstage pass.
"Over the last year or so, artist tour merch has become some of the most sought-after product in the streetwear and fashion space," Nitkowski tells Bustle. "I wanted to 'gift' or 'seed' my résumé to people who I admired and wanted to work with, and I wanted that experience to be customized and feel special for each person."
As far as who gets these tees, let's just say it's VIP only. Each one is only sent to a person that Nitkowski would personally like to work — and no one else.
"There is no website [for ordering]. I just choose the people I want to connect with and send them their custom packages," Nitkowski says. "Each Résumé Tour package is created specifically for each recipient.
"The person's name is screen-printed on a tag that's sewn into their shirt, and their name is handwritten on their 'all-access' pass," he adds. "They also receive a handwritten note card that sort of serves as an informal cover letter. I printed my website address on the 'all-access' pass for people to view my work online."
I know what you're thinking — does this actually work with employers? The answer is sort of. Although he has yet to find a job from the shirts, one founder shared an unboxing of the shirt on his Instagram story. Another time, when Nitkowski showed up to his interview at a company, one of the employees was wearing his shirt.
Though the concept is a little silly, Nitkowski's bigger message is surprisingly serious and heartening. The creative job seeker wants to remind those going after their passions that there's no 'right' way of doing things to achieve success.
"Go out there and be disruptive in the pursuit of your dreams," he says. "Not everyone will understand it, but the ones that do are the ones that you belong with anyway."