This Map Puts Georgia's Special Election Results In Perspective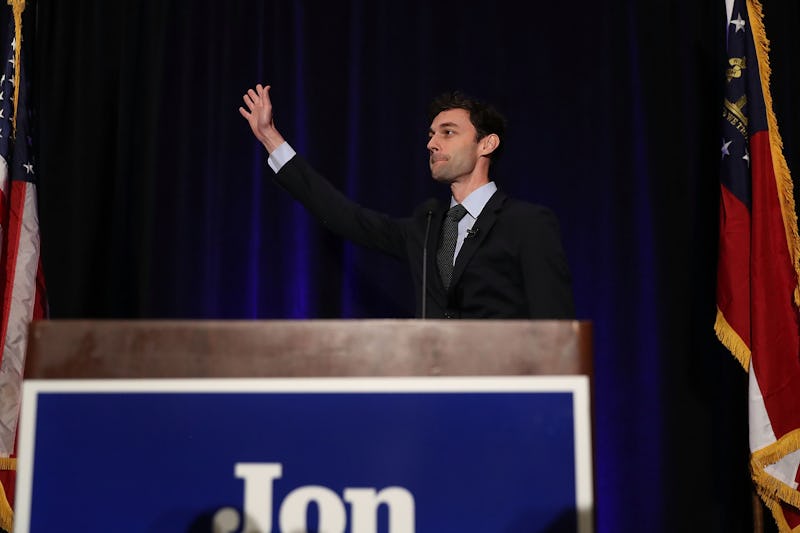 Joe Raedle/Getty Images News/Getty Images
In a longtime Republican stronghold near Atlanta, a Democrat's name has risen to the national stage. On Tuesday, investigative filmmaker and former congressional aide Jon Ossoff fell narrowly short of victory in a special election in Georgia's 6th Congressional District. Although he didn't secure 50 percent of the vote, a map of the results shows that Ossoff's loss was still a significant win for his party.
Tuesday's special election sought to fill the House of Representatives seat of Georgia Republican Tom Price, who recently joined the Trump administration as Secretary of Health and Human Services. Price had held the 6th District seat for more than 10 years, reflecting the Republican Party's deep loyalty in Atlanta's northern communities. With that loyalty, and a field of 11 Republican candidates, the GOP seemed to have every opportunity to maintain its seat. In truth, the opportunity still exists, but Tuesday's results suggest that loyalty to Republicans may be slipping away.
No candidate — Ossoff or otherwise — won 50 percent of the vote in the special election. As a result, a runoff will take place in June to determine who will take over Price's seat. Still, Ossoff won more of the vote than any other candidate — and he won an overwhelming majority of his district's square footage, as this map from The Atlanta Journal-Constitution shows.
In total, Ossoff won just over 48 percent of the vote. His outright victory was blocked largely by the success of Republican candidate Karen Handel, who edged out Ossoff in eight northern precincts. Another Republican, Bob Gray, won three precincts. Together, Handel and Gray won 11 precincts. Although that was enough to keep Ossoff from winning Price's seat outright, it's clear from the map view — and from the results of dozens of other precincts — that Ossoff did not flop in Tuesday's election.
In fact, the very notion of a Democratic candidate receiving nationwide name recognition for a 6th District race should worry some diehard Republicans. Thanks in large part to the Atlanta metro area, Georgia, long a securely red state, has taken steps toward purple recently. In November, Hillary Clinton won two Atlanta-area counties, one of which voted again on Tuesday. Ossoff's victory in June would flip the 6th District and weaken the red shade of Georgia's Republican status.
Based on his message to Twitter on Tuesday night, the Democratic candidate counted the special election results as a victory of sorts. As he heads into the June runoff, Ossoff has momentum. If the map of Tuesday's results are any indication, he has already flipped a large part of the 6th District.