Melania Trump's Spokeswoman Wants You To Stop Worrying About The First Lady's Whereabouts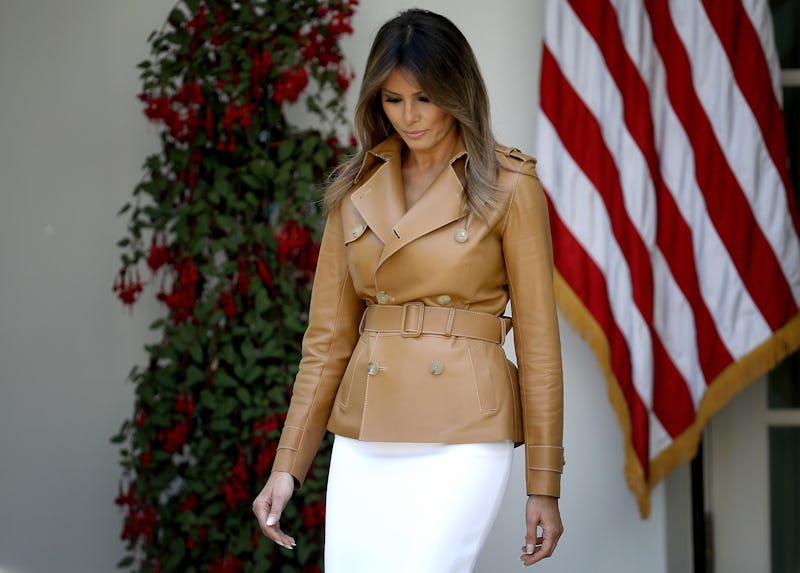 Win McNamee/Getty Images News/Getty Images
If you're wondering where in the world the first lady is, her spokeswoman doesn't want you to worry. Just over two weeks after the White House announced the first lady had undergone kidney surgery on May 14, spokeswoman Stephanie Grisham's Melania Trump update suggests she's recovering just fine — and that people should stop overreacting to the the fact that she hasn't been spotted at White House events for the past couple of weeks.
The last time the public saw the first lady was on May 10. She was with the president at Joint Base Andrews, welcoming three American hostages home from North Korea. Just four days later, Melania was admitted to the Walter Reed National Military Medical Center for "an embolization procedure to treat a benign kidney condition," according to Grisham in a press release. After Melania's surgery, Grisham also noted that the procedure was "successful and there were no complications." Since then, with the exception of a tweet from Melania herself saying that she was "feeling great" and looking "forward to getting back home," the White House has not updated the public or released any information about Melania's well-being.
Melania has also been missing from ceremonial events since her hospital release following the surgery. Her absence was noted, for example, while President Donald Trump laid wreaths down at Arlington National Cemetery on Memorial Day. Though her not attending such a public event so soon after surgery is more than understandable, it unfortunately trafficked in conspiracy theories, according to Politico. And it's all this fuss that has prompted Melania's spokeswoman to release another statement on the first lady's health.
The internet is overreacting, according to Grisham, who has dispelled rumors that Melania had left the White House to permanently move back to New York City, CNN reported. "Sadly, we deal with conspiracy theories all the time — so this is nothing new, just more silly nonsense," said Grisham. "She is doing great. I wouldn't characterize it as a long absence. She was hospitalized for almost a week and is now home and recovering."
According to People, Grisham said that Melania has "had several meetings internally with staff, and will continue to do so this week. We are focusing on her initiatives, and also some longer term planning for events, such as the congressional picnic and Fourth of July."
Grisham also said the soonest the public can expect to see the first lady will likely be toward the end of June, for a regular summer gathering for members of Congress, Politico reports. She refused to address the rumor mill that has been surrounding the first lady over the past few weeks.
The first lady has supposedly made the conscious decision to lay low and keep media interaction to a minimum right now, Politico reported. And following any hospital stay, a decision like that makes perfect sense. Politico also reported that an anonymous source revealed Melania sees most of the questions about her health as coming from a place of mere curiosity and "nosiness," not genuine concern. Still, because of her position, the public will always be fascinated with what she is doing, how she's recovering, and where she is at any given time.
"The public had grown accustomed to seeing more of her for a period of time, especially with the State Dinner which she executed flawlessly, and her high profile initiative roll-out," said the chief of staff to first lady Laura Bush, Anita McBride, to Politico. "It's natural for people to be interested in her and wanting more." But while she's in recovery, they're just going to have to wait, as Grisham made clear.