There's A Huge Divide Between Democrats & Republicans On #MeToo, This New Poll Says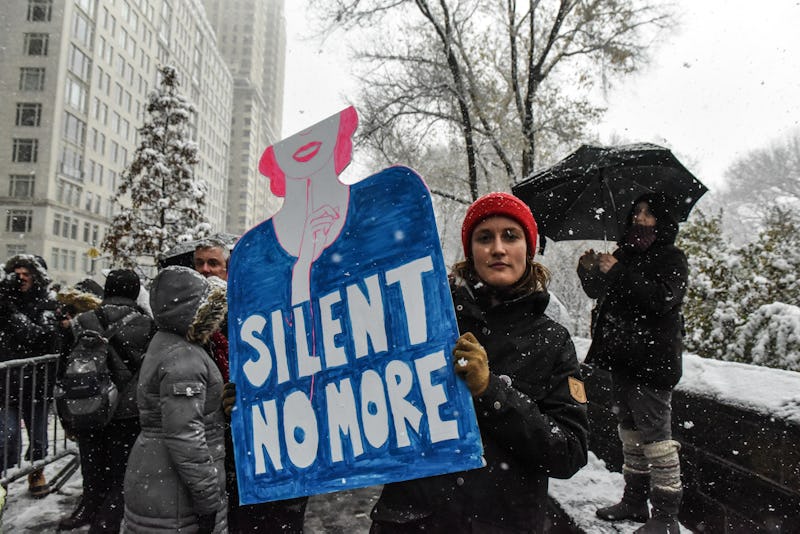 Stephanie Keith/Getty Images News/Getty Images
#MeToo has empowered survivors of sexual harassment in an historic way, confronting head on the way that rape culture manifests, especially in relationships with uneven power dynamics. But it has also provoked a lot of political controversy, and a new #MeToo movement poll shows Democrats and Republicans tend to respond to #MeToo-related allegations pretty differently from one another.
Conducted and reported on by NPR/Ipsos, the poll finds that disagreements about #MeToo often fall along party lines. There is also a gender gap, to be certain, and the poll illustrates that. Women, for example, are more likely to say that victims should be given the benefit of the doubt than men are, per the poll, but that divide pales in comparison to the divide between Republicans and Democrats.
The poll suggests that there is a sweeping chasm between the two political parties. Data indicates, for example, that 85 percent of Democrats agree that victims of sexual assault should be given the benefit of the doubt, whereas only 67 percent of Republicans believe the same thing. That's a gap of 18 points. There is only an 11-point gap when the results are split between women and men.
Republicans are also more likely than Democrats to report that they believe the #MeToo movement has "gone too far," NPR reports. While 21 percent of Democrats polled say that they believe this is the case, as many as 75 percent of Republicans report feeling this way.
Anecdotal evidence from the news supports these findings. Though already contentious, the sexual assault allegations against then-nominee to the Supreme Court Brett Kavanaugh, all of which he denied, revealed a stark partisan divide. In the lead up to Kavanaugh's ultimate confirmation, Republicans were far more likely to cast doubt on those accusing Kavanaugh, and generally supported pushing the process forward quickly. In turn, Democrats widely gave Kavanaugh's accusers the benefit of the doubt, arguing that they deserved to have their claims investigated, and to be heard.
These behaviors were reflected in Kavanaugh's final confirmation vote. He was approved by a simple majority, 50-48. Of those voting in favor, 49 were Republicans. All but one of those who were opposed were Democrats or Independents who caucus with them. Two Republicans did not vote.
The Kavanaugh confirmation process is not a perfect model of comparison because many Democrats were already fundamentally opposed to his confirmation. However, the conversations and arguments that arose, with regard to sexual assault and the #MeToo movement, were largely divided among party lines, backing up the data reported by NPR/Ipsos.
The poll also indicated that Republicans are more likely than Democrats to report feeling unclear about the definition of sexual assault. Fifty-six percent of Republicans reported that "it can be hard sometimes to tell what is sexual assault and what is not," according to the poll. Only 39 percent of Democrats reported feeling the same way, per NPR.
In many ways, the #MeToo movement has represented a revolutionary shift with regard to how sexual assault and harassment reporting is treated, especially in public. But in an incredibly divided United States, even the #MeToo movement does not appear to be immune from politicization.